Meet the Right-Wing Artist Who Calls Leftism 'A Mental Disorder' and is Behind Meryl Streep 'She Knew' Posters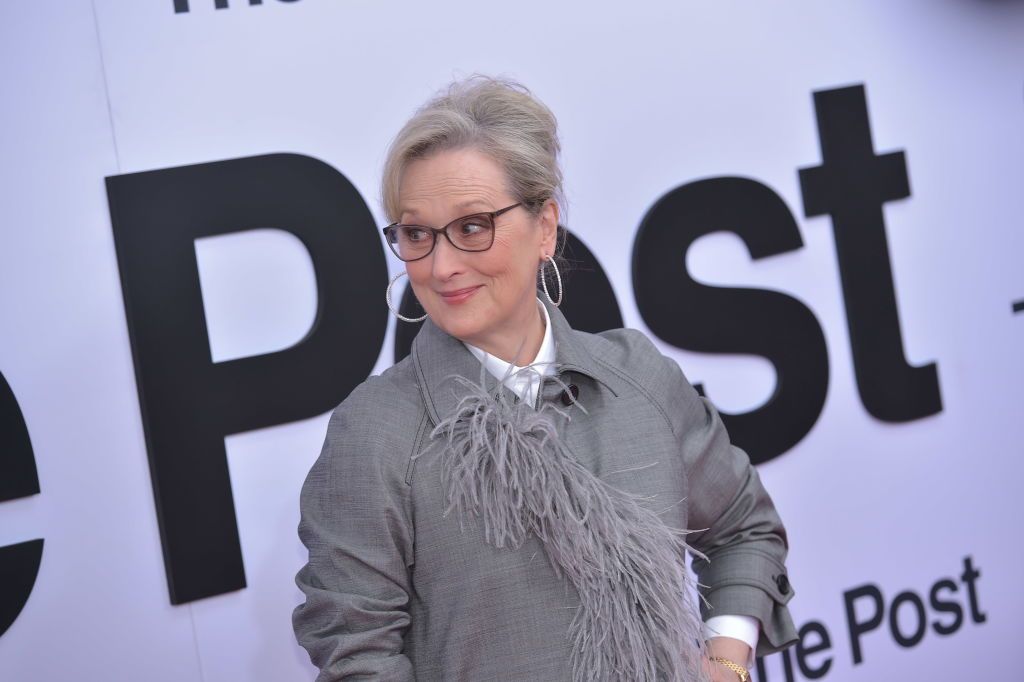 A slew of posters featuring the doyenne of Hollywood Meryl Streep were posted around Los Angeles this week, and they weren't just advertisements for her upcoming film The Post, due out Friday.
The black and white prints are based on a photo of Streep and disgraced mogul Harvey Weinstein. Half of Weinstein's smiling face is visible over Streep's shoulder, and a red bar with the words "She knew" in white cover the actresses eyes. The image and language are evocative of now iconic work by graphic artist Barbara Kruger.
The posters appeared near Streep's home in Pasadena, across from the 20th Century Fox studio lot in Century City and near the SAG-AFTRA building, among other spots. When they were first spotted, it was unclear who was behind the effort to convince Los Angeles that Streep was complicit in Weinstein's alleged sexual misconduct, harassment and assault. The only identifying information was a QR code on the images that linked to a Bitcoin wallet for donations.
But on Wednesday, the guerilla artist Sabo came forward and claimed responsibility for the project in an interview with The Guardian—despite the fact that earlier in the day CBS had reported Sabo denied any responsibility.
"She's swiping at us so we're swiping back," Sabo told The Guardian's Rory Carroll, who had written a profile of the right-wing artist back in June. Sabo explained that he considered Streep's latest film, The Post, an attack on President Donald Trump, and that the poster campaign was an act of revenge.
The film, directed by Steven Spielberg, stars Streep as Katharine Graham, the publisher of The Washington Post, alongside Tom Hanks as editor Ben Bradlee. The movie is set in 1971 and tells the story of the newspaper's decision to publish portions of the Pentagon Papers, the secret government report about America's involvement in Vietnam.
"Steven Spielberg's The Post is set in 1971, yet it couldn't be more about 2017 if it tried," Entertainment Weekly pointed out in the first line of its review. Similarly, IndieWire's review says the movie "unambiguously uses the past to reinvigorate our resistance to the present" and that "in a year full of accidental Trump movies, this is the first one that's completely on purpose." Hanks and Spielberg also explicitly acknowledged those links between the film and the present moment at the premiere.
Long before The Post, while accpeting the Cecil B. DeMille Award at the Golden Globes in January, Streep warned that we would need to protect "the press and its freedoms" under the Trump administration. She encouraged support for the Committee to Protect Journalists (CPJ), which received about 700 donations that evening, about 140 times what comes in on a typical Sunday night. In November, Streep spoke at CPJ's International Press Freedom Awards.
Sabo, who lives and works in Los Angeles, is a former US Marine who believes that "Republicans are the new punk." He has depicted former Texas state senator Wendy Davis as "abortion Barbie" and Ted Cruz as a shirtless and tattooed rebel. He made pins and t-shirts of smiling skull with a cigarette in its teeth and a Trump-do on its crown that read "The Deplorables" above and "MAGA" below.
The artist that targeted Streep believes the left has "weaponized" Hollywood, along with a slew of other American institutions. "I think leftism is a mental disorder," he told The Guardian in June. "I truly believe I'm fighting the good fight."
The "She knew" posters cropped up about a week after the premiere of The Post and just two days before the film's theatrical release. They followed a heated exchange between Streep and Rose McGowan, who has accused Weinstein of raping her and recently attacked Streep on Twitter for what she described as silence and hypocrisy.
"Actresses, like Meryl Streep, who happily worked for The Pig Monster, are wearing black @goldenglobes in a silent protest," she reportedly said in a missive that has since been deleted. "YOUR SILENCE is THE problem. You'll accept a fake award breathlessly & affect no real change. I despise your hypocrisy."
Streep responded in a statement, saying in part: "I want to let her know I did not know about Weinstein's crimes, not in the 90s when he attacked her, or through subsequent decades when he proceeded to attack others. I wasn't deliberately silent. I didn't know. I don't tacitly approve of rape. I didn't know. I don't like young women being assaulted. I didn't know this was happening."
Sabo combined two fires when he put up the posters, with the help of an assistant. But he isn't actually sure what Streep knew.
"I wasn't sitting in a room with her. I can't say 100%," he told The Guardian. "But I'd say anyone in the (film) industry had a pretty good idea. I think she knew. Maybe she was providing Weinstein with the fresh meat."
The posters are now up for sale on Sabo's website, Unsavory Agents, for $25 a pop. A Twitter account by the same name that appears to be his sent an all-caps missive promoting the posters for purchase. He also tweeted that he was offended by the suggestion that he was influenced by Kruger, whom he called a "butt-ugly feminist hack."
And he went beyond Streep to target a broader Hollywood contingent when he tweeted a photo of a poster for The Post: