A centrist journalist-turned-political upstart and right-wing firebrand have banded together to form what's set to be Israel's next governing coalition, a broad array of eight parties that would bring about the end of the longest-serving Israeli premier's tenure.
Knesset member Yair Lapid, who serves as head of the opposition as chairperson of the Yesh Atid party, informed Israeli President Reuven Rivlin via email on Wednesday (early Thursday local time) that he had successfully formed a new government.
Citing Clause 13(b) of the Basic Law, Lapid informed Rivlin that, as part of an "alternate government" arrangement, Knesset member and Yamini Party chairperson Naftali Bennett would serve first as prime minister for two years before Lapid took over on August 27, 2023 for the following two of the four-year term.
"I commit to you Mr. President," Lapid said, according to a statement sent to Newsweek by his office, "that this government will work to serve all the citizens of Israel including those who aren't members of it, will respect those who oppose it, and do everything in its power to unite all parts of Israeli society."
In addition to Yesh Atid and Yamina, the other parties set to serve in the new what's been dubbed the "change" bloc will be Benny Gantz's Kahol Lavan, Avigdor Lieberman's Israel Beiteinu, Merav Michaeli's Labor, Gideon Sa'ar's New Hope, Nitzan Horowitz's Meretz and Mansour Abbas' Ra'am.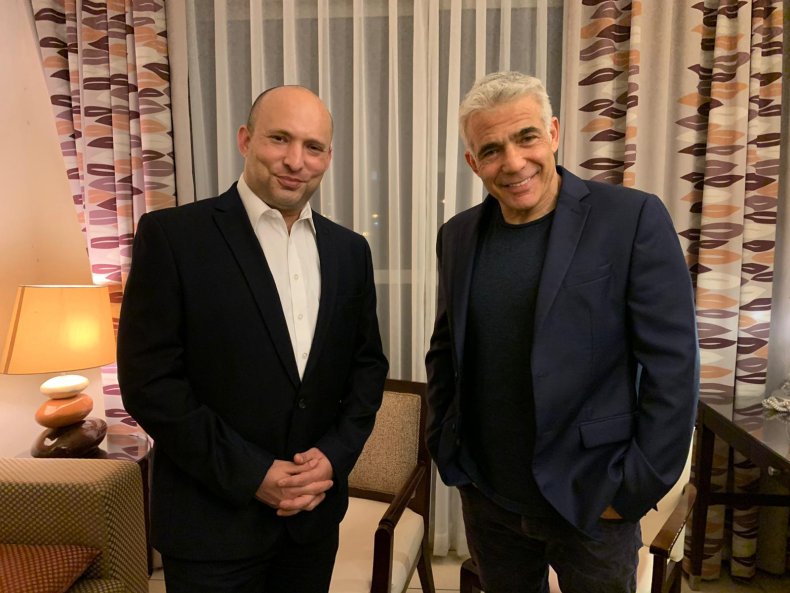 Most of the party leaders have previously served under Netanyahu, who first served a non-consecutive term as prime minister in the late 1990s before beginning his streak in 2009.
Bennett served in an array of ministerial roles overseeing the economy, religious services diaspora affairs, education and defense at various points between 2013 and 2020, when he was replaced by Gantz, who also served as alternative prime minister to Netanyahu amid repeated failures to form a new government. Lieberman also served as Netanyahu's defense minister from 2016 to 2018 following stints as foreign minister as deputy prime minister.
Sa'ar served as minister of education from 2009-2013 and minister of interior from 2013-2014, a time period in which Lapid too briefly served in Netanyahu's cabinet as minister of finance before forming his party. Yesh Atid would go on to win some 17 seats in the latest Israeli vote that took place in March, coming second only to Netanyahu's Likud party that secured 30 seats in parliament.
A total count of 61 seats is needed to form a majority, however, setting off a slew of deals in which Netanyahu has ultimately come up short as his rivals coalesced. Bennett's Yamina managed to garner only seven seats, but its support was crucial to allow the Yesh Atid-led bloc to secure the majority.
While much of the new coalition is represented by right-to-centrist factions, also critical to allow Lapid to form a new government was support from the social democratic Labor party, left-wing Meretz and the United Arab List, better known as Ra'am. An Arab party has not been a part of a ruling coalition since Israel was founded in 1948 on land also claimed by Palestinians, sparking a still-ongoing territorial conflict that erupted most recently late last month across Jerusalem, the West Bank and the Gaza Strip.
Bennett has expressed particularly nationalist views toward the conflict and has said he would support annexing much of the already occupied West Bank, a territory recognized internationally as Palestinian.
In Washington, White House Press Secretary Jen Psaki declined to elaborate on how President Biden might react to such a policy.
"We're not going to weigh in on an ongoing political process in a foreign country, in Israel or anywhere in the world," Psaki told reporters earlier Wednesday. "I think you probably know well what the president's view is on a two-state solution and how he believes it's the only path forward for lasting peace in the region."
U.S. Defense Secretary Lloyd Austin is scheduled to meet Thursday with Gantz in his defense minister capacity. Pentagon Press Secretary John Kirby said the two "will be talking about regional security issues, along with "recent Israeli operations in Gaza" and "Iran's continued activity in the region."
The U.S. is a close ally of Israel and annually supplies the country with billions in military assistance. While former President Donald Trump expressed a near-total alignment with Netanyahu, the Biden administration has adopted a more independent route on certain issues, including ongoing efforts to return to the 2015 nuclear deal abandoned by Trump and reviled by Netanyahu.
Netanyahu said Tuesday that, if forced "to choose—I hope it doesn't happen—between friction with our great friend the United States and eliminating the existential threat," then he would choose the latter. Gantz later took to Twitter to defend the U.S.-Israel relationship in what was widely seen as a rebuke of the Israeli premier's comments.
"The U.S. has been and will continue to be Israel's most important ally, protecting Israel's security and its qualitative edge in the region," Gantz tweeted Tuesday. "The Biden Administration is a true friend of Israel, and Israel doesn't have nor will it ever have a greater partner than the United States."
"Even if differences arise," he added, "they will be resolved through direct dialogue, behind closed doors, not through provocative statements that serve to harm Israeli security."
Shortly after Lapid announced he had successfully formed a new government on Wednesday, Gantz tweeted a picture of himself on a plane heading for his U.S. visit.
"This is a night of great hope. I congratulate my partners in the bloc of change and wish great success to the State of Israel," Gantz wrote. "I am now leaving for the United States for a very short and very important trip. I am convinced that I can take care of Israel's security there, and that here we can finally form a government of change that will work for the unity and healing of Israeli society."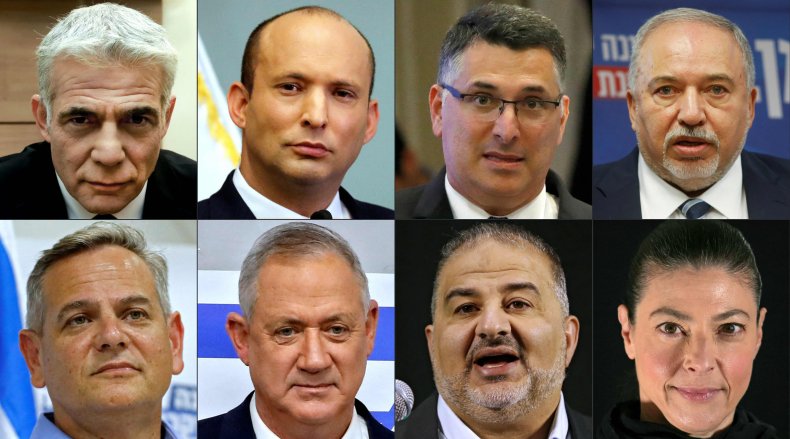 Also being replaced was President Rivlin, who would be succeeded by President-elect Isaac Herzog. The Jewish Agency for Israel chairperson formerly served as Netanyahu's minister of welfare and social services early on and later served in the Knesset as a member of Labor, Zionist Union and leader of the opposition.
He won a vote held by lawmakers Wednesday, outperforming rival Miriam Peretz, Israel's first-ever female presidential candidate by a wide margin.
In a statement released later Wednesday, Biden extended his "warm congratulations" to Herzog.
"Throughout his career, President-elect Herzog has demonstrated his unwavering commitment to strengthening Israel's security, advancing dialogue, and building bridges across the global Jewish community," Biden said. "I am confident that under his presidency, the partnership between Israel and the United States will continue to grow and deepen."
The U.S. leader also thanked Revlin "for his many years of service to the people of Israel" and said the White House him "in the weeks ahead to honor his dedication to the enduring partnership and the close friendship between our two nations."