Photographer Kcaarin Pineau started making and giving away cloth face masks in early March—before many Americans were even taking COVID-19 seriously.
"I knew it was going to be here sooner than people expected," said the Dalton, Pennsylvania resident, who has teamed up with another local mask-maker to produce supplies amid the pandemic.
Pineau learned how to sew in 2005 when she wanted to make dresses for her young daughters. Early in the spread of the novel coronavirus, however, Pineau decided to use this skill to help her community. She said that she "wanted to provide a quality product and save as many lives as possible."
She started researching materials, patterns and filters. When it comes to the effectiveness of one filter or pattern over another, "you can't do the research that you want to do," said Pineau, "because no one knows."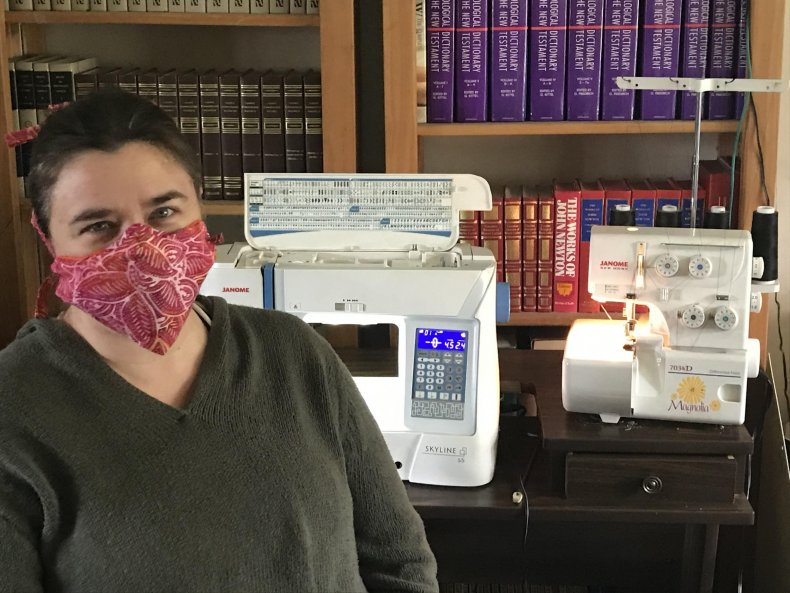 But that did not stop her from trying. For two weeks, she researched and worked on prototype masks to determine the highest quality kind she could make. During that time, she averaged four hours of sleep, from 3:30 a.m. to 7:30 a.m.
The result is a mask with four layers of quality quilters cotton; a layer of Pellon interfacing; a 3-inch aluminum nose piece for users to secure across the bridge of their nose; and two pockets for inserting additional filters. Her design does not have seams that go directly across the mask, as seams are the largest gaps in a sewn piece. She also wanted her masks to look as good as possible and takes the extra steps of top-stitching each one.
"I wanted to give a quality mask. It's not an N95 and never will be, but I wanted to do more than just two pieces of cotton," said Pineau.
Not including cutting the nose pieces, Pineau said it took her about 30 minutes to make each mask.
Since the beginning of the month, when the Centers for Disease Control and Prevention officially recommended Americans wear cloth masks in public, Pineau has seen a large increase in orders. She is now prioritizing orders from essential workers and those with compromised immune systems and their families.
As the requests keep coming, mask-making has become a family effort in the Pineau household—Pineau's husband and children have pitched in to help keep up with the flood of orders.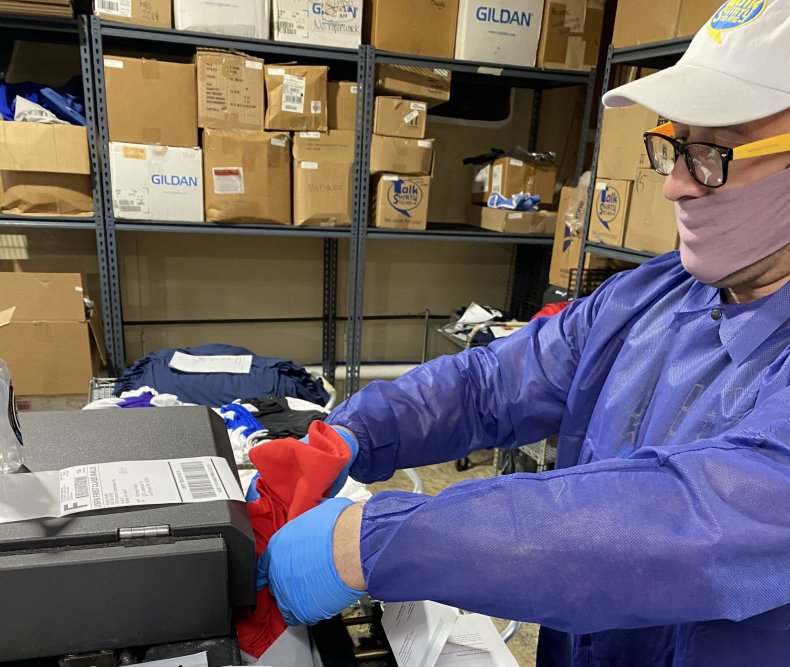 Through this endeavor, Pineau has met other North Pennsylvania mask-makers, including Ronald Augelli. The owner of We Talk Shirty, a T-shirt screen printing company located in Blakely, Augelli posted on Facebook asking for help from other local mask-makers. He has been donating to medical clinics, senior living centers, food pantries and nursing homes. Following the CDC's recommendation on masks, he could no longer keep up with the demand alone.
Pineau and Augelli discussed over FaceTime the design he was using—two layers of cotton and a pocket to insert an additional filter. Within a week, Pineau had made over 180 of these masks for him to deliver.
Meanwhile, the places that received Augelli's donations has kept placing larger and larger orders. "You have to adapt. You have to help people," Augelli said. "If I could possibly save a life or help somebody right now, that's something."
In order to meet demand. Augelli's company has transitioned from printing T-shirts to producing masks. Since April 1, We Talk Shirty has been making thousands of masks daily to sell to the general public at $3.75 each, and in bulk to other industries.
The revenue from these masks is helping Augelli to continue donating to nursing homes and hospitals for patients and employees.
There have been over 500 confirmed cases of COVID-19 in Lackawanna County where Pineau and Augelli live. Through their dedication and ingenuity, both are working for the good of their community.
"All we can do is do good," Augelli said.