Meet Yuvraj, The 3000-Pound Buffalo Bull Whose Sperm is Worth Millions
The 3,000-pound hunk rests at his home in Sunarion village in the north Indian state of Haryana. It's a common way for him to kill time as the world around him continues its panicked lockdowns. But Hindus who have moved past social distancing still travel to the Karamveer Dairy Farm in the town of Sunarion, where they worship him.
Stay at home orders are still in force in some parts of India, freezing lives in place. So the buffalo known as Yuvraj—Hindi for "young prince"—sits instead of attracting fans during a planned nationwide show tour.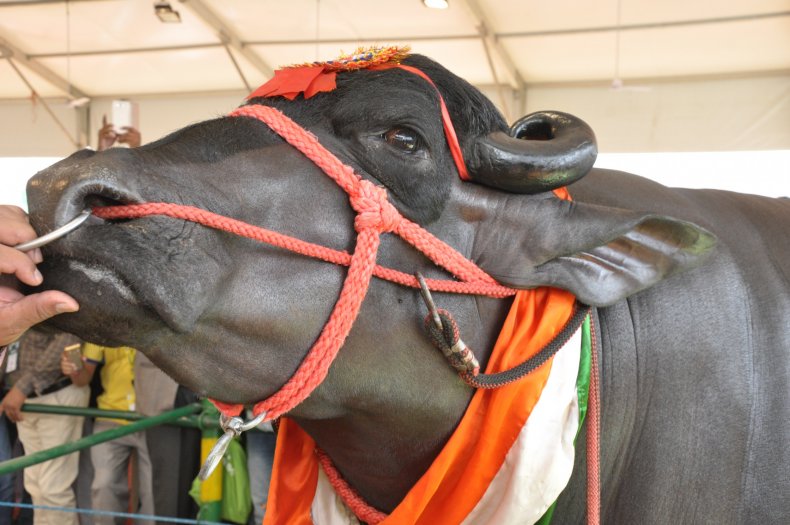 It's not an entertainment tour, but a series of livestock competitions where he's shown off between meals that total more than 77 pounds of fruit, grains and milk every day. Yuvraj is a gigantic specimen that belongs to the Murrah breed of Indian water buffalo, considered the best of the country's 13 recognized breeds.
This particular bull is a genuine celebrity, drawing bigger crowds than many politicians with his oiled and backward-curving horns, a muscle-lined and smooth grey-black hide, a bushy tail and glittering eyes.
Indian livestock shows pay up to $5,000 in prize money to the owners of the best examples of various breeds. He has been named "best animal" 17 times at the national level.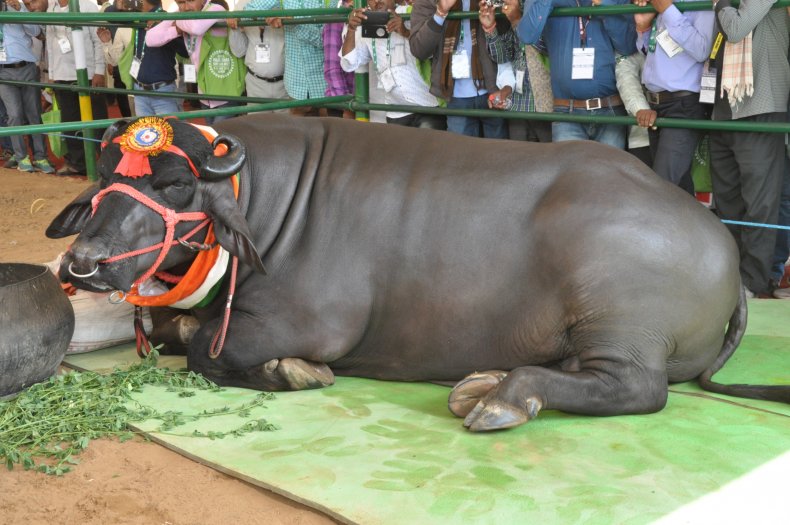 Yuvraj, born in 2008 at 1,100 pounds, was named after former Indian cricket star and World Cup winner Yuvraj Singh. He gets the gold-star treatment: a 3-mile exercise walk every day and two baths, plus mustard-oil massages.
"I spend almost 70 dollars a day on Yuvraj," says his proud owner, Karamveer Singh. The bull earns far more on the road, and through a program that harvests his semen once a month for sale to other farmers.
The result is more than $120,000 per year—$4 at a time. Singh says ranchers, dairy owners and people who trade frozen sperm on the open market line up at his house to buy one-tenth of an ounce for artificial insemination. That booming business explains why Singh once turned down a $14 million offer to buy Yuvraj.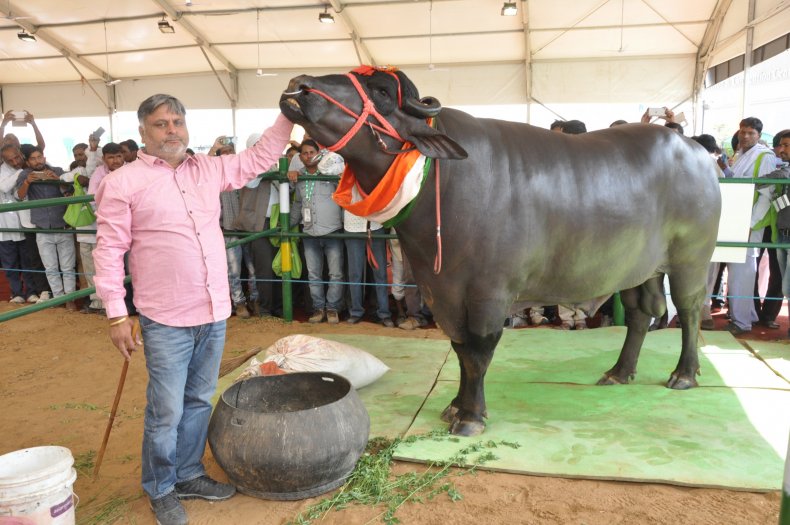 Dr. Hemant Pant, an animal husbandry expert practicing in the adjoining state of Rajasthan, says paying that much for an animal like Yuvraj might make sense. Purebred Murrah bulls of Yuvraj's quality are rare, Pant says, and his female offspring are expected to have high milk yields.
Singh, 51, is a third-generation farmer who runs the ancestral family property with his wife Sukhi. Their operation isn't a mega-farm: It includes a herd of two dozen cows and buffaloes, six cars and tractors, and a few farm hands.
Yuvraj has his own family on the farm. His mother, Ganges, is nicknamed the "milk powerhouse," says Singh, because she produces around seven gallons per day. The Murrah breed is well known for yielding high volumes of milk. Thicker than regular cow's milk, it's used for making sweets and mozzarella cheese.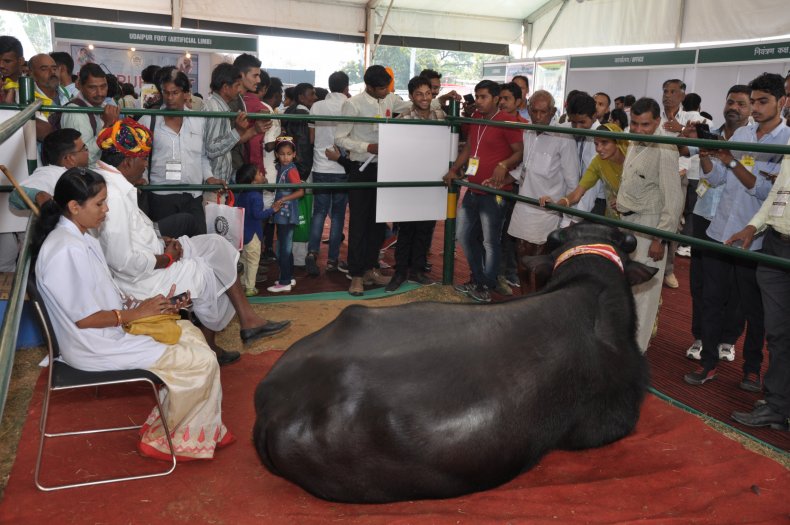 India is the world's number one milk producer, according to the U.S. Department of Agriculture, and has more than half of the global bovine population. Most of India's milk production comes from buffaloes.
Like cows, buffaloes are sacred animals to many Hindus. An estimated 500,000 people paid homage to Yuvraj last year, according to Singh.
One of his friends, 34-year-old Baccha Yadav, drives Yuvraj more than 1,000 miles to his village in southern India every year during Diwali, the annual Hindu festival of lights. Diwali falls on November 14 this year, but travel restrictions have made Yadav unsure he'll make the trip despite his usual routine on one of the Hindu calendar's most important events.
He says he hopes to see the restrictions fully lifted so his community can hold worship ceremonies.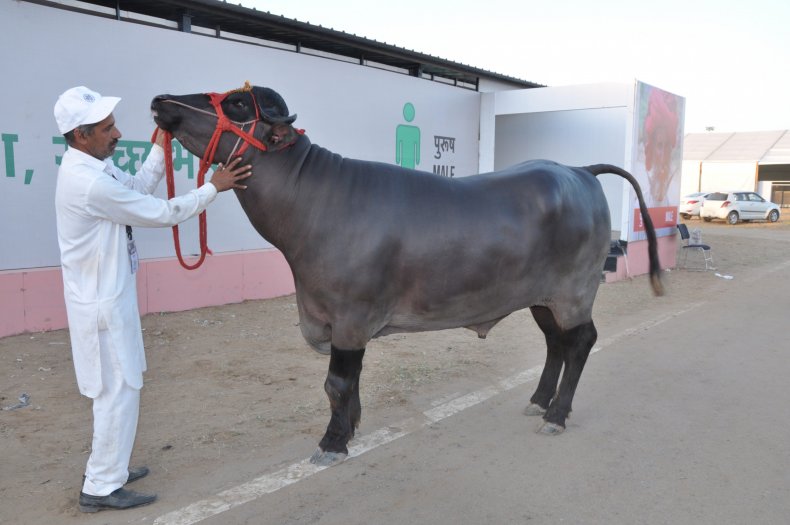 "In my community we have a tradition of worshiping cows, especially bulls," Yadav says. "I take Yuvraj to my village every year for the people to do worship ceremonies. He brings good luck to us."
For Singh, the high-performing animal brings him prestige the way other people's sons and daughters often do. Both of his own sons are pursuing master's degrees in business administration, one in Australia and the other in Sweden.
Yuvraj has taken their place in the household while they study abroad.
"In today's world your children can betray you, they can even cheat you because of greed, but animals don't do so," says Singh.
"They are very honest and true, so one can rely on them."
---
This story was provided to Newsweek by Zenger News.