Mega Millions Had 6.7 Million Winning Tickets Tuesday, Jackpot Soars to $1B
There were 9 tickets sold that are worth at least $1 million apiece
There was no grand prize winner for the Mega Millions $830 million jackpot this week, so the multi-state lottery game has zoomed past $1 billion for the third time in history. There were millions of winners from Tuesday's drawing, though, including nine new millionaires.
None of the millions of tickets matched all white balls and the gold Mega Ball for the game's top prize, so the drawing for Friday 07/29/2022 has increased to $1.02 billion. That top prize could increase depending on the number of tickets sold nationwide before the drawing.
Here are the winning numbers from Tuesday night's drawing.
First Five: 07-29-60-63-66
Mega Ball: 15
Megaplier:3x
Nine Mega Millions tickets from Tuesday 07/26/2022 matched the first five white balls but missed the Mega Ball, making them second prize winners. One of those nine tickets, sold in Ohio, is worth $3 million since they purchased the Megaplier for an extra $1. The other eight second-prize tickets—sold in California, Florida, Illinois, New Jersey (2), New York (2) and Ohio—are worth $1 million apiece since they didn't spend an extra $1 for the Megaplier.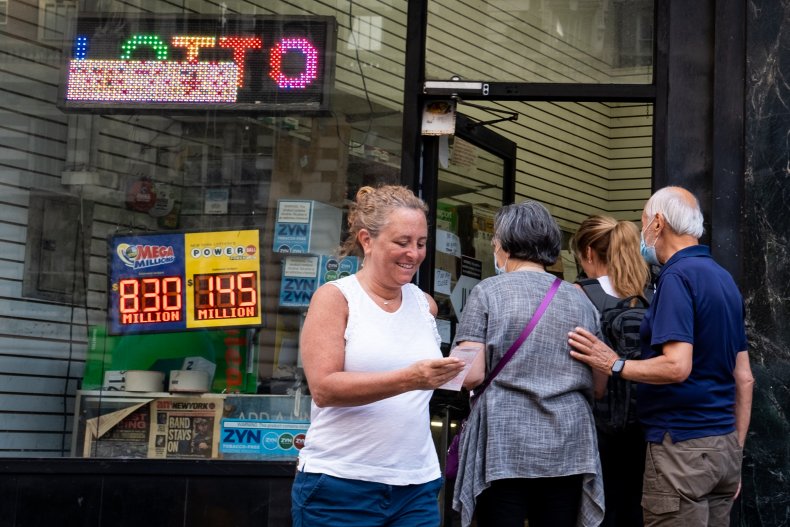 In all, there were 6,775,330, winning tickets between all prize levels, including a whopping 156 third-prize tickets that matched four of the five white balls and correctly matched the Mega Ball. Of those, 36 bought the Megaplier, making their third prize winnings $30,000 instead of the $10,000 won by the other 120 tickets.
Here's a breakdown of Tuesday night's winning tickets nationwide.
Grand Prize (All 6 Balls)
0 Winners — Jackpot Total
2nd Prize (All 5 White Balls, No Mega Ball)
9 Total Winners — $1 million minimum
3rd Prize (4 White Balls Plus Mega Ball)
156 Total Winners — $10,000 minimum
4th Prize (4 White Balls, No Mega Ball)
4,057 Total Winners — $500 minimum
5th Prize (3 White Balls Plus Mega Ball)
10,977 Total Winners — $200 minimum
6th Prize (3 White Balls, No Mega Ball)
263,598 Total Winners — $10 minimum
7th Prize (2 White Balls Plus Mega Ball)
229,921 Total Winners — $10 minimum
8th Prize (1 White Ball Plus Mega Ball)
1,820,119 Total Winners — $4 minimum
9th Prize (0 White Balls Plus Mega Ball)
4,446,493 Total Winners — $2 minimum
The jackpot for Friday 07/29/2022 has already reached $1.02 billion, with a cash option worth $602.5 million. This is the third time in history Mega Millions has passed the $1 billion mark for just the third time in history, and it's currently the third-largest jackpot in Mega Millions history, trailing only the $1.05 billion jackpot won in January 2021 (Michigan) and the $1.537 billion jackpot won on October 23, 2018 on a ticket sold in South Carolina.
The increased amount of the grand prize has stirred a frenzy at Mega Millions retailers, and Ohio Lottery Director Pat McDonald, current Lead Director of the Mega Millions Consortium, said to "enjoy the ride."
"We look with anticipation on the growing jackpot," McDonald said on the Mega Millions website. "Seeing the jackpot build over a period of months and reaching the billion-dollar mark is truly breathtaking. We encourage customers to keep play in balance and enjoy the ride. Someone is going to win."
Mega Millions is a multi-state lottery every Tuesday and Friday night, and it is one of America's two biggest lottery jackpot games. Mega Millions jackpots start at $20 million, and other prizes pay from $1 million to $2 million or more with a Megaplier. Tickets are $2 per line, and odds of winning with a $2 Mega Millions ticket are one in 303 million. For more information on Mega Millions, or to check your past numbers, visit its website.
Powerball is the other multi-state lottery, and it also starts at $20 million. Its drawings take place shortly after 11 p.m. ET on Monday, Wednesday and Saturday nights. Here is the Powerball website for more information, or to check past winning numbers.
Here are the top 10 Mega Millions Jackpots to date:
Amount/Date/Winning Tickets
$1.537 billion 10/23/2018 1-SC
$1.05 billion 01/22/2021 1-MI
$1.02 billion — Current
$656 million 3/30/2012 1-IL, 1-KS, 1-MD
$648 million 12/17/2013 1-CA, 1-GA
$543 million 7/24/2018 1-CA
$536 million 7/8/2016 1-IN
$533 million 3/30/2018 1-NJ
$522 million 6/07/2019 1-CA
$516 million 05/21/21 1-PA