The winning numbers for the Mega Millions draw on April 16 were 17, 27, 28, 50 and 55. The Mega Ball was 25 and the Megaplier was 4X, according to the Mega Millions website.
The jackpot was an estimated $240 million with a cash option of $164.2 million, but did anyone win?
Nobody won the jackpot on Friday night, so it will roll over to Tuesday's draw—when it will be worth an estimated $257 million, with a cash option of $175.9 million.
However, there was a big winner, with one ticket claiming the $1 million prize, by matching all five winning numbers. That ticket holder also quadrupled their winnings to $4 million by playing the Megaplier.
There were also other winners in Friday night's draw, including 16 players who won the $10,000 prize by matching four numbers plus the Mega Ball. Among them, four used the Megaplier, which took their winnings to $40,000 each.
There were 444 winners of the $500 prize, 76 playing the Megaplier, while 1,180 people won $200, 227 of whom used the Megaplier. Over 689,000 people won at least $2.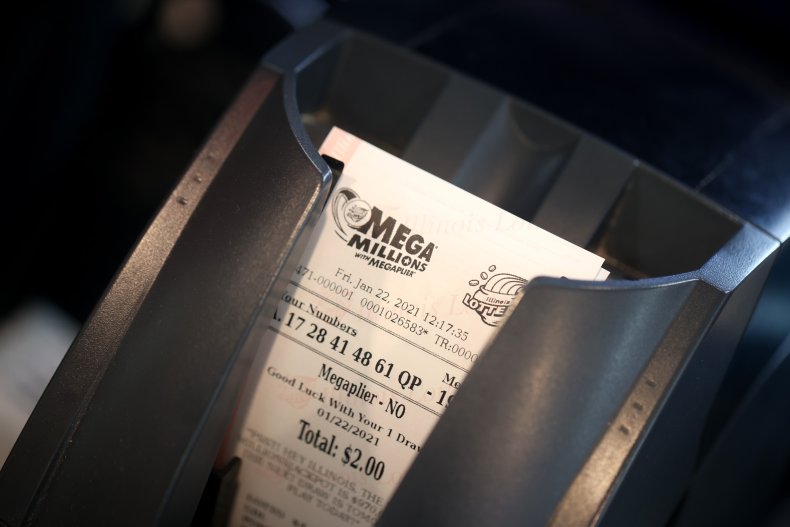 How does Mega Millions work?
Mega Millions has been one of the most popular multi-state lotteries in the country since it first launched on August 31, 1996 as "The Big Game."
Tickets are available in 45 states, as well as the District of Columbia and the U.S. Virgin Islands. There are five states that do not sell lottery tickets, they are; Alabama, Alaska, Hawaii, Nevada, and Utah.
Drawings are held every Tuesday and Friday at WSB-TV in Atlanta in which five white balls are drawn from a set numbered 1 through 70, with one gold Mega Ball drawn from a set numbered 1 through 25. There are nine different ways to win a prize and your chances of winning at least $2 are 1 in 24, according to the Mega Millions website.
If you do end up a winner, you have between 90 days and one year to redeem your ticket, depending on local rules and regulations.
Those who win the jackpot can either receive a cash option or take an annuity option of an initial payout followed by 29 annual payments that are each five percent larger than the previous ones.
Play Mega Millions Responsibly
The Mega Millions website advises that most people can play "without ill effects" but for some, gambling of any sort "can be addictive and very damaging."
Mega Millions backs groups like Gamblers Anonymous and the National Council on Problem Gambling. Anyone worried about whether they or a loved one have a gambling addiction can call the National Council on Problem Gambling's confidential 24-hour hotline on 800-522-4700.