Mega Millions Numbers, Results for 12/28/18: Did Anyone Win The $348 Million Jackpot Friday (Last) Night
For the lucky few, the dream of winning the lottery won't just be a topic of conversation among friends discussing what they'd do with the prize money. For some, the dream of becoming an instant millionaire isn't a dream because when they looked at their Mega Millions ticket after the drawing, the winning numbers were staring back at them.
However, that was not the case late Friday night. The winning numbers from Friday's drawing were 9,10, 25, 37, 38 and the gold Mega Ball was 21. With an estimated jackpot of $348 million, if someone won they would have been entitled to a cash value of $210.2 million.
While no one won the big money, six tickets were sold that were worth a million dollars, meaning they matched all five numbers but missed the gold Mega Ball. They were sold in California, Florida, Georgia, New Jersey and Pennsylvania. Along with those five lucky winners, one person matched all five numbers and added the correct multiplier onto their ticket, making it worth $2 million.
Over a million other people won a variety of prizes which were identified as:
$10,000 - 36 people
$500 - 861 people
$200 - 2,044 people
$10 - 98,514 people
$4 - 330,619 people
$2 - 779,673
The lack of a winnercomes on the heels of Wednesday's Powerball drawing when one ticket out of the entire country had the matching numbers. Sold in the state of New York, the ticket holder became the owner of the $294 million jackpot with a cash value of $177 million. On Wednesday's drawing, there were also several million dollar winners, who matched all five white balls but didn't have the correct red Powerball. Those tickets were sold in Florida, Illinois and Wisconsin.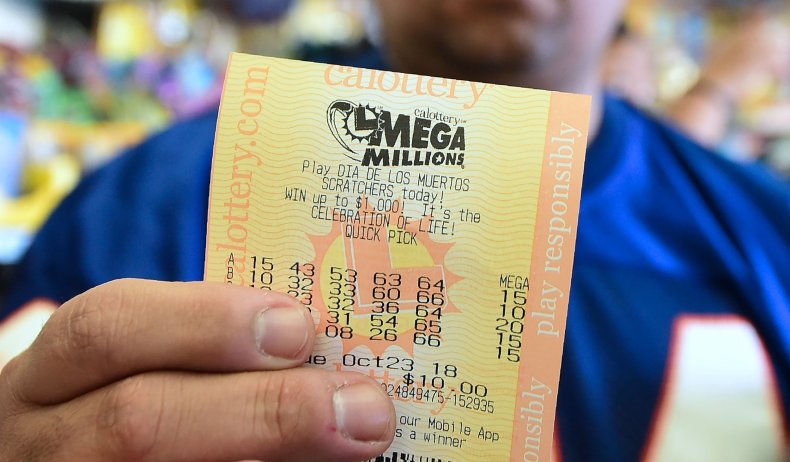 While there's only one way to win the grand prize and that's with a perfect ticket that matches all five numbers and the gold Mega Ball, there are eight other ways to win anywhere from the cost of a ticket up to a million dollars:
5 numbers + no gold Mega Ball match = $1,000,000
4 numbers + gold Mega Ball match = $10,000
4 numbers + no gold Mega Ball match = $500
3 numbers + gold Mega Ball match = $200
3 numbers + no gold Mega Ball match = $10
2 numbers + gold Mega Ball match = $10
1 number + gold Mega Ball match = $4
0 numbers + gold Mega Ball match = $2
Each ticket comes with a one in 302,575,350 chance of winning the jackpot prize and winners have two choices to collect their prize money. They can either take it in a lump sum or in annuities, which are paid out as one immediate payment and then 29 annual payments. If a person selects to receive their prize money in annual payments, each payment will be five percent bigger than the previous payment.
For example, if the jackpot is $100 million, the initial payment would be about $1.5 million and future annual payments would grow to be about $6.2 million.
The next drawing for the Mega Millions jackpot will take place on Tuesday at 11:00 p.m. EST. With an estimated $415 million on the line, tickets can be purchased until 10:45 p.m. EST on the night of the drawing in most states. However, lottery sales are regulated on a state-by-state basis and some states require tickets to be purchased ahead of the 10:45 p.m. EST deadline.