Mega Millions Results, Numbers for 10/29/2019: Did Anyone Win the $105 Million Jackpot on Tuesday (Last) Night?
The Megamillions draw took place on Tuesday (last) night, with a huge jackpot of $105 million the top prize. But did anyone win?
Did anyone win Mega Millions?
The winning numbers were 4, 9, 17, 27, 39, and the Mega Ball was 22. There was a Megaplier of X2 in play which doubles any prize except the jackpot if the player purchases the Megaplier with their ticket.
The jackpot was $105 million, with a cash-value option of $71.4 million. Nobody won the jackpot but two people matched five balls winning them $1million dollars each. Neither matched the Mega Ball so missed out on the jackpot and neither used the Megaplier which would have doubled their prizes to $2million each.
Twelve people matched four balls and the Mega Ball and won $10,000 each. Four of these people used a Megaplier which means they have won $20,000 each. There are nine prizes in total, from $2 to the jackpot.
How to play Mega Millions?
Players must purchase a ticket from a lottery retailer or agent in 44 states, Washington DC and the U. S. Virgin Islands. Residents of Georgia, Illinois, Kentucky, Michigan, New Hampshire, North Carolina or North Dakota can purchase tickets online.
Players must choose five numbers between 1 and 70 and one number between 1 and 25. These will be the white balls and the Mega Ball, respectively. The numbers can be chosen or allocated randomly.
Players can choose whether or not to add the Megaplier to their ticket, which has the potential of multiplying their prize from x2 to x10, except the jackpot. The overall chances of winning a prize are 1 in 24.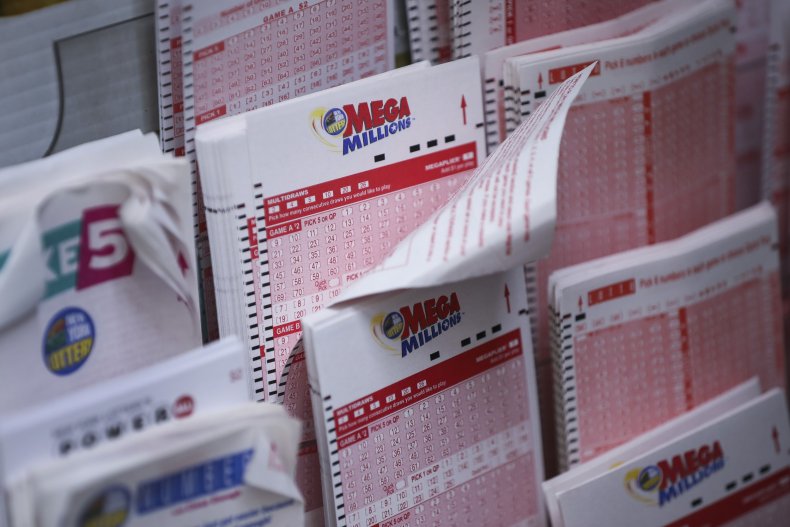 When is the next Mega Millions drawing?
Mega Millions drawings are held every Tuesday and Friday at 11:00 p.m. Eastern Time, 10:00 p.m. Central Time, 9:00 p.m. Mountain Time, and 8:00 p.m. Pacific Time. The drawings are held at WSB-TV in Atlanta, Georgia. Check with your state lottery for the cut-off time to purchase tickets, which is typically an hour or two before the drawing is held.
What happens when you win Mega Millions?
How to claim a Mega Millions prize varies by state but generally, prizes of $599 or under can be claimed by mail. Prizes of $600 and more must be claimed in a lottery office.
All prizes must be claimed within the same state that the ticket was purchased. How long a player has to claim a prize varies by state too, but time limits vary between 90 days and one year. A group of people can share a prize but some restrictions apply.
A jackpot winner can choose to claim the prize as an annuity or as a cash sum which will be of a lesser value than the jackpot sum. The annuity will be paid out as an initial sum followed by 29 annual graduated payments with each payment having been increased by 5 percent from the previous one.
Mega Millions Results, Numbers for 10/29/2019: Did Anyone Win the $105 Million Jackpot on Tuesday (Last) Night? | U.S.