Mega Millions Results, Numbers for 10/23/18: Did Anyone Win the $1.6 Billion Jackpot Tuesday (Last) Night?
Tuesday night's drawing for the Mega-Millions jackpot of $1.6 billion was set for 11 p.m. EDT while everyone who purchased a ticket waited to see if the numbers they chose were going to be announced. So who was the lucky winner to hit the record-breaking prize?
The winning numbers announced Tuesday night were 5-28-62-65-70. The Mega Ball chosen Tuesday evening was 5 and the Megaplier is 3. Lottery officials told the Associated Press that a $1.6 billion ticket was sold in South Carolina that matches all six numbers from Tuesday night's drawing. Citing lottery officials, the AP said that if no one won Tuesday night's Mega Millions drawing, Friday's estimated lottery jackpot would likely reach $2 billion.
There were also 36 tickets across the U.S. that matched five white balls on Tuesday. According to Mega Millions eight of those second prize winners were in California, four in Florida and New York, two each in Massachusetts, Michigan, North Carolina, New Jersey and Virginia and one each in Arizona, Washington D.C., Iowa, Kentucky, Missouri, New Mexico, Ohio, Pennsylvania, Texas and Wisconsin. One winner in Texas and another in Florida matched the optional Megaplier so that means those two tickets are worth $3 million, according to Mega Millions.
While Mega Millions didn't the list the states where the third prize winning tickets were sold, the lotto said 419 tickets matched four white balls plus the Mega Ball. If that's you, you won $10,000. The number jumps to $30,000 if you have the Megaplier.
The California Lottery stated on Tuesday night that while there was no Mega Millions winner in the state, there were tickets sold in eight cities in the state that had five of the six numbers to win some kind of monetary prize.
"No #MegaMillions jackpot winners in California, but 8 tickets sold in San Luis Obispo, Stockton, Rancho Cucamonga, San Diego, Chatsworth, Arcadia, Norwalk and San Francisco matched 5 of 6 numbers to win a still undetermined amount of prize money," the California Lottery tweeted on Tuesday night.
On Wednesday morning, the South Carolina Education Lottery stated in a release that one Powerball ticket sold in Colombia, South Carolina, was a winning ticket of $100,000. The winning ticket was reportedly sold at Circle K #5183 on Garners Ferry Rd in Colombia, South Carolina, according to the website.
"The ticket holder stands to benefit from the purchase of PowerPlay®. Because this player paid an additional $1 for PowerPlay®, their $50,000 prize doubled to $100,000 when a "2" multiplier was selected," the South Carolina Education Lottery wrote on Wednesday night.
The game only costs $2 to play, but the odds of winning are 1 in 302.5 million, according to the AP. Lottery officials told CBS News they had expected to sell 75 percent of tickets during Tuesday night's drawing.
"A million dollars is life changing. But a billion dollars is extraordinary," Mega Millions host John Crow told CBS News. "So that excitement, that enthusiasm that is generating right now is what's great about this jackpot."
The $1.6 billion jackpot is the largest lottery jackpot in history, surpassing the $1.586 billion Powerball drawing on January 13, 2016. The numbers were announced on the Mega Millions website at 11 p.m. EDT Tuesday as well as on local television and radio stations. The results can also be found on the Mega Millions app.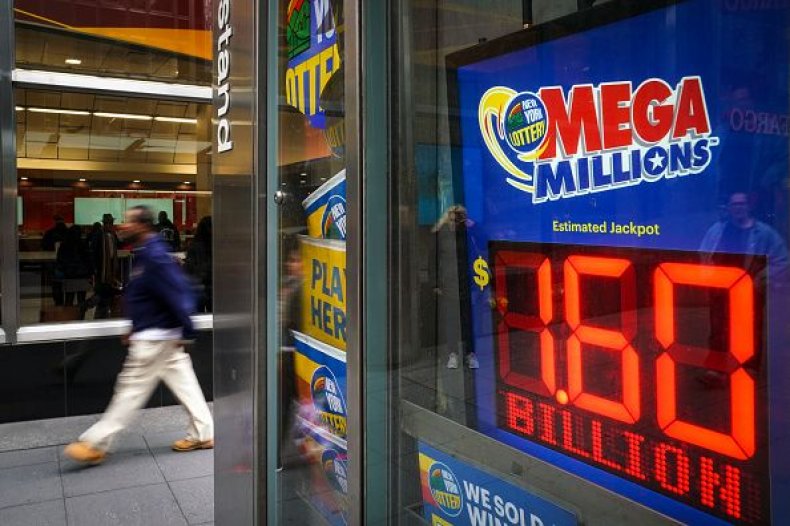 Five of the numbers were selected from a set of balls with the numbers ranging from one through 70 printed on them. The sixth ball was picked from numbers ranging from one through 25, according to Mega Millions. If no one wins the jackpot, the money is added to the jackpot for the next drawing, the Mega Millions website states.
If a winner does not claim their jackpot prize in the amount of time given, each state that took part in the lottery will receive its money back, according to Mega Millions. Each state uses that money differently and Mega Millions suggests to those who wonder about unclaimed jackpot money should contact their local lottery.