Megabus Offering 200,000 Free Tickets to New York, Washington D.C., Chicago and More on Martin Luther King Jr. Day
Megabus is offering U.S. travelers the chance to bag 200,000 free tickets for journeys between January 8 and February 29, 2020.
The promotion, which started on December 2, will see 200,000 tickets randomly spread throughout trips on the website. The company told Newsweek that there is no limit to the number of free tickets customers can purchase and that the deal includes on way tickets on routes nationwide.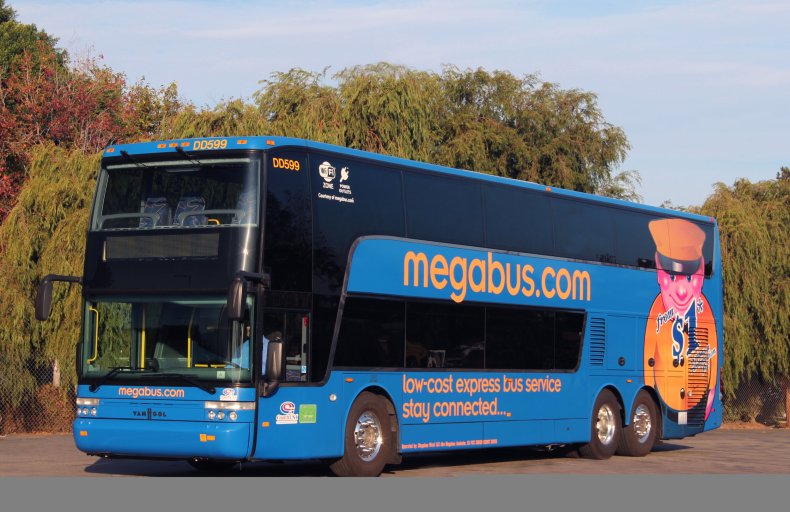 Customers need to be quick though because the earlier they look on the website, the more tickets and specific trips will be available. The promotion will finish when all the tickets have gone.
According to The State of the American Traveler winter 2019 report, conducted by the Destination Analysts research company, January will most likely see U.S. travelers vacate to New York. As illustrated in the graphic below, provided by Statista, nearly one in five (17.4 percent) who answered said they wanted to visit the Big Apple in the New Year in 2019, with 15.8 percent opting for Las Vegas.
This bodes well for anyone planning to take advantage of the Megabus.com offer, as hub cities such as New York, Washington D.C., Philadelphia and Boston offer the most popular trips in January and February 2020. The company also told Newsweek that for those travelers who like to go on a long road trip, the travel company offers Chicago to Atlanta direct, without a transfer.
In terms of affordability, U.S. backpackers will get more value for their money in New Orleans, with the cheapest daily total (on average) of $71.6 per day. According to Price of Travel who conducted the research, this total cost includes a dorm bed at a good and cheap hostel, three budget meals, two public transportation rides, one paid cultural attraction and three cheap beers.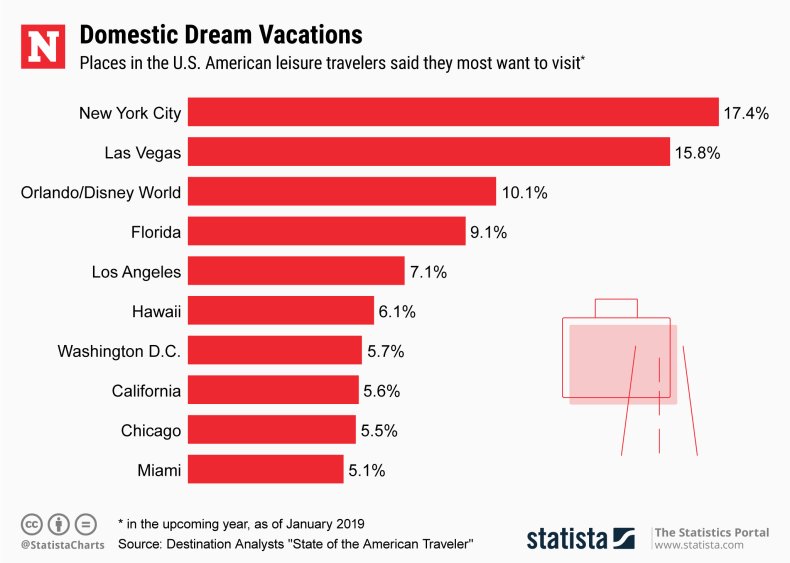 Other cheap locations include (in order of affordability)
Miami Beach
Washington D.C.
Los Angeles
Las Vegas
Chicago
Boston
San Francisco
New York City
Interestingly, hub city Washington D.C. is expensive for hotels and food, however, nearly all of the museums in the city are free, meaning that visiting the capital city of the U.S. just became a bit more inexpensive. The home of Hollywood, Los Angeles, is good for budget meals and drink, but transportation can be an issue due to the city being so "spread out."
Megabus.com's tool Fare Finder can also help bookers find the cheapest or free trips when looking for a specific route. With the travel period falling on Martin Luther King Jr. Day (January 20, 2020) and Valentine's Day (February 14, 2020), this might help many people get to where they need to be for free.