Megachurch Backs Leader, Naasón Joaquín García, After Sexual Abuse Sentence
A megachurch has defended its leader after he was sentenced to more than 16 years in a California prison for sexually abusing girls in his congregation.
Naasón Joaquín García, the leader of La Luz del Mundo, pleaded guilty to two counts of forcible oral copulation involving minors and one count of a lewd act on a child who was 15. In exchange, prosecutors dropped 16 counts that included allegations of raping children and women, as well as human trafficking to produce child pornography.
García, 53, received a sentence of 16 years and 8 months in Los Angeles Superior Court on Wednesday.
Prosecutors said García, who is considered the "apostle" of Jesus by the church's millions of followers, used his position to have sex with girls and young women in the congregation.
His plea deal came after five young women—once devoted followers of the church founded by García's grandfather in Mexico nearly a century ago—testified that he had made them his sex slaves. They described him as "evil," a "monster," "disgusting human waste" and the "Antichrist."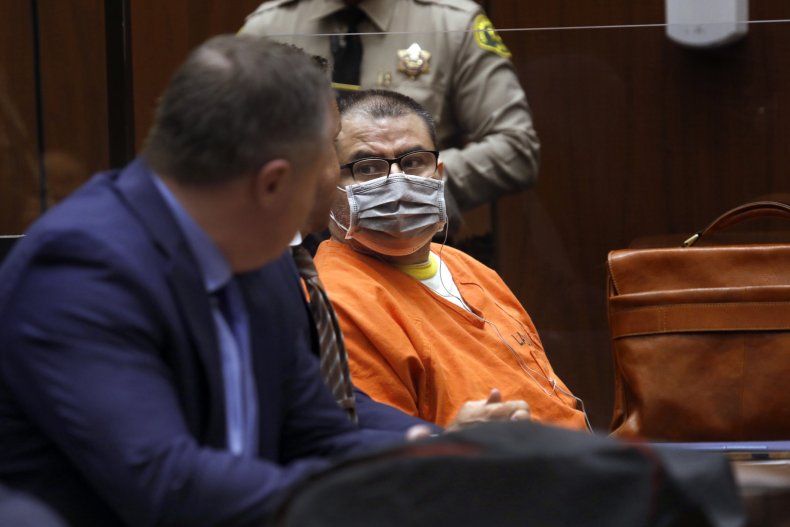 They spoke of how they had been manipulated and told they would be damned if they refused. "I worshipped my abuser," said a woman who described herself as his niece. "He used me over and over again like a sacrificial lamb taken to slaughter."
When the women tried to expose García, they found themselves isolated and shunned by the church community, including members of their own families.
The survivors had objected to the plea deal and said they had only found out about it at the last minute.
They urged Judge Ronald Coen to impose a longer sentence, but he responded that his "hands are tied" by the agreement. He called García a sexual predator.
"I just want to tell the Jane Does that the world has heard you," the judge said, according to the Los Angeles Times. "And for those family members that have abandoned you, shame! Shame on you!"
However the Guadalajara-based megachurch, also known as the Light of the World, issued a statement on Wednesday afternoon reiterating its support for García and saying he had only pleaded guilty to the counts because he did not think he would receive a fair trial.
García—who took over as "apostle" after his father, Samuel Joaquín Flores, died in 2014—had been subjected to a prosecution where evidence was "suppressed, withheld, doctored and altered," the statement said.
"The Apostle of Jesus Christ has had no choice but to accept with much pain that the agreement presented is the best way forward to protect the church and his family," it continued, adding that he had wanted to spare the church and his family "weeks of unfounded public accusations" and threats.
The church added: "We publicly manifest our support for the Apostle of Jesus Christ; our confidence in him remains intact in the full knowledge of his integrity, his conduct and his work."
García "will continue ministering to the church," the statement said. "This is a path that God has placed in front of him for a reason, as he did for Apostle Paul."
Newsweek has asked the office of California's attorney general for comment on the church's claims.
The attorney general, Rob Bonta, described García's sentence as "a critical step forward for justice."
In a statement issued on Wednesday, Bonda said: "While it will never undo the harm and trauma he caused as the leader of La Luz del Mundo, this sentence makes it crystal clear that abusers—no matter who they are—will be held accountable. Sexual assault is never acceptable. My heart goes out to all those affected by the horrific actions brought to light during this case. At the California Department of Justice, we will continue to stand up for survivors and fight back against abuse."