Viral Video Shows Former Megachurch Pastor Threatening Local Newspaper: 'I Got a Knife Right in That Pocketbook'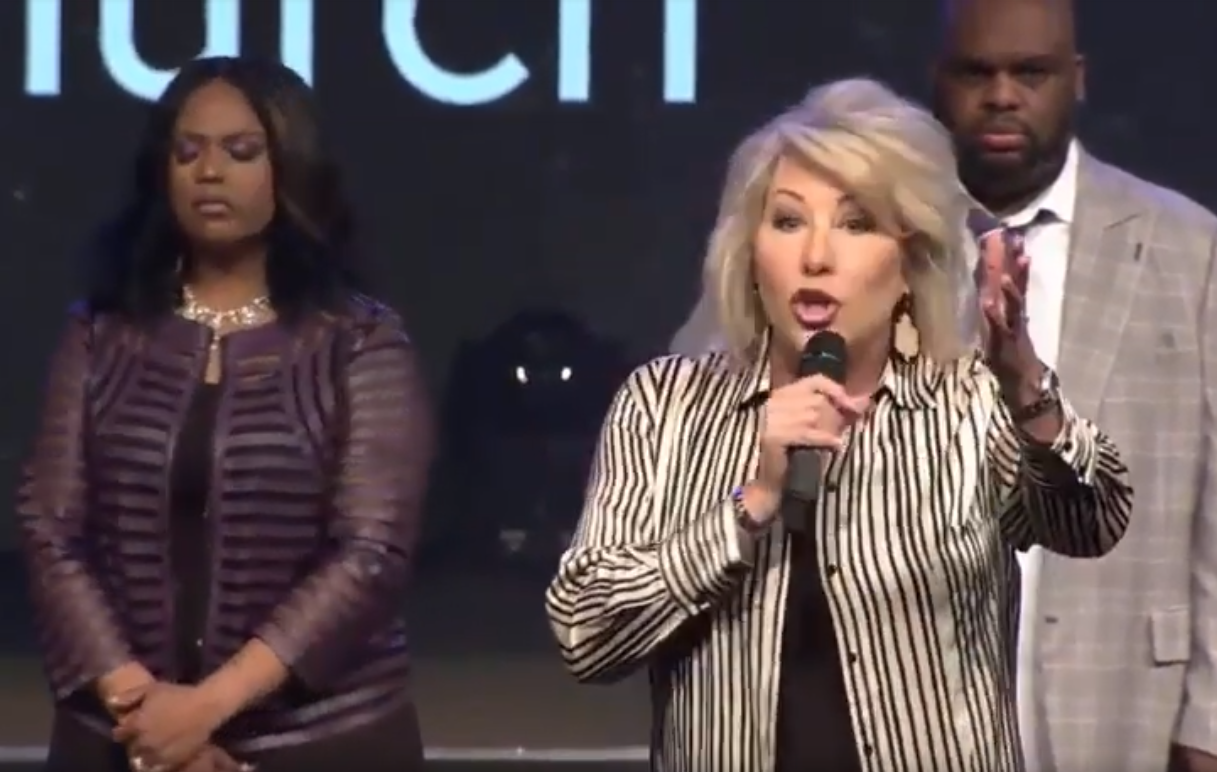 The former pastor of a South Carolina megachurch blasted a local newspaper in a boisterous guest sermon yesterday, claiming she was carrying a knife.
Hope Carpenter, who led Relentless Church in Greenville with her husband, Ron, until May 2018, stood in support of the church's current pastors, John and Aventer Gray, who have been topics of controversy regarding their reported use of church finances and an alleged extramarital affair.
"I love you, Pastor John and Pastor Aventer. I believe in you. I'm praying for you. I'm rooting for you. I cut people," Carpenter said in the segment, which lasted around five minutes.
"I got a knife right in that pocketbook. Greenville News, come on. We done went through this. I'm still here, and guess who else is still gonna be here?" she continued. Footage of the Sunday sermon was uploaded to YouTube and reported on by The Greenville News and The State.
Ron and Hope Carpenter now lead the Redemption Bay Area church in California. An online biography from the church's website says the couple spent close to 30 years in South Carolina.
Hope Carpenter made headlines herself in 2017 after complaining about NFL players who had knelt during the U.S. national anthem to protest police violence. "This will not fix racism, duh!!!" she wrote on her Facebook profile, as The Greenville News reported at the time.
But since taking over business at Relentless Church, John Gray has been at the center of investigations by local reporters. In December 2018, it emerged via Instagram that he had given his wife a Lamborghini worth at least $200,000 for their eighth wedding anniversary. He later stressed that none of the money for the car had come from Relentless Church.
A month later, The Greenville News followed up on a reader tip and confirmed Gray was living in a $1.8 million home that was being financed by the church. Travis Hayes, the church's financial officer, said there was "not anything new" about the arrangement. "This is a practice that is done with every denomination in the nation. That's what this is. This is an asset that belongs to the church."
In February, the pastor appealed for donations from the congregation in a bid to raise $250,000 to fix the church's roof. And in March, Gray made an appearance on daytime talk show The Real to deny having had an affair or fathering an extramarital child.
"Over a year ago, my wife and I were in a very difficult place in our marriage, and in that time, I began to converse with someone—other than a counselor, other than a pastoral leader… and I was even in the presence of that person one time. But being in the presence of someone is not the same as sleeping with them. I did not sleep with anyone," the pastor told the host.
"There's no baby, none of that," Gray continued. "It's important for me to take responsibility for the areas where I did come up short. Sharing things about my marriage, outside of my wife and outside of trusted counselors, is an emotional affair. It was wrong."
During the televised appearance, Gray addressed criticism about his meeting with President Donald Trump in August 2018 despite his public opposition to the administration.
He said, "One of the reasons why I was there is because they invited us to see if churches could partner with the government in lowering recidivism rates and trying to reacclimate inmates into society. That's critical to me because most of the people in those jails look like me."
Last Tuesday, the pastor took to Instagram to again deny accusations of an affair. According to South Carolina publication The State, Gray wrote: "The last three months have been the hardest of my life. So many things said about me. Some of it true. Most of it not. I didn't sleep with anyone. Period. God is my witness.
"People have said so many things about me-which is people's right cuz people have their opinions. But I draw the line when people disrespect my wife."
He added: "Keep my wife's name out of your mouth. She's been the rock in this family and in my life in spite of me. So try me if you want. But you gon' honor her. And so am I. And I'll do so with the rest of my life. Im fair game. My wife and kids are not. My brokenness is my own. Don't dishonor the one who loved me through it. I love you Aventer."