Megachurches Fined $10,000 Each for Large Christmas Eve Services
Two New Mexico churches were issued with $10,000 fines for violating COVID-19 restrictions by holding massive Christmas Eve services.
Legacy Church and Calvary Church, each located in Albuquerque, were levied five figure fines for failing to follow restrictions despite the virus having recently surged in the area. Both churches reportedly held services that ignored the state's requirement of limiting services to 25 percent capacity, while also eschewing a statewide mask mandate. Tripp Stelnicki, director of communications for Democratic New Mexico Governor Michelle Lujan Grisham, issued a strongly-worded condemnation of the "pro-virus" churches for endangering public health.
"In violating both the state public health order and common sense, these two churches and their leaders endangered the lives, livelihoods and health of not only their parishioners but their entire communities—and, given how quickly this virus can spread, potentially our state as a whole," Stelnicki said in a statement obtained by Newsweek. "We know so many New Mexicans have been appalled by the news coverage of their gatherings, because we all wish we could gather safely with our loved ones, friends, communities. But we know better, and we care about our neighbors, and New Mexicans are trying our hardest to keep our loved ones and families and communities safe from harm."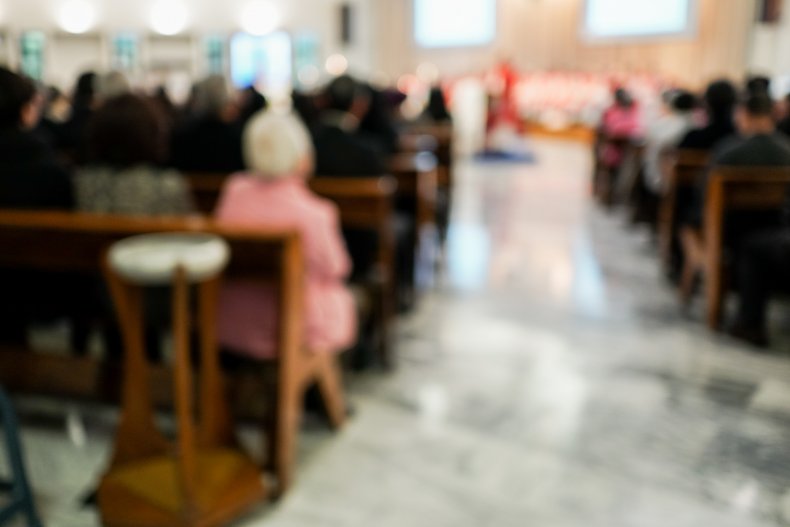 "We all wish this pandemic were over, but it's not, and no pro-virus pastor may deem it so. So many New Mexicans have sacrificed—and lost—so much in this pandemic," he added. "These illegal and selfish gatherings will directly contribute to more suffering and illness in our state. These church leaders should reflect on the danger they've unleashed in their communities."
A video from the service at Legacy showed a largely maskless crowd of hundreds gathered while singing "Silent Night," according to a Tuesday report from local ABC affiliate KOAT. The video that the church initially shared was taken down after the outlet reported on it, but the church's youth ministry page defiantly kept the video online in another post, alongside a message urging followers to not "let the world EVER extinguish your light!" That video was also later removed.
"We have taken the pandemic seriously from the start, and have prudent measures in place," Legacy told the outlet in statement. "But when governments exceed their constitutional authority and contradict what we are called on by God to do, we answer first to His authority."
"The state should fold its losing hand against Churches as Colorado has, focus on the truly vulnerable, and recognize what the US Supreme Court has recently said about Churches because we must continue to do what we are called to," the church added.
A spokesperson for Calvary Church told NBC affiliate KOB that their oversized service had been held in the interest of choosing "not to break fellowship with any worshiper by requiring them to leave the gathering of their church family," while boasting that the "strong showing in attendance at Christmas Eve services indicates the deep conviction many people have that corporate worship is essential."
Health officials began investigating the violations after videos of the packed services began to appear on social media. Both churches received notice of the fines on Tuesday and have an opportunity to contest the fines within five business days.
There had been 139,875 total confirmed cases of COVID-19 and 2,403 associated deaths in New Mexico as of Wednesday, according to Johns Hopkins University. Over the past week, 7,800 new cases and 200 new deaths were added to the tally, with a testing positivity rate of 8.56 percent.
Update 12/31, 4:44 p.m.: This article has been updated to include a statement from Grisham Director of Communications Tripp Stelnicki.