What Is Megaflash Lightning? Record 477-Mile Flash Crosses Three States
The World Meteorological Organization (WMO) has recorded two new world records for megaflashes of lightning which occurred in hotspots for such activity in North and South America.
Megaflash lightning is defined as discharges that cover a horizontal distance of hundreds of miles, often lasting multiple seconds. Megaflashes do not occur in ordinary thunderstorms. They require expansive electrified clouds that discharge at sufficiently low rates to facilitate single horizontal flashes spanning extraordinary distances.
The longest single flash covered a horizontal distance of around 477.2 miles, within a margin of error of five miles. The flash extended between Texas and Mississippi, covering the width of Louisiana. The megaflash was over one and a half times the length of the Grand Canyon or the same as the distance between New York and Columbus, Ohio.
The distance record was measured in parts of the southern United States on April 29, 2020 and beats the previous record, set in Brazil during 2018, by around 37 miles.
The second record involved times rather distances with the WMO recording a single lightning flash that lasted over 17.1 seconds. The duration record was set by a flash that developed in a thunderstorm over Uruguay and northern Argentina on June 18, 2020.
This is longer than the previous greatest duration lightning flash by just over a third of a second (0.37 seconds), which developed over Argentina in 2019.
Professor Randall Cerveny was appointed by WMO's Weather and Climate Extremes to report their findings. He said in a press release: "These are extraordinary records from single lightning flash events. Environmental extremes are living measurements of the power of nature, as well as scientific progress in being able to make such assessments.
"It is likely that even greater extremes still exist, and that we will be able to observe them as lightning detection technology improves."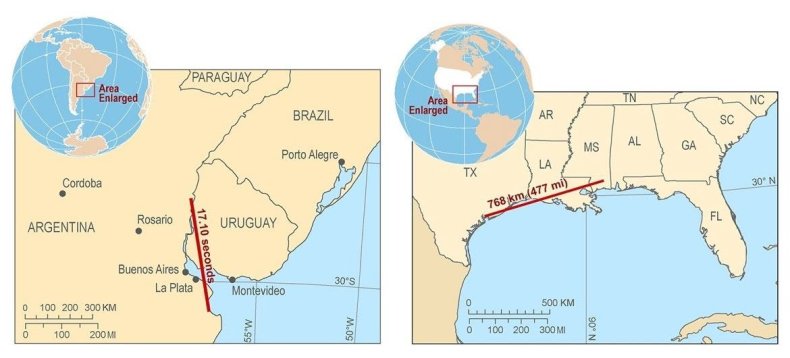 The flashes have been documented in a paper published in the American Geophysical Union's journal Geophysical Research Letters ahead of International Lightning Safety Day on June 28.
The ability to measure increasingly large megaflashes is the result of the WMO employing space-based lightning mapping technology like Geostationary Lightning Mappers on the R-series Geostationary Operational Environmental Satellites (GOES-16 and 17) which made these record-breaking measurements.
Not only do these space-based platforms improve on previously used ground-based Lightning Mapping Array networks, which established previous records, but they should also provide near-global coverage of total lightning. This includes monitoring hotspots in South and North America like the La Plata basin and the Great Plains.
WMO Secretary-General Professor Petteri Taalas emphasized the importance of better understanding megaflashes. He said: "Lightning is a major hazard that claims many lives every year. The findings highlight important public lightning safety concerns for electrified clouds where flashes can travel extremely large distances."