Megan Fox Left Out Big Detail About MGK in Relationship 'Interference' Note
Megan Fox has used her Instagram account to clarify a number of rumors about her and Machine Gun Kelly—but fans still have some big questions unanswered.
The pair have been the subject of breakup rumors over the past week after Fox deleted all traces of MGK from her Instagram account, before posting song lyrics and following other musicians' accounts. It's led many to investigate what exactly happened between them, while MGK's guitarist has come out to defend herself from cheating accusations.
Fox has now removed all previously posted pictures from her Instagram account, and posted a vague message to her grid, dispelling rumors.
On Sunday morning she posted the following statement:
"There has been no third party interference in his relationship of any kind.
That includes, but is not limited to... actual humans, DMs, AI bots or succubus demons.
While I do hate to rob you of running random baseless news stories that would have been much more accurately written by ChatGPT, you need to let this story die and leave off of these innocent people alone now"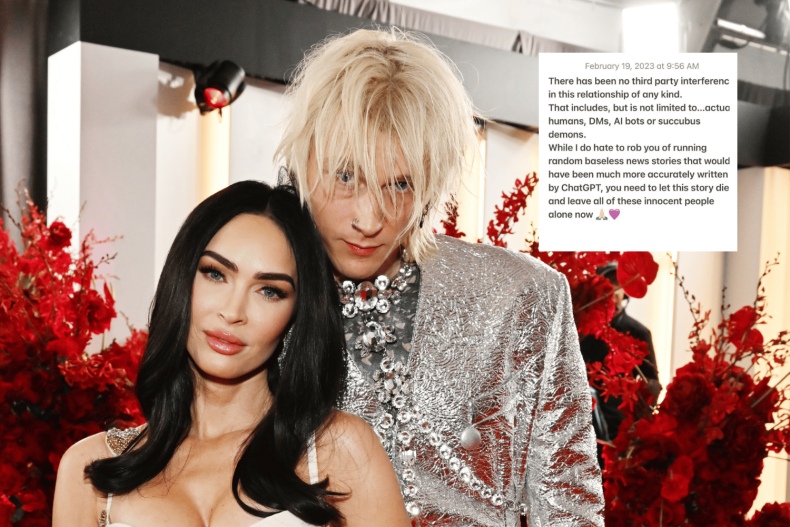 Fox concluded the message, which was screen-shotted from her notes app, with a praying hands and purple heart emoji. Comments were disabled so no one could weigh in and offer her their take.
While Fox's statement does dispel rumors that anyone cheated in any form, it doesn't clarify whether or not she and MGK are still in a relationship.
"Can someone translate Megan Fox's [Instagram] post for me," wrote @444ariies on Twitter. Speculation within the comment section responding on Twitter suggested Fox was confirming they broke up but he didn't cheat, even though she never explicitly suggested they broke up.
Machine Gun Kelly, real name Colson Baker, has also yet to address any of the recent allegations and speculation on social media. He last updated his Instagram account on January 27, and his Twitter account on February 12.
The pair were last seen out in public together at a Grammy Awards night after-party on February 5, 2023. They got together and went public with their relationship in June 2020, and they announced their engagement to the world in January 2022. On January 11 in 2023, MGK shared a video on social media celebrating one year since getting engaged.
Another point of speculation was the fact that Fox was only following Harry Styles, Timothée Chalamet and Eminem on Instagram, though she has since changed that and follows no one.
Newsweek has reached out to representatives of Fox and Machine Gun Kelly for comment.