Megan Fox, Machine Gun Kelly's Month Ahead of Split Rumors: A Timeline
Megan Fox and Machine Gun Kelly's relationship has been the focus of a flood of headlines over the past several days, amid speculation that their high-profile romance has hit something of a rough patch.
In recent days, actress Fox, 36, went from sharing cryptic social media posts that appeared to allude to breakups, to scrubbing all traces of her musician fiancé, 32, from her Instagram account—before deleting all images from her grid.
Further fueling split rumors, People reported that Transformers Fox star removed the engagement ring she had received in January 2022. The couple revealed that the thorned Colombian emerald ring was designed to hurt Fox if she ever took it off.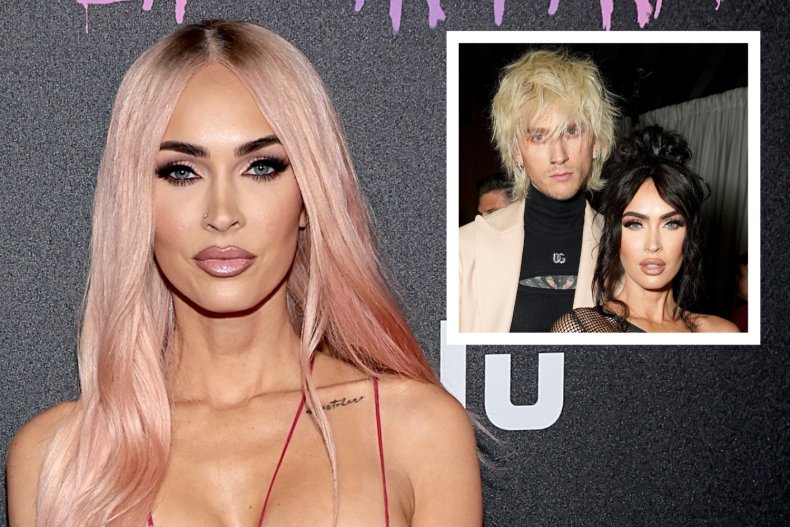 The Daily Mail published photos of them outside a marriage counseling office, where Fox was seen looking emotional as she exited the building over the weekend. Though the couple spoke while walking to the parking lot, they left in separate cars.
However, on Tuesday—which also happened to be Valentine's Day—TMZ published photos of the stars together in Machine Gun Kelly's vehicle, sparking hopes among fans that the romance is not over.
Newsweek has taken a look at the month leading up to their breakup rumors.
Engagement Anniversary
On January 11, Machine Gun Kelly, whose real name is Colson Baker, marked one year since he proposed to Fox by sharing a throwback video of himself placing the two-stone engagement ring on his wife-to-be's finger.
"One year ago under a banyan tree," he captioned the post, in reference to the location where the "Rap Devil" hitmaker had proposed to mother-of-three Fox at the Ritz-Carlton Dorado Beach in Puerto Rico.
Fox opted against posting about the proposal on her Instagram account. The previous month, the screen star caused a stir when she wrote in a tongue-in-cheek Instagram post that she was seeking a girlfriend.
At the time, Machine Gun Kelly quipped in response to his fiancée's post: "I don't think you have the filing capacity for this request."
Manifesting Love
At the end of January, Fox's interview with Glamour U.K. was published. In it, she shared her belief that she had manifested her fiancé when she was four years old.
"He's literally my exact type that I've been manifesting since I was four," she told the magazine. "I'm also four years older than him. So, I think I made him."
"My thoughts and intentions grew him into the person that he is, who knows what he would've looked like or been like if it wasn't for me," she added.
After meeting Machine Gun Kelly on the set of their movie Midnight in the Switchgrass in 2020, Fox said she knew she was "going to be in so much trouble."
"I didn't know why I was taking the movie. I just knew I needed to do it for some reason," she explained. "And then when I was at the table read, there was still one character that hasn't been cast.
"And I asked, 'Who was playing that character?' And they were like, 'Oh, it's Machine Gun Kelly.' And I kind of knew the name, but didn't, so I'm looking it up and I was like, 'Oh, I'm going to be in so much trouble...'"
Grammy Support
Fox was photographed hitting the Hollywood party scene with her fiancé ahead of February 5's Grammy Awards, where he was nominated for Best Rock Album for his chart-topping album Mainstream Sellout.
After the "Emo Girl" musician lost out on the coveted trophy to Ozzy Osbourne, Fox took to Instagram to praise her partner for how well he handled defeat, per Billboard.
"Congratulations on being in the very small percentage of artists who have received a Grammy nomination," she wrote. "You have handled this process with a grace and maturity that I haven't seen from you before and I'm so proud of you."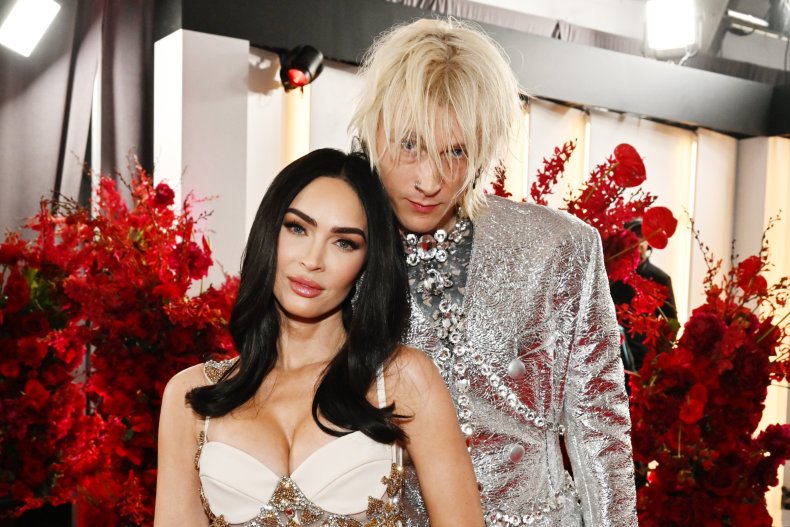 Illustrating her post with a carousel of photos of herself with her fiancé on the night of the awards show, Fox continued: "Watching you walk in humility and gratitude, watching you grow into yourself and become a better man is an immeasurably more satisfying experience than watching you accept an award.
"Although those will come... and this is irrelevant I guess but I will just never ever get over how beautiful your face is."
"I hope one day you'll see yourself the way I see you," she concluded. "I love you and I'll keep this memory of you forever."
Super Bowl Confusion
When Fox and Machine Gun Kelly attended Drake's Super Bowl party together last Friday, it appeared to be business as usual for the glamorous couple.
However, Fox appeared to be telling a different story on her Instagram account, where she shared a post that included a photo of an envelope in flames on Sunday.
She captioned the post with lyrics from Beyoncé's 2016 album Lemonade, writing: "You can taste the dishonesty / It's all over your breath."
Fox then wiped all photos of herself with Machine Gun Kelly from her feed. Hours later, she deleted the content from her Instagram account altogether—but not before unfollowing her fiancé and following his known nemesis Eminem.
Per People, one fan commented on Fox's final post before she deleted her account that Machine Gun Kelly was unfaithful, writing: "He probably got with Sophie."
"Maybe I got with Sophie," Fox jokingly responded.
Newsweek has reached out to representatives of Fox and Machine Gun Kelly for comment.
Fox and Machine Gun Kelly announced their engagement in January 2022.
The couple met on the set of their movie Midnight in the Switchgrass, which began filming in March 2020. They went Instagram official in July 2020.
Fox's split from Brian Austin Green was confirmed in May 2020 after 10 years of marriage. They have three sons—Noah Shannon, 10, Bodhi Ransom, 9, and Journey River, 6.
Machine Gun Kelly is the father of a 13-year-old daughter, Casie, with Emma Cannon.