Megan Rapinoe: America's a 'Great Country,' But We Can Still Improve
Ahead of the July 4th holiday, United States Women's Soccer National Team Captain Megan Rapinoe expressed her gratitude for living in America, which she credited with being a great country. However, she also noted that even though the United States has a lot of amazing qualities, there's still room for improvement.
Rapinoe drew national attention for her blunt dismissal of the notion of visiting the White House if her team won the World Cup. The comment drew the ire of President Donald Trump, and in the days since Rapinoe has continued to make headlines both for her performance on the field and her comments off it.
During the World Cup tournament, the 33-year-old has refrained from making political comments and instead let her past activism speak for itself. In 2016, Rapinoe opted to kneel for the national anthem in support of former San Francisco 49ers quarterback Colin Kaepernick's protest of social inequality. Now, Rapinoe stands as the "Star-Spangled Banner" plays ahead of matches, although she does not place her hand over her heart, as some other players do.
Rapinoe's recently been accused of being un-American, but during a Wednesday interview with Yahoo Sports, she said she thinksthe opposite.
"I am particularly American and very deeply American, if you want to talk about the ideals that we stand for and what we were founded on," Rapinoe said. "I think I am extremely American."
She acknowledged she isn't perfect and that people may not agree with everything she says, or how she gets her message across. Rapinoe also pushed back against those who have accused her of being ignorant to the opportunities afforded to her as an American.
"Yes, we are a great country and there are so many things that are amazing and I feel very fortunate to be in this country," Rapinoe said. "I'd never be able to do this in a lot of other places."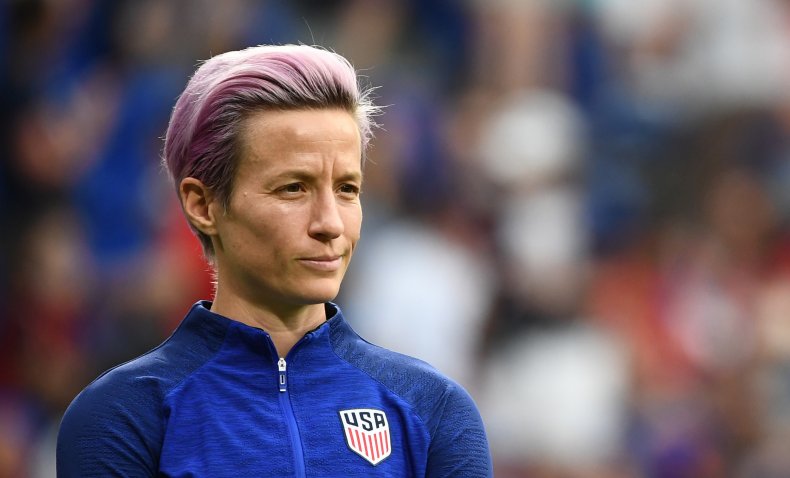 Rapinoe went on to explain that America still has room to improve and should always strive to be better.
"This country was founded on a lot of great ideals, but it was also founded on slavery. We just need to be really honest about that and be really open to talking about that so we can reconcile that and hopefully move forward and make this country better for everyone," Rapinoe said.
When it comes to her tiff with Trump, Rapinoe's teammates have vocalized their support for her, as did her girlfriend, basketball phenom Sue Bird. Bird tends to be more private than Rapinoe, but on Tuesday, she penned an article for The Players' Tribune praising Rapinoe as a player and saying it was "weird" to have Trump go "full adolescent boy" on her girlfriend.
On Sunday, America's women's soccer team will play in the finals of the World Cup against either the Netherlands or Sweden.