Megan Rapinoe on Donald Trump: 'His Message Excludes People In His Own Base'
World Cup champion soccer star Megan Rapinoe sat down with Chuck Todd on Meet the Press Sunday morning to discuss President Donald Trump, her quest for equal pay, and what she plans on doing next.
"I think people are asking the question how can we rally around this team... whether it is equal pay, or racial equality or LGBTQ rights," Rapinoe said of the experience currently being in the spotlight with her fellow members of the U.S. Women's National Team, which recently won its second consecutive — and fourth overall — World Cup championship.
The fight for equal pay in women's soccer has been going on since the team's previous Cup win in 2015, and 28 women from the USWNT, including Rapinoe, have been leading the charge against the U.S. Soccer Federation.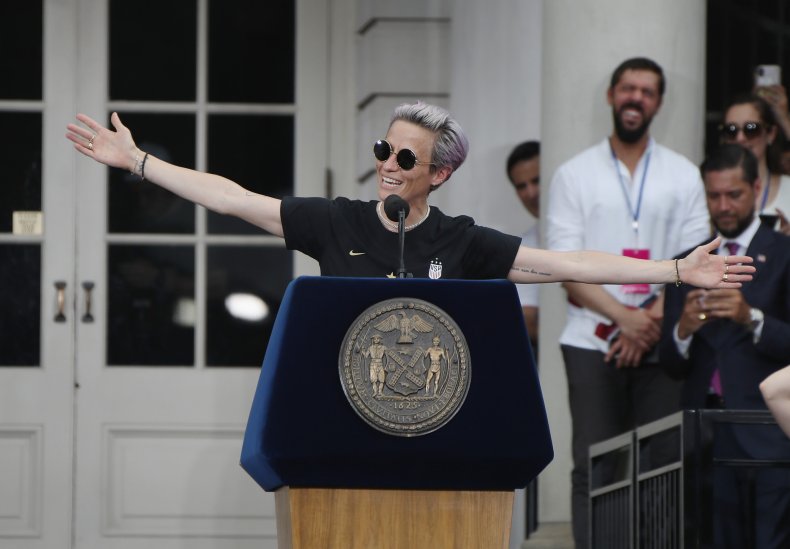 And while Rapinoe has been vocal against unequal pay in sports, she also has been among Trump's loudest critics in American athletics.
Rapinoe had made an offhand, on-camera, statement in early 2019 that she would not go to the White House if the United States were to win the World Cup.
Soon after that mildly profane quote was unearthed during the Cup's early rounds, Trump criticized Rapinoe with a three-tweet blast in response, saying that Rapinoe "should never disrespect our Country, the White House, or our Flag, especially since so much has been done for her & the team."
Todd grilled Rapinoe if she believed her own message of unity, while also refusing to meet with Trump, was hypocritical.
"I'm now figuring that out by the day,' she admitted. "I understand people feel upset or uncomfortable theres some feeling of disrespect about the anthem protest or things I have said in the past, but ultimately I am here open and honest and I have admitted mistakes and I will continue to do that," she said. "I will continue to be vulnerable and honest and open."
On what she would say to a Trump supporter, Rapinoe replied that she would ask them: "Do you believe all people are created equal? Do you believe that equal pay should be mandated? Do you believe that everyone should have health care? Do you believe we should treat everyone with respect?"
"I think Trump's message excludes people that look like me and are me, of course," Rapinoe added. "But it excludes a lot of people in his base, as well. And I think that he is trying to divide so he can conquer, not unite so we can all conquer"
Todd also asked Rapinoe on what she plans to do next, and if a political career is in her future. "I do continue to keep playing," she responded. "I'm not sure I'm qualified for office."
"You know what? I'm gonna fight for equal pay every day, for myself, for my team, and for every single person out there. Man, woman, immigrant, U.S. citizen, person of color, whatever it may be. 'Equal pay,' as the great Serena Williams said, 'til I'm in my grave.'"