'Fire Her': Fox Business Trump Supporters Join President in Blasting Megan Rapinoe, Women's Soccer Team
President Donald Trump was commended by his supporters for a disjointed rant against U.S. women's soccer team star Megan Rapinoe Wednesday after news reached him she's "not going to the f***ing White House" should they win the World Cup.
Trump chastised Rapinoe, co-captain of the team, for kneeling or otherwise protesting during the playing of the national anthem in a Monday interview with The Hill. Rapinoe has previously taken a knee during the playing of The Star Spangled Banner before matches. More recently, she labeled herself a "walking protest" and has called for her teammates to receive equal pay as the U.S. men's soccer team. Trump said it was inappropriate for her to not sing along or hold her hand to her heart as she holds a silent protest during each national anthem.
Rapinoe then told Eight by Eight Magazine in a Tuesday video interview, "I'm not going to the f**king White House" and placed her doubts Trump would even invite the women's team in the first place. "No. I'm not going to the White House. We're not going to be invited."
Rapinoe was asked if she thinks other members of the team are Trump supporters. She responded that although she is not aware of other players' voting habits, "I would hope no one voted for him."
Trump's broadcast supporters pounced on her words, with Fox News anchor Martha MacCallum appearing on Fox Business Network and demanding Rapinoe remember "how much freedom we have. She noted Rapinoe is gay and critical of the Trump administration's LGBTQ community relationship.
"Marriage is now legal across the country, it's a federal statute," MacCallum said, highlighting an Obama-era advancement. "This president is far more out there than most presidents have ever been, it's unique, but rise above it."
"It's not about you," MacCallum chided Rapinoe.
Rapinoe also correctly predicted the president's knee-jerk reaction to her words as she pointed to his past rebuke of the Golden State Warriors when several players including Stephen Curry said they would not go to the White House even if they won an NBA championship. "[L]ike he did when the Warriors turned him down, he'll claim they hadn't been invited in the first place."
As she predicted, an irate Trump took to Twitter Wednesday in a series of tweets and suggested Megan and the women's soccer team had not even been invited. But not one to miss a gracious opportunity, Trump promptly said the team is now invited win or lose.
"Women's soccer player, @meganrapino, just stated that she is 'not going to the F...ing White House if we win,'" Trump tweeted Wednesday, tagging the wrong Twitter handle.
"...leagues and teams love coming to the White House. I am a big fan of the American Team, and Women's Soccer, but Megan should WIN first before she TALKS! Finish the job! We haven't yet invited Megan or the team, but I am now inviting the TEAM, win or lose. Megan should never disrespect our Country, the White House, or our Flag, especially since so much has been done for her & the team. Be proud of the Flag that you wear. The USA is doing GREAT!" he continued tweeting Wednesday morning.
Speaking from the Oval Office earlier this week, Trump told The Hill "I love watching women's soccer. They're really talented."
Several of Trump's most vocal supporters joined the president in ridiculing the captain of the U.S. women's team ahead of Friday's quarterfinal with France.
Speaking on Fox Business Network Wednesday, host Stuart Varney told Rapinoe to "shut up" and respect the president. After reading aloud Trump's series of tweets attacking her, Varney remarked, "I think that's the ideal response from the president."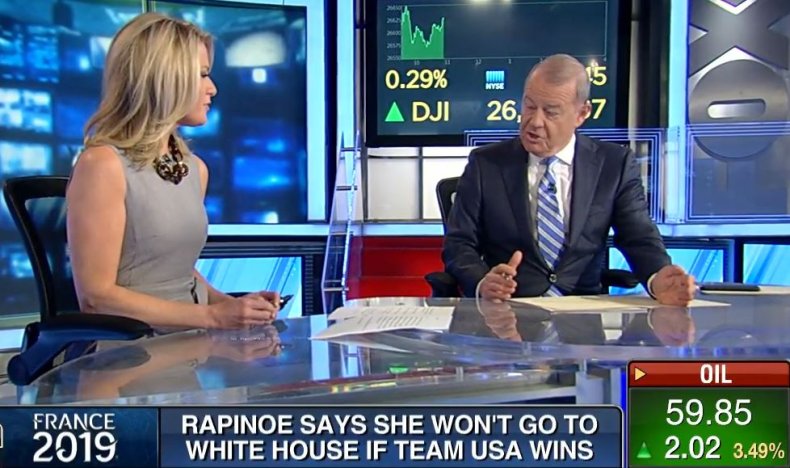 Varney's guests, including Susan Li, Wednesday morning labeled Rapinoe "opportunistic" and "beneath contempt" before finally accusing her of being "not patriotic" on foreign soil. Varney himself suggested the U.S. women's team simply "fire her" and another panelist questioned whether she should be allowed to wear the American flag on her jersey.
Former GOP congressman and current Fox News contributor Jason Chaffetz accused Rapinoe of "missing a big opportunity to bring our country together," as he clearly overlooked Trump's own criticism which prompted the exchange.
Several of Trump's most ardent Twitter supporters, including Clay Travis and David Wohl, went after Rapinoe, calling her "small" for criticizing the president.
"She thinks she's being 'hip' disrespecting Trump. Sad thing is that team is the most unsportsmanlike, arrogant and obnoxious group of athletes I've ever seen - embarrassing!" Wohl remarked Wednesday.