Vandalism of Megan Rapinoe Posters Possible Hate Crime, NYPD Says
The NYPD is investigating vandalism of posters of soccer star Megan Rapinoe in a New York City subway station as a possible anti-LGBT hate crime.
Eight posters were defaced with homophobic slurs in a subway station off Manhattan's Bryant Park. The incident was reported Monday morning at 7:15—one day after the U.S. Women's National Team won the World Cup Final, and two days before the team received a ticker-tape parade in New York.
The posters showed the team captain in her uniform with the phrase "Dream with us," next to the Nike Swoosh logo and the company's slogan "Just do it." A marker was used to scrawl phrases like like "shemale" and "screw this ho" on Rapinoe's face and forehead.
The NYPD says its hate crimes task force is investigating a suspect believed to have committed the vandalism. Police worked with Metropolitan Transportation Authority (MTA) officials to scrub the posters clean of the slurs.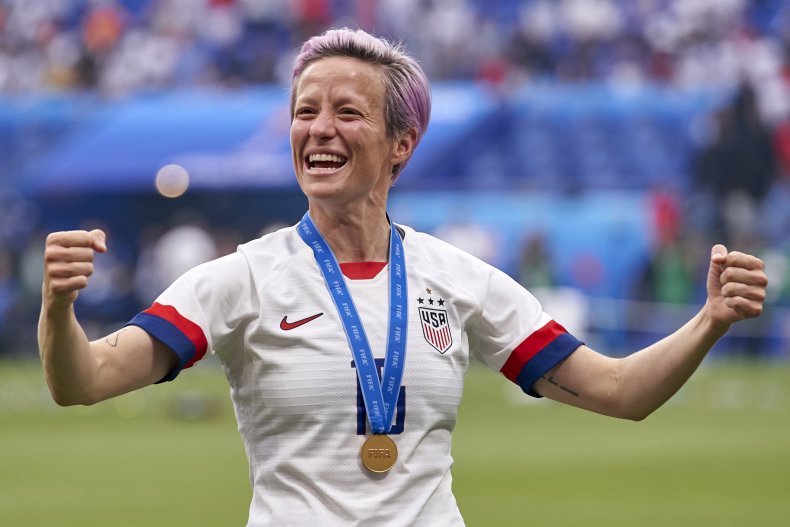 "Hate has no place in the transit system and we work hard to make the subway a welcoming, safe environment for everyone," MTA deputy communications director Shams Tarek told USA Today. "We referred this to NYPD which responded to investigate, our maintenance teams got the posters cleaned and we will have them replaced with new ones if necessary."
In a statement to Newsweek GLAAD President and CEO Sarah Kate Ellis called Rapinoe "a vibrant leader who advocates for inclusivity, equality and acceptance."
"Following the U.S. Women's Soccer Team's victory, we should be coming together to celebrate women like Megan who are blazing a trail for LGBTQ people in sports," said Ellis. "Unfortunately, the disgraceful vandalism serves as a painful reminder for how much work needs to be done to create a culture where LGBTQ people are accepted for who we are and celebrated for our contributions to our country."
So far, the soccer star has made no comment about the incident. However, her World Cup victory speech called for people to "love more, hate less."
Rapinoe, who is dating WNBA player Sue Bird, has been an outspoken advocate for the LGBT community: Earlier in the tournament she joked, "You can't win a championship without gays on your team. It's never been done before, ever. That's science, right there."
She's also been vocal about her political views: Last month she indicated she had no interest in visiting the White House if the women's team won the cup.
"I don't think anyone on the team has any interest in lending the platform that we've worked hard to build and the things that we fight for and the way that we live our life. I don't think we want to be co-opted or corrupted by this administration," Rapinoe told CNN. "It's an opportunity for this administration to sort of put us on display as sort of guests for the day, and I don't think that makes sense for us at all."
She has called Trump's slogan, "Make America great again" exclusionary.
"You're excluding me. You're excluding people that look like me. You're excluding people, you know, Americans that maybe support you."
According to a recent NYPD report, there has been a 64 percent increase in hate crimes in New York since this time last year, including a 20 percent spike in anti-LGBT incidents.