Megan Rapinoe Injury Update: Will USWNT Star Play in World Cup Final?
The U.S. women's national team (USWNT) should have its talismanic captain back for the World Cup final on Sunday. Megan Rapinoe missed the semifinal against England with a hamstring injury but sought to reassure fans her presence in the final was not in doubt.
"It just wasn't going to be ready for today," she told ESPN after the game. "But it's feeling much better today and I plan to be ready for the final."
Having Rapinoe back would be a major boost for the defending champions ahead of their meeting with the Netherlands. Prior to the semifinal, Rapinoe was the USWNT's only goalscorer in the knockout stages, netting twice against Spain in the round of 16 and repeating the feat in the quarterfinal against France.
With five goals, she trails teammate Alex Morgan and England's Ellen White by one goal in the race for the Golden Boot.
Even without the veteran forward, the U.S. had the better of England in the semifinals as goals from Christen Press and Morgan secured a third consecutive appearance in the World Cup final. The latter, one of the team's three co-captains alongside Rapinoe and Carli Lloyd, scored the winner and then mimicked drinking a cup of tea.
Her celebration again brought unwanted attention over the way USWNT players celebrate goals. In the opening game of the tournament, the Americans were strongly criticized for celebrating each goal during a 13-0 rout of Thailand.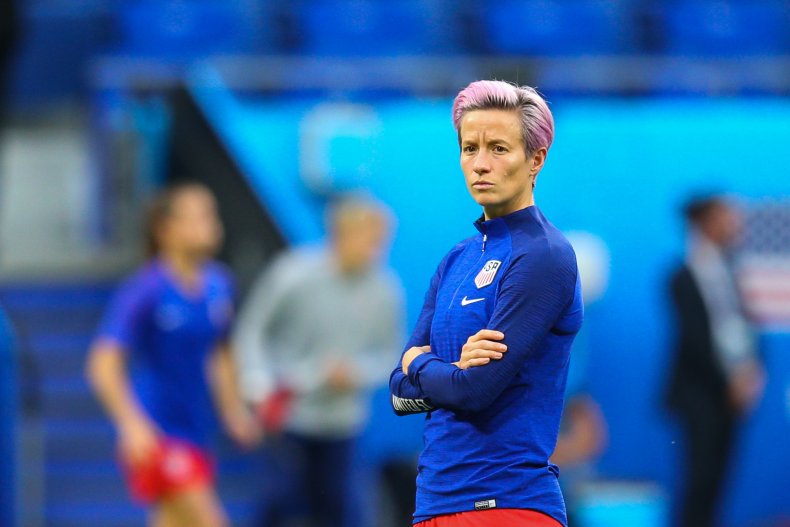 Rapinoe, however, dismissed speculations the reigning world champions were tarnishing the game's image as well as theirs.
"We're at the World Cup, what do you want us to do? This is the biggest stage, the biggest moment," she said on Thursday. "I don't think anyone truly believes that we disrespect the game or disrespect our opponents. We have the utmost respect for England and every team that we've faced and every team that we will face forever and ever. That's part of the DNA of this squad. With that said, we work hard, we like to play hard and we like to have fun and enjoy ourselves."
Rapinoe continues to make headlines off the field, insisting she was "extremely American" and refuting claims she was un-American because she refused to place her hand over her heart during the playing of the U.S. anthem.
"I am particularly American and very deeply American, if you want to talk about the ideals that we stand for and what we were founded on," she told Yahoo Sports. "I think I am extremely American.
"We are a great country and there are so many things that are amazing and I feel very fortunate to be in this country. I'd never be able to do this in a lot of other places."