Megan Rapinoe Might Run for President Because She Wants the 'Biggest, Baddest Post' in Politics
Megan Rapinoe, the pro-soccer player who led the U.S. Women's National Soccer Team (USWNT) to win the 2019 FIFA Women's World Cup, has called President Donald Trump "a white nationalist" and expressed interest in running for president, a position she calls "the biggest baddest post" in politics.
"We obviously have a white nationalist, I think, in the White House," Rapinoe told VICE TV host Anand Giridharadas on Seat At the Table on Tuesday in an episode set to air Wednesday.
"The spewing of hate and the 'othering' of the rest of the country has only led to more strife between people and more despair and more anxiety and more fear going forward," Rapinoe continued.
"There has been nothing to ease Donald Trump's base really," she said. "It's not like he's giving them a bunch of jobs. It's not like he's made life really better for them. He's just given them this false reason why maybe they're not happy with their lives. There's been no sort of path forward."
"So he has used racism to steal from them," Giridharadas summarized.
"Exactly," Rapinoe responded. "Yeah, exactly."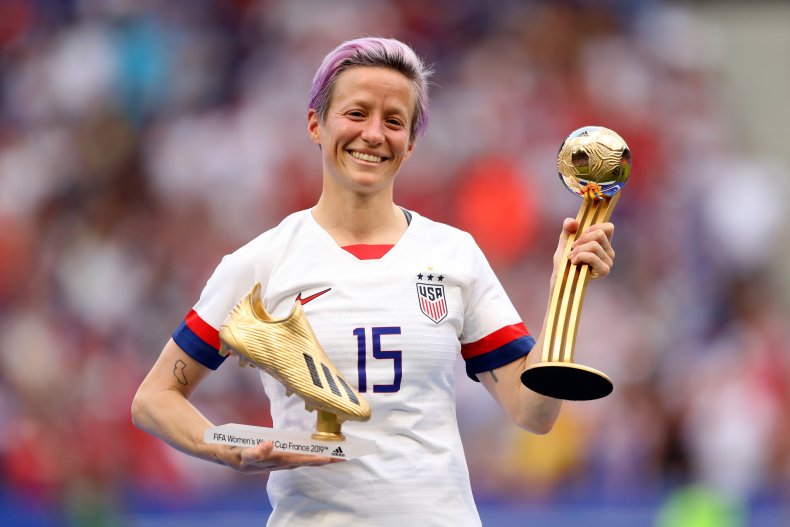 Later in the interview, Giridharadas asked if people can ever expect to see Rapinoe's name on an election ballot.
"I'm not totally shutting the door but it seems wild," she replied before admitting that she has secretly fantasized about running for president.
"If I'm going to do it, I want the biggest, baddest post," she said, laughing.
She added that she's actually "wholly unqualified for probably any position in government," but said that as president she would surround herself with intelligent advisers and cabinet members who are "way smarter and way more qualified" to help her lead the country.
Rapinoe has long been a vocal critic of the Trump administration.
In a July 7, 2019 conversation with Chuck Todd on Meet the Press, Rapinoe said, "I think Trump's message excludes people that look like me—and are me, of course. But it excludes a lot of people in his base, as well. And I think that he is trying to divide so he can conquer, not unite so we can all conquer."
During the interview, she pledged to fight for equal pay for all U.S. citizens, an allusion to the USWNT's class-action lawsuit against the U.S. Soccer Federation. The lawsuit accused the federation of "tolerating a two-tiered, gender-based workplace, with its male soccer players enjoying better travel, superior playing conditions and even more food."
On May 1, a judge dismissed the lawsuit, stating that USWNT had rejected a proposed contract to give them a pay structure identical to the U.S. men's team. Nevertheless, the USWNT still intends to pursue their case in court.
Newsweek reached out to Rapinoe for further information. This story will be updated with any response.