Megan Rapino has thrown her support behind Megan Rapinoe. The Twitter user fired off at President Donald Trump after he incorrectly tagged her social media account in order to respond to comments made by U.S. Women's National Soccer player and team captain Megan Rapinoe on Wednesday.
It all started Wednesday, when soccer mag Eight by Eight released a behind-the-scenes clip of a photoshoot with the star that took place back in June. When asked if she was excited to go to the White House after the championship games were over, the famously blunt Rapinoe responded: "I'm not going to the f**king White House."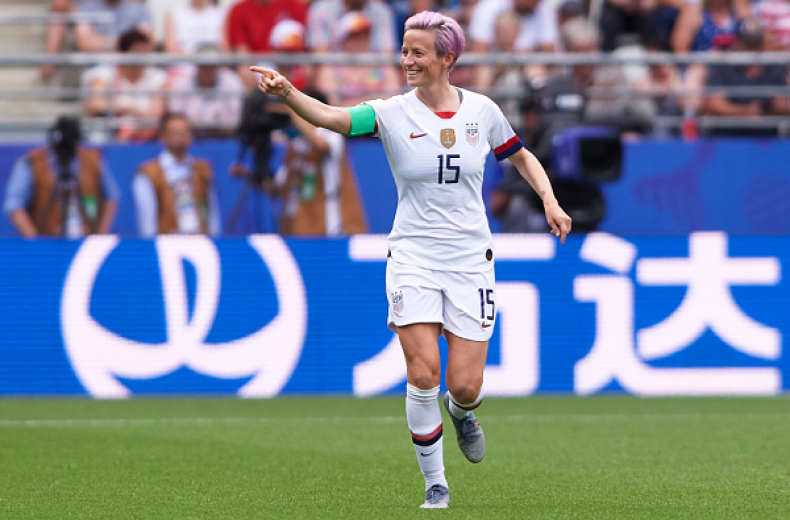 "No. I'm not going to the White House," she continued. "We're not going to be invited."
When the cameraman pressed Rapinoe on her thoughts on whether the team would be invited to the White House, she simply replied, "I doubt it."
Of course, the president caught wind of Rapinoe's comments and wasted no time in sharing his thoughts. In a string of tweets, Trump shared his criticisms of Rapinoe and other sports teams that refused to visit the White House. He also tied in some seemingly unrelated commentary about criminal justice reform and black unemployment. In doing so, he tagged user @meganrapino, instead of the soccer player's official and verified account @mPinoe.
"Women's soccer player, @meganrapino, just stated that she is "not going to the F...ing White House if we win," he wrote.
He deleted the tweet, but not before dozens of people noticed he initially tagged the wrong account, including @meganrapino, who had a fiery retort for the president. "And she was right to say so cry me a river plus this isn't even her acc[ount]," she wrote.
She even had the screenshot of Trump's original tweet to share after he removed it. "You can delete it but everyone's already seen it," she wrote.
People on Twitter had a field day with the mixup and plenty of people responded in support of @meganrapino and condemned the president for not checking the Twitter accounts beforehand while many others praised @meganrapino for standing her ground and backing the soccer player despite.
Trump later reposted the tweet and tagged the right person.
"Women's soccer player, @mPinoe, just stated that she is 'not going to the F...ing White House if we win.' Other than the NBA, which now refuses to call owner, owners (please explain that I just got Criminal Justice Reform passed, Black unemployment is at the lowest level..." he wrote. "...in our Country's history, and the poverty index is also best number EVER), leagues and teams love coming to the White House."
Trump noted he was a "big fan of the American Team, and Women's Soccer," but warned Rapinoe should actually win the FIFA Women's World Cup before commenting on the White House.
"Megan should WIN first before she TALKS! Finish the job! We haven't yet...invited Megan or the team, but I am now inviting the TEAM, win or lose. Megan should never disrespect our Country, the White House, or our Flag, especially since so much has been done for her & the team. Be proud of the Flag that you wear. The USA is doing GREAT!" he continued.
Trump's references of Rapinoe's "disrespect" of the country and flag is likely regarding the 33-year-old's kneeling stint at the National Women's Soccer League match between the Chicago Red Stars and Seattle Reign FC back in September 2016. Rapinoe said she was kneeling in solidarity with former NFL champion Colin Kaepernick, who, at the time, was at the forefront of national criticism over his decision to keel during the national anthem in protest of law enforcement's unjust treatment and killing of black Americans.
Team USA takes on France during the FIFA World Cup series on Friday.
@meganrapino did not respond to Newsweek's request for comment at time of post.