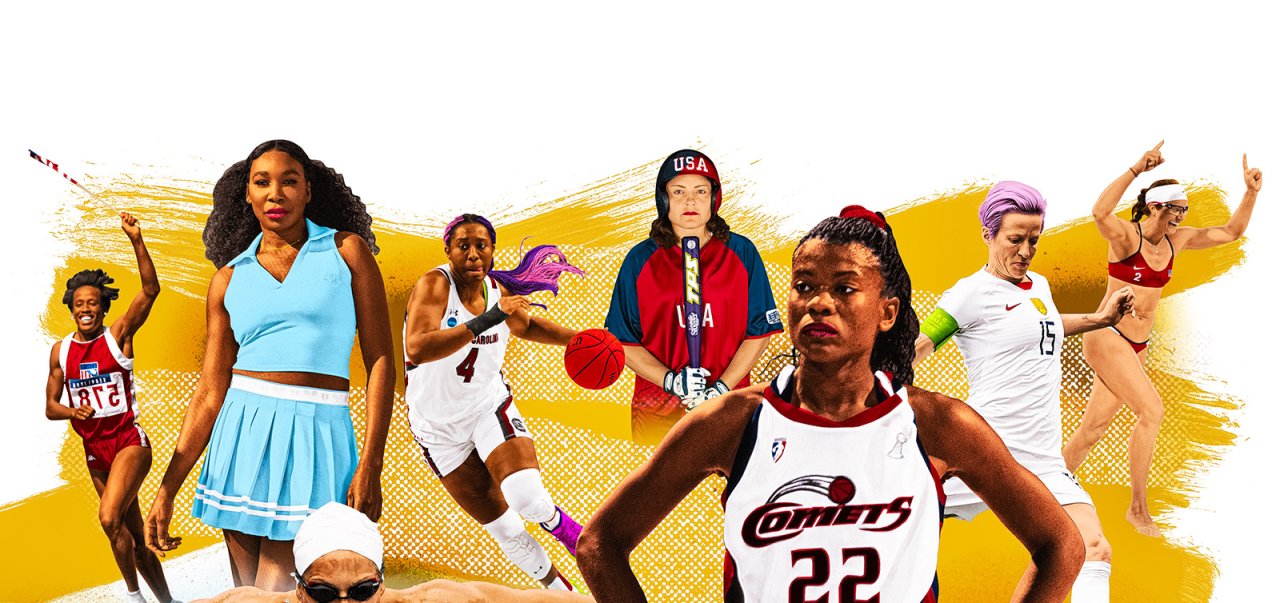 Megan Rapinoe and Roxane Gay On Equal Pay, Trans Bans and Life After Soccer
In 2016, NFL quarterback Colin Kaepernick stunned the American public by kneeling during the national anthem. He took that knee to protest police brutality and systemic racism and, in an instant, changed the conversation about athletes, activism and fighting for social justice—at great personal cost; since that season, no pro team in the U.S. has hired him. That same year, the professional soccer player Megan Rapinoe also took a knee in solidarity. It was a simple but powerful gesture that reverberated across the country, too. It was allyship in the truest sense of the word.
In an instant, Rapinoe became a symbol of what progress could look like. It also made her a target—for disagreement and disappointment, anger and vitriol, even death threats. She refused to be silenced and today, 50 years after Title IX first mandated equal treatment of high school and college women under federal law, Rapinoe continues to advocate for equal pay, fairness, bodily autonomy, Black lives and much more.
On the soccer pitch, Rapinoe is poetry in motion. Whether passing the ball to teammates or aiming between goalposts, she is a brilliant technician, precise and confident. One of my favorite images of Rapinoe is the moment just after she first scored during the 2019 World Cup quarterfinals against France. She spreads her arms wide smiling as she looks up because she knows she has done good. Rapinoe has given decades of her life to sport. From youth teams coached by her father to club soccer to the Olympics, she has played the beautiful game at every level. She is one of the all-time leading scorers in women's soccer and has received countless awards for her work both on the field and off.
Now, at 36 years old, she is still playing soccer—Rapinoe is a forward for OL Reign and was just named to the U.S. women's team for next month's CONCACAF W Championship, the 2023 World Cup and 2024 Olympics qualifier—and she is still using her voice to advocate for marginalized communities. But retirement is on the horizon; Rapinoe is nearing the end of one journey and contemplating what the next one will look like. We recently spoke, via Zoom, about her career, her activism, the alarming state of the world and what it's like to stand up even when people want you to stand down.
Roxane Gay: The U.S. Soccer Federation recently announced that men's and women's national teams are going to be paid equally through 2028. This has been a long time coming. What did it take to get here?
Megan Rapinoe: It took years of refusing to be gaslit. There's been this long-standing contention with the federation about a number of things, and then just always this condescending, kind of hostile, "you guys don't really know what you're talking about" vibe. The right moment, with the right kinds of personalities, with the right things happening in the country all collided at the same time and brought us to actually feeling we can do more.
RG: Are you satisfied with where things are at?
MR: I wouldn't say satisfied because there's so much history. It is a really important moment. I'm really proud of all the work we've done and where we've gotten to with the settlement and a new agreement. As an older player, I can never get back what I lost. If there's justice in it at all, it comes from the next generation not ever having to feel that or do the same fights.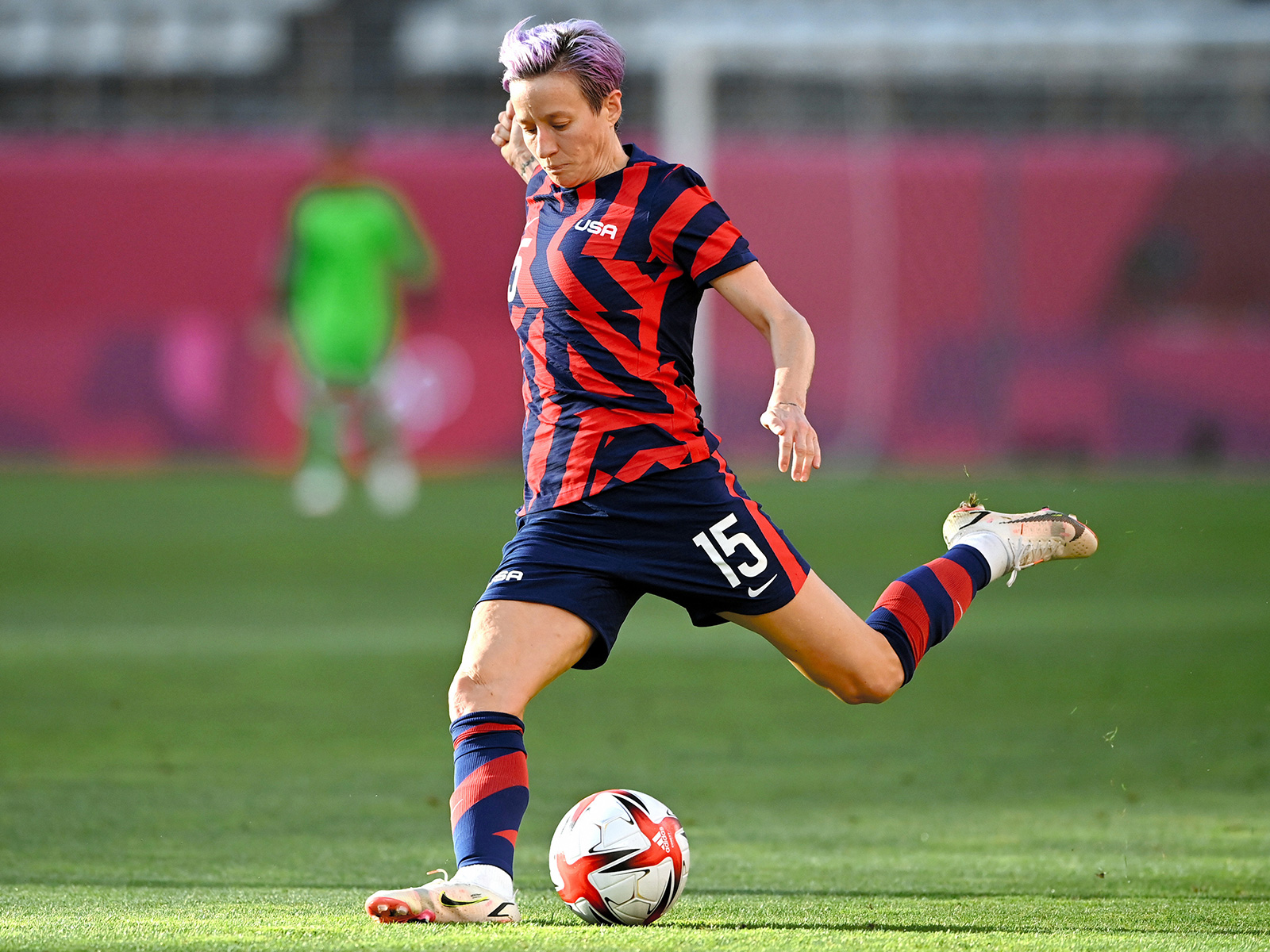 RG: Oftentimes in these types of battles, the side with more power waits for everyone to get exhausted and give in. How did you as a team and as advocates for women's soccer stay motivated to stay in this fight? This was a years-long battle for the bare minimum. How do you stay invested, and how do you maintain a love of the game?
MR: At the heart of it, we knew we were right, and we knew eventually something was going to come of it, and it was just a matter of enough people sustaining that energy for a long enough period of time where we could actually get something done.
RG: When athletes engage in political protest of any kind, people tend to say, "Stick to sports," but throughout your career, you've certainly done far more than just play soccer, especially when you took a knee in solidarity with Colin Kaepernick in 2016. How do you make decisions about when to engage politically with an issue because your leadership has provided quite a lot of attention to issues that might not otherwise receive the attention?
MR: We're a country that's obsessed with celebrity, obsessed with sports, and people who represent America. I shouldn't necessarily have the influence I have. Because I'm white and because I play in a sport that's predominantly white, that was going to get more attention. I had this outsized influence so if I don't use it, then you're kind of an asshole. While it was hard at times, I realized the sort of privilege bubble I lived in. Did I get death threats? Yeah, but was it on Twitter? Yeah. It didn't feel so scary. I knew I was protected when I went out into the world just as myself, and I knew I was protected playing the sport I did and looking the way I do. As a citizen of the country, we should all be doing whatever we can and are able to make things better. I'm not like banging on doors or writing policy. I can't do that, but this is what I can do.
RG: There are a lot of issues we're dealing with as a country, and some of those issues are incredibly complex and polarizing. How do you educate yourself about the issues you choose to take a stand on?
MR: Cable news is a beast I've had to take a step back from. I don't even know if we're getting news from cable news, but whether it's articles or podcasts or voices I trust, I try to keep tapped into that. I love to talk about these things, too. I also don't feel like a lot of these issues are complicated. They're all interconnected and pretty much come down to people holding onto power and the way that our country was founded, which is on brutal slavery, and sexism, racism, homophobia. The more you read, the more that becomes clear.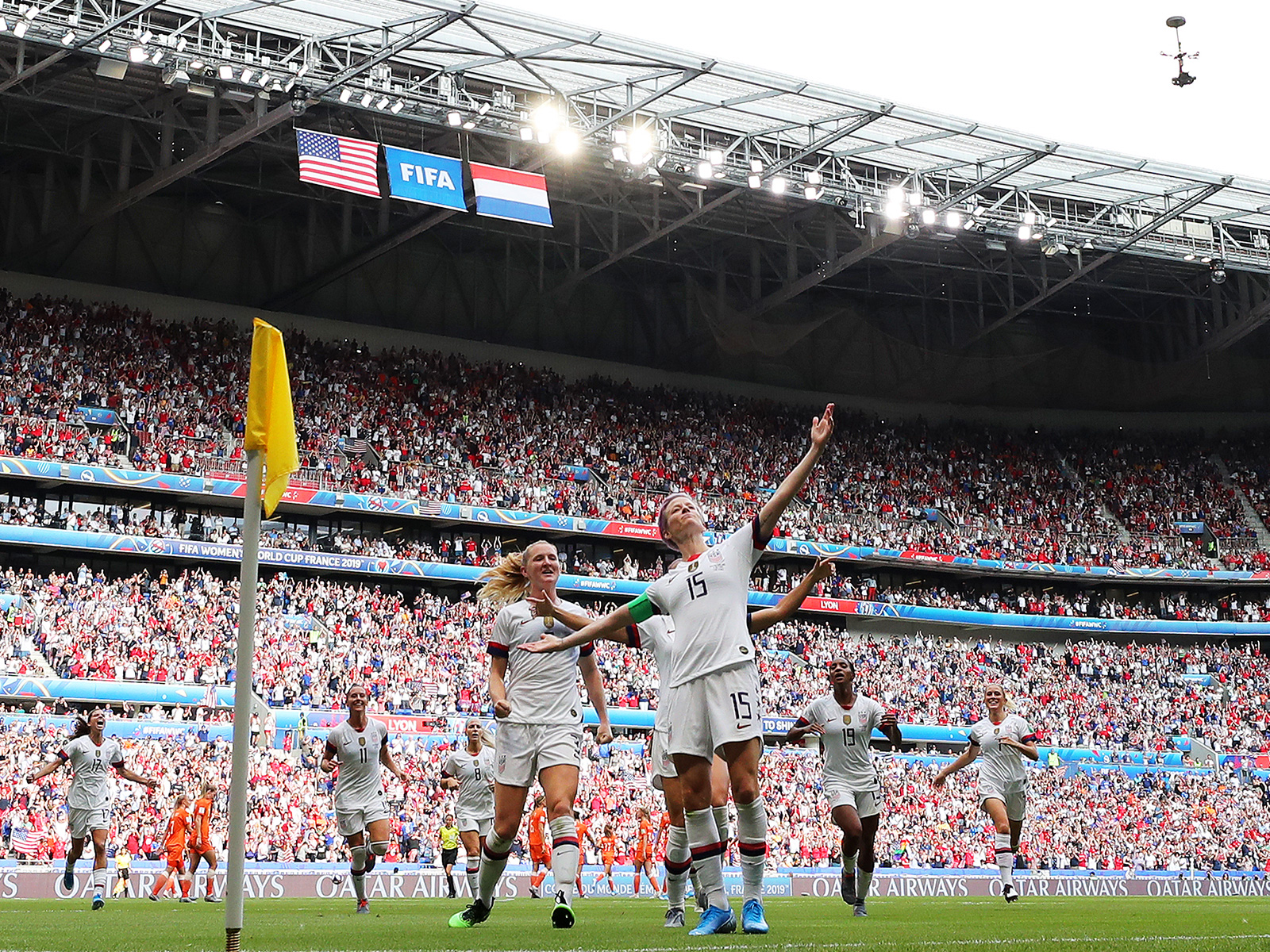 RG: You play professional soccer, and quite well, indeed. What has been a highlight over the course of your career?
MR: I love playing sports. I love that I've been successful and we've won. Those things are amazing, but it's just a sport. It's not the most important thing in the world. We've been able to do things that are really important through our sports. The equal pay and the settlement, for sure, and the change in the conversation we've been participating in off the field is by far what I'm most proud of.
RG: One of the things that has made women's sports possible for a great many women is Title IX, and as we come upon the 50th anniversary of Title IX, a lot of people are considering its importance. What is left to be done in terms of Title IX and its legacy trying to create a level playing field for women to participate in sports?
MR: It's so frustrating to see how well Title IX has worked and what an impact it has made in so many different ways, and then not seeing other legislation that continues to build on that. When you go into the professional sector, no one ever talks about the billions of dollars invested in men's sports as opposed to maybe the millions invested into women's sports. We obviously know legislating equality can work. So, how do we build on that and continue to grow so women's sports can stop having cement laid over the top of every garden we continue to grow.
RG: Where do you think our energies are best spent in trying to address some of the disparities that persist?
MR: This is such a tough question because the energy is there, the effort is there, the desire is there, but I don't think the power is there. It's going to take a combination of all of those things, and honestly, enough public pressure—shame people into doing the right thing. Clearly, the right thing isn't motivating for most people. And then more investment. I don't know exactly how we get that or where that comes from. Maybe it's calling out investment firms if they've invested in men's sports but not in women's sports, or the NBA investing more in the WNBA. A lot of the energy is there from the fanbase or the players, it's just the power structure doesn't have that energy.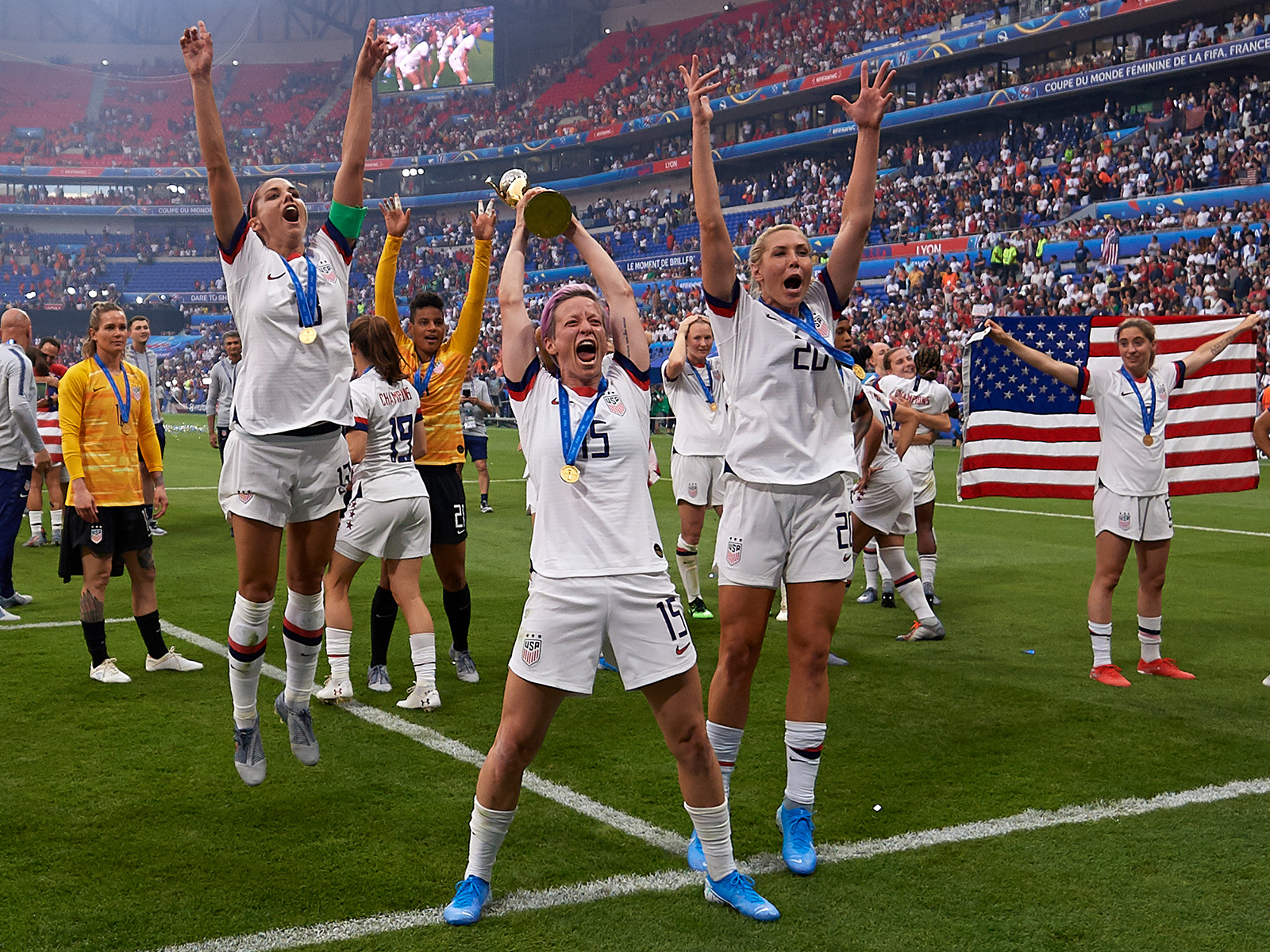 RG: The issue of trans women in women's sports comes up a fair amount, largely from very disingenuous places. How do we make space for that conversation in ways that don't silence anyone?
MR: Nobody batted an eye when Katie Ledecky was 20 pool lengths ahead, but Caster [Semenya, the two-time Olympic gold medalist from South Africa] can't run [because of a ruling prohibiting female athletes with naturally heightened testosterone from competing unless they reduce their hormone levels], and Katie's shoulders are really broad. The majority of the kids we're talking about are young and just want to participate. Shit's already hard enough. Let these kids play. Centering it around health care, you're obviously just trying to legislate people out of existence. The Olympics has testing rules and protocols, the NCAA has rules and protocols and the right makes it seem like, "Oh, anybody can just show up one day and put a wig on and compete." First of all, no, one's doing that and no trans woman is dominating in women's sports. Could that happen in the future? Maybe, and I'll hold space to talk about that. I feel confident we can figure out a way to have everybody participate and feel good and have it be fair. But we're putting the end goal of winning over everything else. I would give up any of the accomplishments I have, any of the wins I have, if you would tell me all the trans kids would be okay.
RG: I also think it is quite terrible is that transphobes are doing this on the backs of women. They're using advocacy for women and girls as an excuse, and I think for many women, we're like, "Oh, now you care about women? Now you want to worry about equality?"
MR: Exactly.
RG: When did you learn winning wasn't everything? Because as someone who has to focus on winning, who is ambitious, competitive, when did you learn, okay, this is great, but there's more?
MR: I lost a lot when I was younger. I'm a twin sister. We're the youngest of five kids, and she was always better than me at everything. I've won a lot in my career, but I've lost a lot, too. Sometimes athletes think they have to feel a certain way after losing, and I never did. You put everything into it and you play your very best, and there's certain moments and certain games I can look back to and be like, "Oh, I wish I would've done this different," but in general, I tried. We tried to win. We tried to do everything, and sometimes you win and sometimes you lose. Being on the national team for all of these years, it started to become really apparent that even if we didn't win a World Cup, we were still growing and we were still changing things and we were still winning in a lot of ways, in the game of life. I started to take a lot of pride in that as well, and I understood that the more you win on the field, the more you win off the field.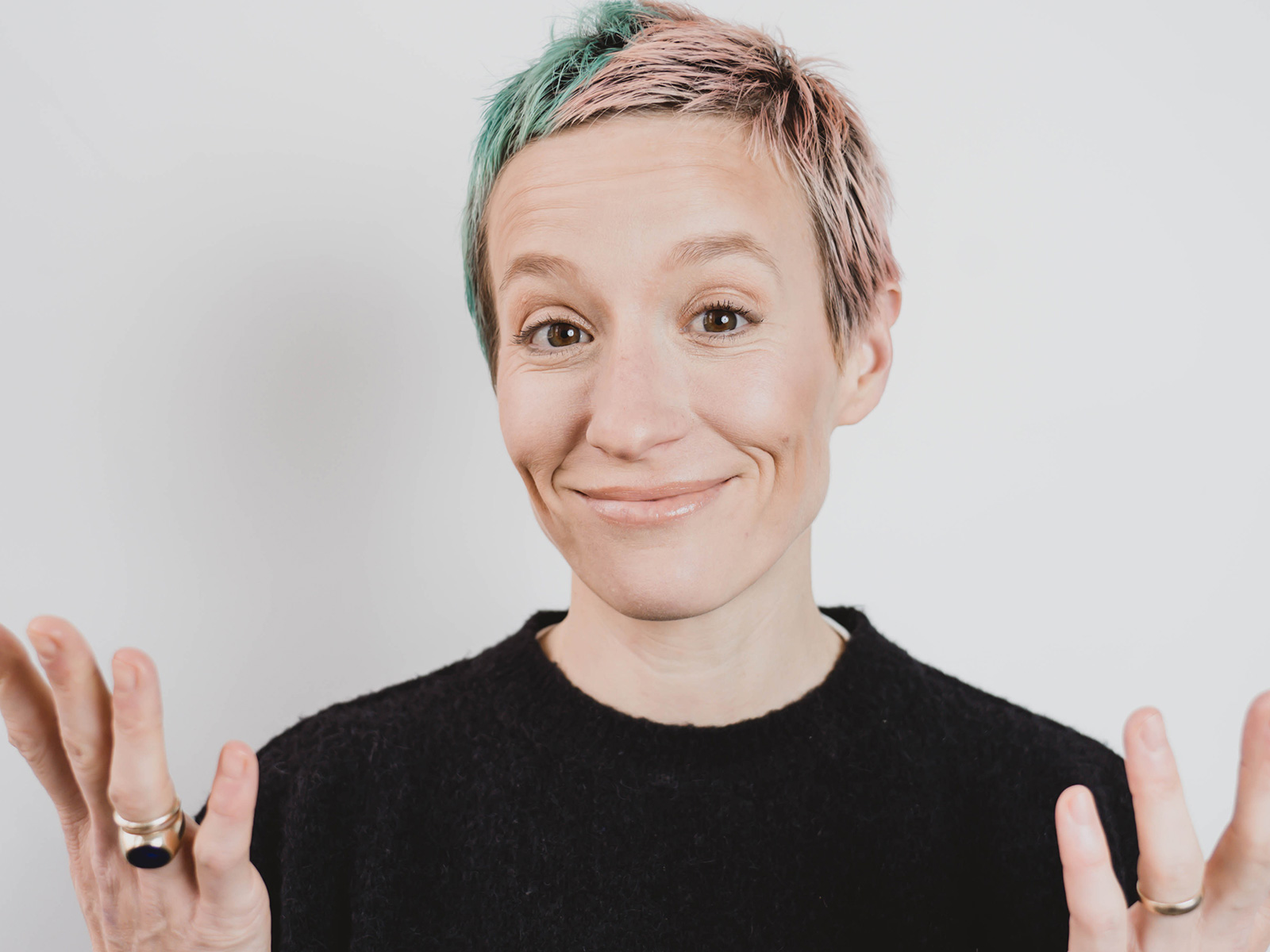 RG: You have to deal with the expectations of others all the time, whether it's American fans angry because of this or that, or teammate's expectations, or your own. How do you manage other people's expectations and erect a boundary where you don't allow your life to be dictated by the expectations of others?
MR: The expectations I care about are, of course, my own and the people that are close around me, and that keeps me grounded. I know the general expectations—play as good as I can all the time and win everything—but I don't tap into all that too much. I try to tap into the people around me that have been with me the whole time—friends, family, obviously my partner, Sue [Bird, the WNBA star]—and if I'm totally off kilter, they'll say it.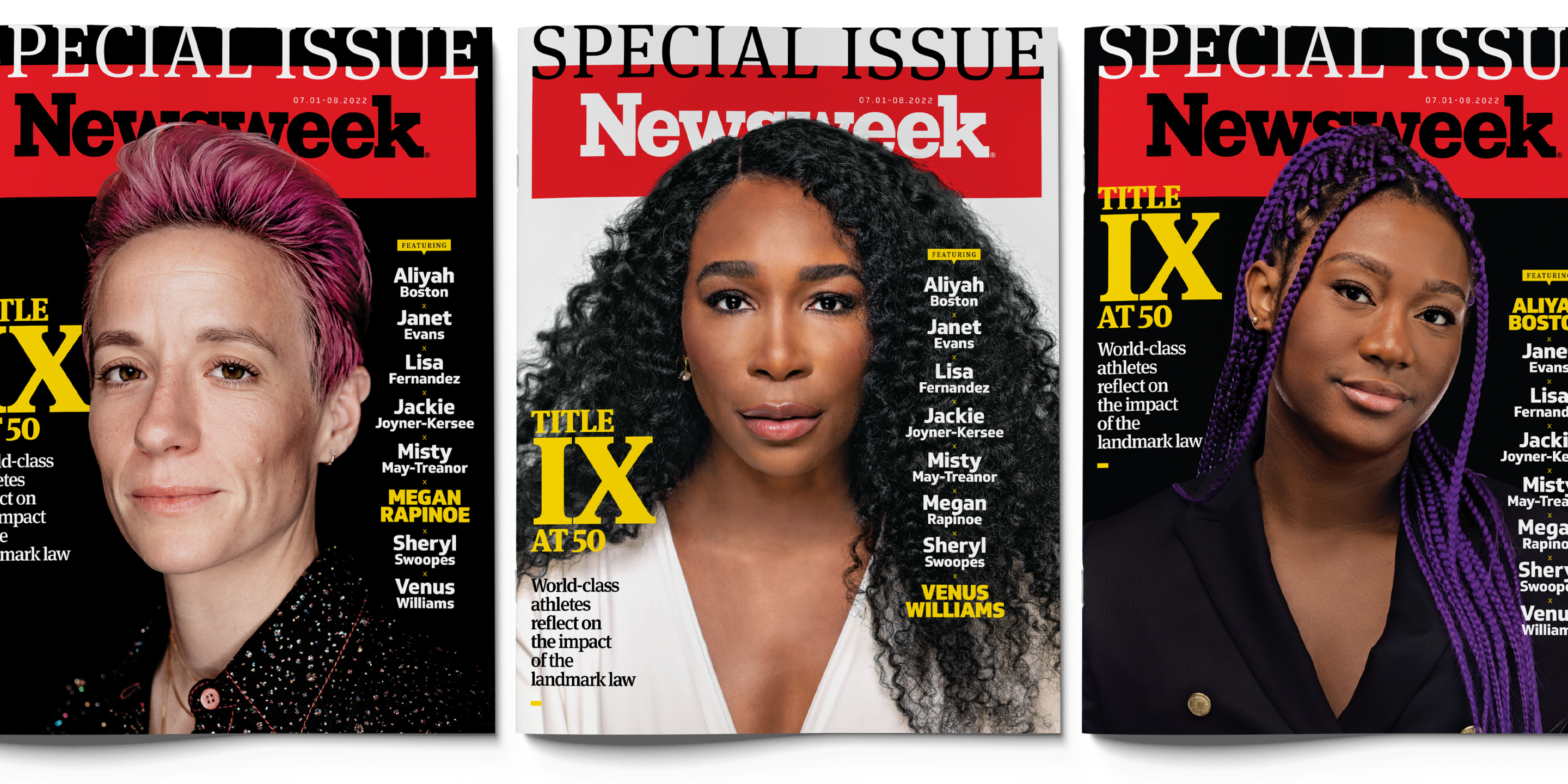 RG: You mentioned earlier that you're an older player and that means inevitably at some point you're going to stop playing soccer. What do you want life post-professional soccer to look like?
MR: I get asked all the time if I'm going to go into government, and I'm like, "That sounds like a fucking nightmare."
RG: I am often asked, "Are you going to run for office?" First of all, why do you hate me?
MR: I know. I didn't do anything to you.
RG: I can't think of anything worse, and I also don't think you can really make a lot of change from within the government based on what I've seen from our elected officials. That's not super motivational for me.
MR: I feel the exact same. Anyway, I think about it [retiring] all the time because I'm realizing I'm really close. Right now, it's looking like a lot of vacation and relaxing. I feel like we're potentially at an exponential growth period. Investment in women is always a good investment. It always has good returns. It always makes everyone better. I hope to be a part of ushering in a new reality for women's sports.
Best-selling author Roxane Gay's books include Bad Feminist and Hunger. She also has a newsletter, The Audacity, and a podcast, The Roxane Gay Agenda.