Megan Thee Stallion Says She Wasn't Arrested Despite Alleged Handcuffing Video
Megan Thee Stallion wasn't arrested this week, she claimed in an Instagram post on Wednesday. The news comes after the rapper was allegedly shot around the time rapper Tory Lanez was arrested on a gun charge.
News broke Sunday when it was reported that Lanez was arrested, and Stallion had been wounded in the encounter.
The "Hot Girl Summer" musician told her side of the story in a text post. "The narrative that is being reported about Sunday's morning events are inaccurate and I'd like to set the record straight," she wrote. "On Sunday morning, I suffered gunshot wounds, as a result of a crime that was committed against me and done with the intention to physically harm me."
It's unclear who Megan Thee Stallion is accusing of trying to hurt her. What's known of the incident is that Lanez was arrested in Hollywood Sunday when cops found a concealed weapon in his car. Apparently, authorities had been called about a disturbance, Hot 97 reported.
Newsweek subscription offers >
It's alleged the disturbance was a few gunshots, as well as a loud argument between the car passengers, which were Lanez, Megan Thee Stallion and another woman.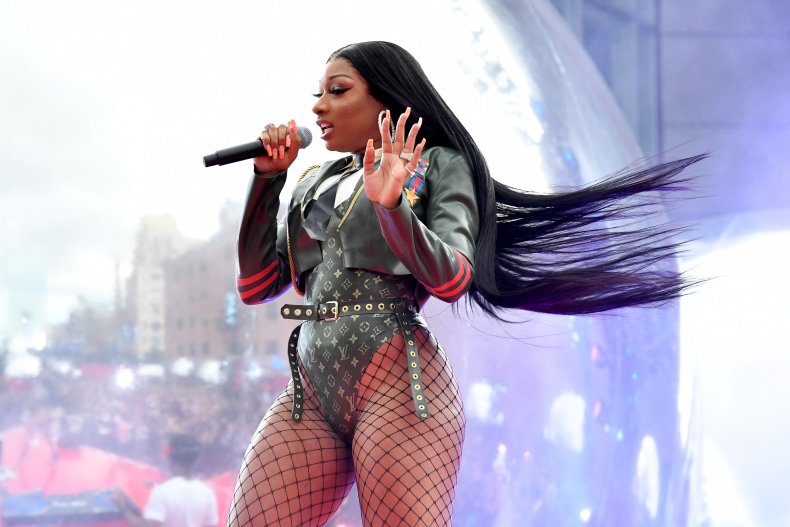 The rapper then explained despite being spotted in a police car, she wasn't ever in custody. "I was never arrested, the police officers drove me to the hospital where I underwent surgery to remove the bullets. I'm incredibly grateful to be alive and that I'm expected to make a full recovery, but it was important for me to clarify the details about this traumatic night."
Megan Thee Stallion's statement seemingly debunks a video circling the internet, which appears to show both rappers in handcuffs at the hands of police. There's no formal confirmation that this video, posted by The Shade Room, truly shows Megan Thee Stallion, and her statement brings new light to the assumption.
In addition to clarifying the lack of arrest, Megan Thee Stallion claimed the experience helped her learn how to better "protect her energy" moving forward. She ended the note by stating she's narrowing in on her health. "I'm currently focused on my recovery, so I can return back to my life and back to making music as soon as possible."
A list of celebrities commented well wishes on the rapper's Instagram post. Musician Lauren Jauregui said "Sending you so much love and healing energy mama. S***'s crazy."
Disney Channel's Skai Jackson responded, too. "I'm glad you are okay. So sad."
Twitter users also started trending "WHO SHOT MEG" on Wednesday, apparently in an attempt to identify the unnamed shooter who wanted to harm the rapper.
Megan Thee Stallion has a list of hit songs, but her 2020 release "Savage" has been one of 2020's leading songs due to its radio presence and use in a plethora of TikTok dance videos.
Newsweek reached out to Megan Thee Stallion for additional comment.
Megan Thee Stallion Says She Wasn't Arrested Despite Alleged Handcuffing Video | Culture