Meghan Accused of PR Stunt in Uvalde by Brother Who Turned Up Near Her Home
Meghan Markle's half-brother has accused her of a "publicity stunt" over flowers she laid for Texas school shooting victims—even though he went on Australian reality TV to criticize her.
Thomas Markle Jr. told GB News on Monday that she walked "like she was on a stage" at a memorial outside Uvalde County Courthouse in Texas on Thursday. Meghan's visit came two days after 19 children and two teachers died when a gunman opened fire at Robb Elementary School in what has been described as the deadliest school shooting since Sandy Hook in 2012.
Markle Jr. has himself been no stranger to the media after writing an open letter in which he called Meghan and Harry's marriage "the biggest mistake in royal wedding history" a month before the ceremony.
And more recently he posted photographs on Instagram in Meghan and Harry's Santa Barbara, California community which he tagged #meghanmarkle.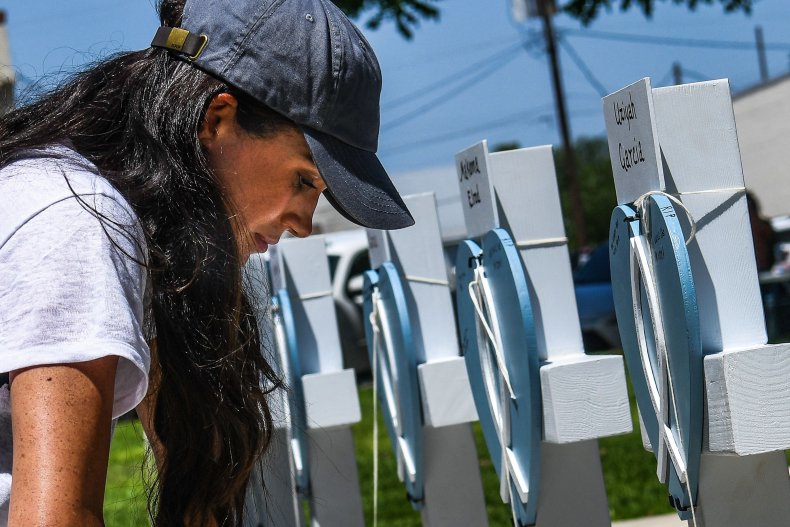 Thomas Markle Jr. Says Meghan's Visit Was a PR Stunt
Thomas Markle Jr., who is estranged from Meghan, gave an interview to GB News on Monday in which he criticized Meghan for not contacting their father since he experienced a stroke.
Thomas Markle Sr. was taken to the hospital last week but Meghan has reportedly not reached out against the backdrop of a four-year feud dating back to the May 2018 royal wedding.
Markle Jr said: "I honestly don't know what Meghan's agenda is. I'm just telling you from my standpoint of view its totally wrong what she's done. It's the most insensitive, inconsiderate thing I've ever seen in my life."
He added: "It probably most likely was a PR stunt judging by the cameras there and the little walk she did like she was on a stage. It just didn't make any sense. If she wanted to reach out to my father she's had every opportunity." He followed up with another picture at a Montecito restaurant.
A spokesperson for Meghan told Newsweek she visited Uvalde as a mother to support a community experiencing unimaginable grief.
Thomas Markle Jr.'s Visit to Montecito
Markle Jr. posted photographs of himself on Instagram at Prince Harry's local polo club on May 9, around a week after it was announced the duke would be regularly playing there with his new team Los Padres.
Santa Barbara Polo & Racquet Club is a ten-minute drive from Meghan and Harry's Montecito mansion.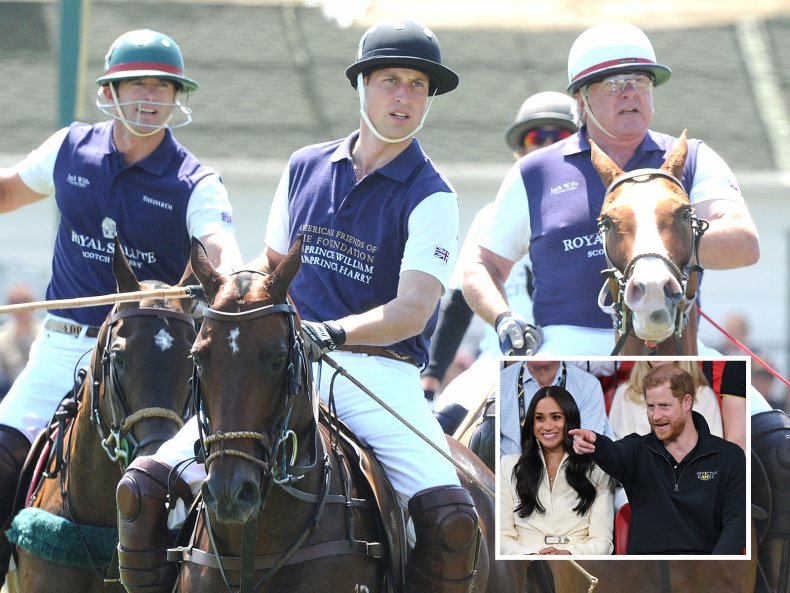 Markle Jr. appeared to be meeting friends for an event at the club. However, if there was any chance he had not connected the visit to his world-famous half-sister, that was undermined by his use of hashtags including "#meghanmarkle," "#royal," "#britishroyalfamily" and "#meghanandharry."
He also referenced his own brief career on reality TV with "#bigbrother" and added another post from Montecito restaurant Local.
Harry's brother-in-law competed on Australia's Big Brother VIP last year, where he criticized Meghan straight from the off, saying in a promo clip: "I told Prince Harry, I think she's going to ruin your life. She's very shallow."
Markle Jr. wrote Prince Harry an open letter around a month before the royal wedding in which he said the duke should call off the ceremony.
It read: "Dear Prince Harry, It's not too late, Meghan Markle is obviously not the right woman for you. As more time passes to your Royal Wedding, it becomes very clear that this is the biggest mistake in royal wedding history. I'm confused why you don't see the real Meghan that the whole world now sees.
"Meghan's attempt to act the part of a princess like a below C average Hollywood actress is getting old."
Markle Jr. is not the only one linked to the family to step onto Meghan's turf recently.
Karl Larsen, the press photographer who has a YouTube channel with Markle Sr., went to a house viewing next door to Meghan's mother Doria Ragland, and joked on YouTube about being able to hear children playing.
For more royal news and commentary check out Newsweek's The Royal Report podcast: