Meghan Markle showed off the perfectly arranged office of her Montecito mansion in a 40th birthday video calling for mentors to help women back to work.
The Duchess of Sussex wants people around the world to give 40 minutes of their time to help a woman who has dropped out of employment due to the coronavirus pandemic.
For the project, she has recruited famous names including singer Adele, poet Amanda Gorman, author Deepak Chopra, academic Ibram X. Kendi, feminist icon Gloria Steinem and Sophie Grégoire Trudeau, wife of the Canadian Prime Minister Justin Trudeau.
Meghan said in a statement on her website: "I believe mentorship is one way to help women regain confidence and rebuild their economic strength, and for my birthday, I have asked 40 friends, activists, athletes, artists, and world leaders to help kick off a global effort by contributing 40 minutes of mentorship to support women reentering the workforce."
And during a light-hearted call-to-arms video released on Wednesday, she gave fans a look inside her $14 million mansion in Montecito, Santa Barbara.
Meghan conducted a video call with Melissa McCarthy at a large wood desk stacked with piles of her children's book The Bench, released in June.
She had tea and biscuits on a tray, in a hint she may not have completely turned her back on all things English since leaving the U.K.
Rescue dog Guy sits on his own cushion in the background while a Hermes blanket is draped over a chair and a bunch of white flowers in a vase perfectly match the aesthetic.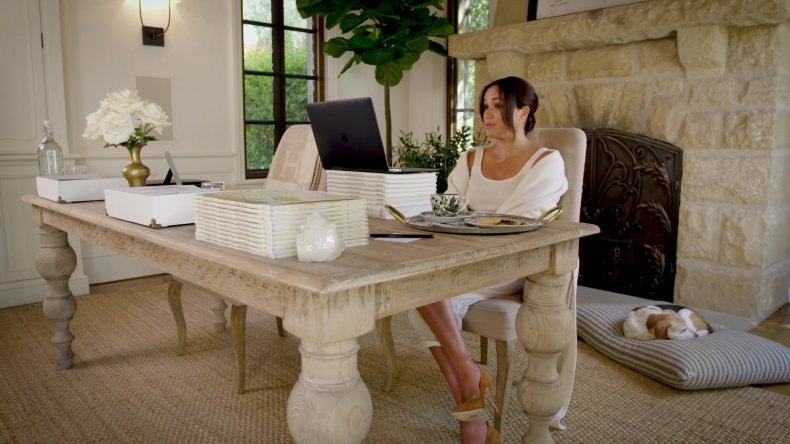 Despite the video's many knowing references to royal life, the decor is markedly different to the palaces where Prince Harry grew up.
Meghan and Harry's color scheme is very light and white with a simple carpet and an uncluttered overall feel.
Queen Elizabeth II's residences by contrast have elaborate carpets and many artefacts lining the walls.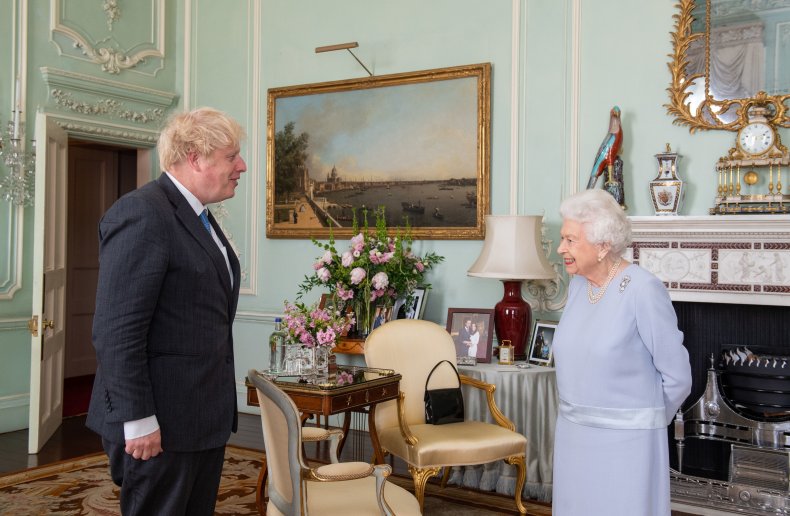 One royal family member in particular caught attention with pictures of her watching Scotland play rugby, in February.
Princess Anne's Gatcombe Park home in Gloucestershire sparked public commentary from fans who were surprised to see how messy it was.
Meghan said in a statement on her website: "In reflecting on my 40th birthday and the many things I am grateful for, I'm struck that time is among our greatest and most essential gifts: Time with our loved ones, time doing the things we love, time spent learning, laughing, growing, and the sacred time we have on this earth.
"Amongst the most valuable gifts of time is also time spent in service to others knowing that it can contribute to incredible change.
"To that last point, and with my 40th lap around the sun in mind, it made me wonder: what would happen if we all committed 40 minutes to helping someone else or to mentoring someone in need? And then what would happen if we asked our friends to do the same?"
Following the call to arms, more celebrities have come out in support of the project, including one notable member of the royal family.
Princess Eugenie posted an Instagram Stories update which read: "To celebrate dear Meghan's 40th birthday I'm contributing 40 minutes of mentorship to support women reentering the workforce."
Democratic politician Stacey Abrams is also among those backing the 40 x 40 scheme, writing on Twitter: "To celebrate the 40th birthday of my friend Meghan, The Duchess of Sussex, I'm donating 40 minutes of mentorship to a woman reentering the workforce. Commit 40 minutes to service or mentorship today, and we can help ignite a wave of change."