Meghan Markle Biography Claims Are 'Stupid Re-Hashed Nonsense,' Friend Says
A new biography claiming Meghan Markle "can be difficult" is "stupid re-hashed nonsense from tabloid rumors," a friend tells Newsweek.
Royals at War claims the Duchess of Sussex has "very high standards" from working in Hollywood, resurrecting old stories which saw her nicknamed "Duchess Difficult" in the U.K. press.
Authors Dylan Howard and Andy Tillett cite turnover rates among her staff and claim a police protection officer quit her service after Meghan ignored safety advice about going into crowds.
The authors quote an unnamed source who told them: "Meghan can be difficult. She has very high standards and is used to working in a Hollywood environment.
"However, there is a different degree of respect in the royal household."
However, a source close to the couple told Newsweek Howard and Tillett were repeating past slurs.
The friend said: "This is all just stupid re-hashed nonsense from tabloid rumors. None of it is true."
The book claims Meghan's decisions to support different patronages were "too rushed, without proper research."
Published by Skyhorse, it is out today in the U.S. in hardback costing $22.49.
Publicity describes it as an "explosive exposé" and claims it also seeks to answer the questions: "Did the public and media criticism of Meghan go too far? And just how valid are the accusations of racism?"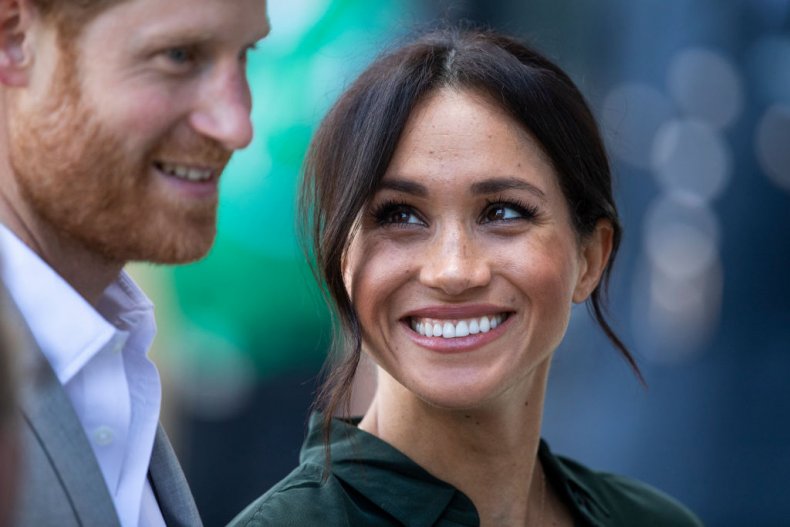 Howard told MailOnline that his sources claimed Meghan and Harry's decision to leave the royal family was foreshadowed by a move in September to make use of Meghan's former PR consultants from before she was a royal.
The couple are now represented in America by celebrity reputation management firm Sunshine Sachs.
Howard said: "Insiders told me that by that point, Meghan had burned too many bridges.
"The Palace is run by a hierarchy of advisors, aides and equerries who hold the real power.
"Once Meghan cut herself free of those strings, there was no way back."
Prince Harry and Meghan announced they would step back as senior royals in January and began a new regime in April.
They are currently living in Los Angeles where they moved in March after a short stay in Canada.
The claims in Royals at War are likely to stir anger among Markle's supporters, with many viewing claims she is "difficult" as racist.
U.K. broadcaster and journalism lecturer Marverine Cole told Buzzfeed in 2018 that she saw this kind of commentary on Markle as part of a trope.
She said: "It's one of the tropes wheeled out in relation to women of African and Caribbean heritage.
"We are difficult, we are seen as getting upset, getting angry. We're never seen or viewed with rounds of sympathy.
"There are lots of people tired of this sloppy, lazy reporting."