Meghan Markle 'Disappointed' Palace Staff With 'Flashy' Baby Shower
Meghan Markle's "lavish" baby shower left palace staff "spitting out their morning tea," a new biography claims.
The Duchess of Sussex flew to New York to celebrate becoming a mother with the party hosted by tennis player Serena Williams and college friend Genevieve Hillis.
Guests included fashion designer Misha Nonoo, CBS presenter Gayle King, NBC cable entertainment chief Bonnie Hammer and former Suits co-star Abigail Spencer.
However, after the paparazzi were tipped off about the event at the Grand Penthouse of the Mark Hotel, in New York, it became a "circus," Finding Freedom suggests.
The book's authors wrote: "While the trip had been a hit with Meghan, senior courtiers back in the UK were spitting out their morning tea when they saw her lavish baby shower thrown by friends turn into a media circus with what looked like carefully stage-managed paparazzi walks of the duchess in big black sunglasses from her hotel to her car and a laundry list of insider party details reported by U.S. press."
Meghan flew back from the shower on George and Amal Clooney's private jet having stayed at the Mark Hotel, on the Upper East Side.
Michelin-star French chef Jean-Georges Vongerichten designed the food and famous harpist Erin Hill played for guests.
Members of the royal family have a history of downplaying their wealth publicly, with Queen Elizabeth II taking her summer holiday at her Scottish Balmoral retreat.
In winter, she goes to Sandringham, in Norfolk, each year, taking a commercial train from London.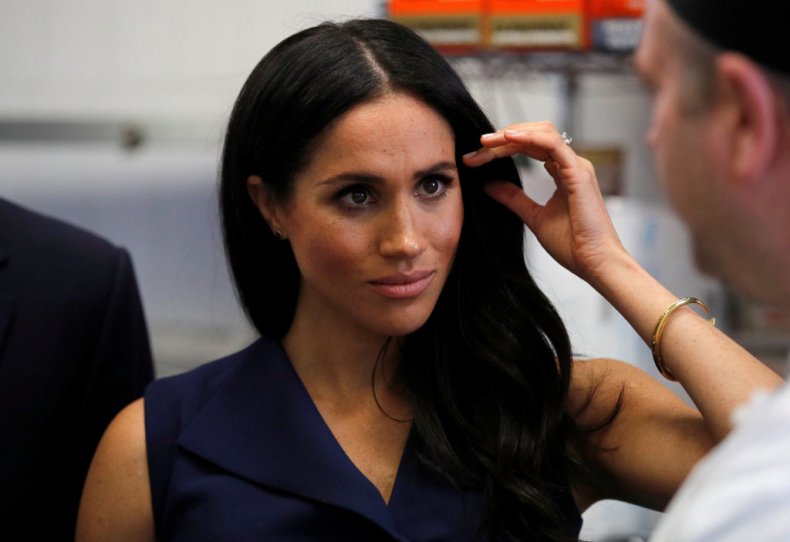 The book's authors, Omid Scobie and Carolyn Durand, described how Meghan had previously been accused of being "too Hollywood" for the "reserved aesthetic of the monarchy."
A senior aide told them: "It's fair to say that the optics of the somewhat flashy shower did not go down well with certain individuals at the palace.
"I think a few people that had defended her over the months felt a little disappointed.
"But sometimes in this role you're damned if you do and damned if you don't. Ultimately, the trip was just Meghan's friends celebrating a really exciting moment in her life."
Meghan flew back from the shower on George and Amal Clooney's private jet having stayed at the Mark Hotel, on the Upper East Side.
The book goes on to describe how Meghan had wanted a home birth but chose to deliver Archie at privately-run The Portland Hospital, in London.
Following the birth, Meghan told one friend Archie "barely cried" and that he was an "angel," the book says.
It adds that she told a friend how the first moment she held him was "ecstasy" and "total bliss and contentment."