Meghan Markle Won't Meet The Trumps on Their U.K. Trip: Here's What She's Said About the President in the Past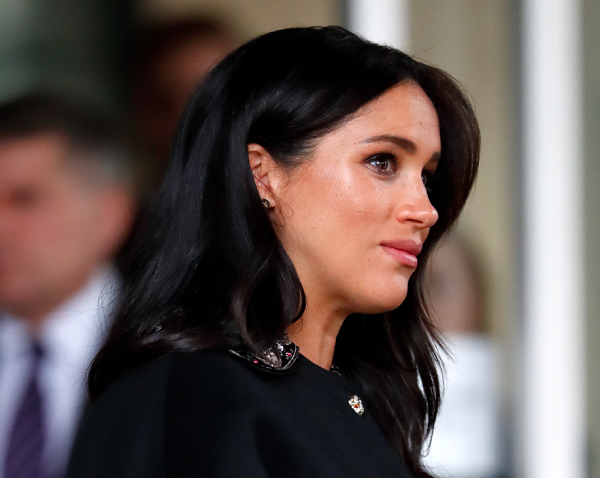 The royal family will enjoy the company of President Donald Trump and his wife, first lady Melania Trump, during the first family's visit to the U.K. in June. Queen Elizabeth will host the Trumps during celebrations honoring the 75th anniversary of D-Day June 3 through June 5. But one high-profile member of the Royal Family won't take part in the visit: Meghan Markle, the Duchess of Sussex.
Unlike Donald Trump's 2018 visit to the U.K., during which he solely met with the queen, several members of the royal family will play host including Prince Charles and his wife Camilla, Duchess of Cornwall and Prince Andrew, CNBC reported. All four of Donald Trump's adult children—Ivanka Trump and her husband Jared Kushner, Donald Trump Jr., Eric Trump and Tiffany Trump—are expected to travel to the U.K. with the president, although they will not attend all of the scheduled events.
Prince William and Kate Middleton Duchess of Cambridge, are not scheduled to appear at any of the events during the Trumps' visit. Prince Harry and his wife, Meghan Markle, Duchess of Sussex, also have a clear schedule during Trump's state visit, however, Metro reported Harry is slated to attend a private luncheon hosted by his father Charles during the first day of events. American-born Markle is currently on maternity leave following the birth of her first child, Archie Harrison Mountbatten-Windsor.
The Los Angeles native was openly critical of the president before her 2018 marriage to Harry. Back when Trump was on the campaign trail, Markle, who previously advocated for women's rights in the U.S., ridiculed the real estate mogul on an episode of The Night Show with Larry Wilmore in May 2016, calling him "misogynistic" and "divisive." "
We film Suits in Toronto and I might just stay in Canada," she elaborated. "I mean come on, if that's the reality we are talking about, come on, that is a game changer in terms of how we move in the world here."
She continued: "Yes, of course, Trump is divisive. Think about just female voters alone. I think it was in 2012 the Republican Party lost the female vote by 12 points. That's a huge number and with as misogynistic as Trump is and so vocal about it, that's a huge chunk of it."
Markle noted she wasn't just supporting Trump's campaign rival Hillary Clinton because she was a woman, but because she didn't want to see Trump's vision of the world become a reality. "You're not just voting for a woman if it's Hillary because she's a woman, but certainly because Trump has made it easy to see that you don't really want that kind of world that he's painting," she said.