'Meghan Markle Donated To Our Charity—But We Kept It Secret'
About 10 years ago, I had a chance meeting with a homeless person in Nottingham, England, where I live. This man was an asylum seeker with no access to public funding and was therefore rendered homeless. It really shook me up and I was deeply ashamed as a British citizen and a Muslim that there are people in our community who need our support and are not getting help.
So I formed a charity, Himmah, that was initially to help asylum seekers and people of color who suffer from poverty, to help empower them through education and employment.
But since then, with welfare reforms in the U.K. and increases in the cost of living, 80 to 90 percent of our beneficiaries are people in our local communities.
In May 2020, as the COVID-19 pandemic worsened, we had gone from providing 50 food parcels a week to more than 200 parcels a week, close to 1,000 parcels a month and more than 1,500 hot meals a month to ​our community, and at the same time we were in lockdown and our food bank model had broken. People were unable to drop off food at donation locations because of lockdown and supermarkets were limiting the amount of items people could buy because of stockpiling. Simultaneously our volunteer base had broken down because of lockdown and fears about the virus. It was an amazingly tough time.
Then, out of nowhere, I received an email in May purporting to be from the Duchess of Sussex, Meghan Markle's office, stating that she had found our organization online, she was amazed by us and had connected with our core values of compassion, dignity, service and justice. The email talked about Meghan and the Duke of Sussex, Prince Harry's love for Nottingham. Meghan wanted £10,000 raised from the cookbook she launched, Together: Our Community Cookbook to be donated, via The Royal Foundation, to two of our projects. The first was our community food bank and the second is the only Muslim-Jewish soup kitchen in the country, which we run in partnership with Nottingham Liberal Synagogue.
I'm a kid who was raised in a council estate and this was the middle of a global pandemic, so I thought it was a hoax. Also, as a Black, Asian and minority ethnic (BAME) organization we can get spam and strange messages.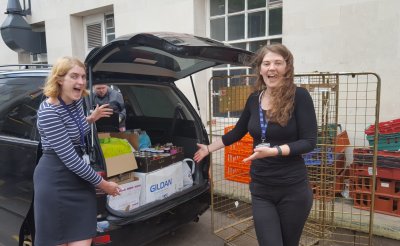 Two weeks later another email arrived and I remember thinking that these people were persistent with their joke. Then, a few weeks after that, a letter arrived on the official letterhead of The Royal Foundation saying that they really wanted to donate this money to us. At that point, I started to think that it could be true. But I wondered how on earth the Duchess of Sussex could know about a tiny charity based in inner city Nottingham? Several phone calls later we realized it was serious, and the £10,000 arrived in our account in August.
I sent an email profusely apologizing and explained that nothing like this usually happens to people like us. We're a small, inner city charity and didn't expect royalty to contact us. I told them that when I had read their letter out to our volunteers, some had cried. I also cried when I realized it was real. It felt like after 10 years of hard work and sacrifice from volunteers, trustees, supporters and donors, we were finally being recognized.
But, our primary duty and concern is to our beneficiaries. At the time, we were moving premises and delivering more food parcels than ever. We were also never given explicit permission to share the news of the donation.
In addition to that, a few of our trustees were concerned about sharing publicly that Meghan Markle had donated money to us. We are a BAME-led organization who had already received abuse, we work our socks off and we didn't know where our next big donation would come from.
A few of our trustees thought that if we were attacked because we're a BAME organization that had received money from Meghan, who herself was being attacked on many platforms at the time, it would detract from our core work at a time when our funding was very low. That was it.
I have personally been challenging racism in Nottingham for nearly 15 years. I have received death threats and so have my family. We have had the police parked outside our house for protection because I spoke up against white supremacists and neo-Nazis when the Muslim community was being attacked in the U.K. That lived experience and the trauma of experiencing racism can mean that you are cautious of putting your head above the parapet.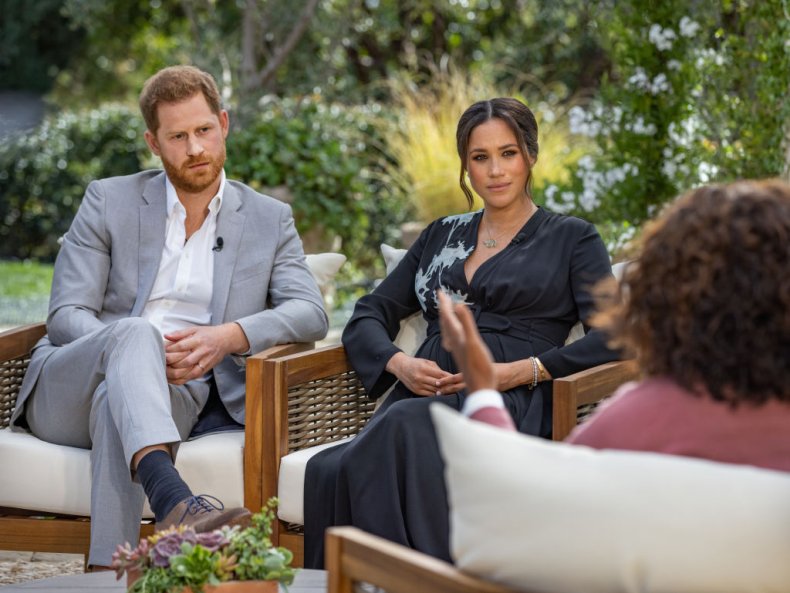 But it became explicitly clear from the Oprah interview with Meghan and Harry—even if you take the personalities out of it—that there was a woman of color claiming to be discriminated against and suffering from mental health and wellbeing issues.
We are a poverty and race education organization that also covers mental well-being. We felt that it was immensely courageous of the Duchess to speak out. I, and many others, are survivors of racism and it has left lifelong trauma. The fact that she spoke out gave courage to people like me, to women of color, to say enough is enough. At that point, our trustees immediately said enough is enough, and that we needed to show solidarity and support for Meghan, regardless of any comeback. And we did that.
We are 100 percent with the Duchess on issues of racism and mental well-being. Her personal situation is a private issue that has become public, but anyone who challenges racism and puts a call out for support for their mental wellbeing should absolutely, unconditionally have our support and our compassion.
We wanted a message to go out to the world that we at Himmah are with those people.
In Nottingham, we have had an outpouring of support and recognition to say the donation is absolutely deserved. But there seems to be a divide in the U.K. about cultural identity and I think Meghan has become part of that. It seems that people are either extremely pro-Meghan or extremely anti-Meghan. People on social media have denied we are a legitimate organization, have asked why she only gave £10,000 and they have suggested she didn't actually donate the money. Our organization has even received hate mail.
By putting our head above the parapet for a just cause, we have received hate. We had to do it though, because we can no longer stay silent about racism and people's mental well-being. The real reason we went public about the donation is to start a conversation about those topics.
We wanted to encourage people that it is never wrong to call out racism, or speak out if you are suffering from racism or mental health issues. We also wanted to give our thanks and gratitude to the Duchess and show people what she and Harry did in the U.K. when they lived here. They have supported and championed a number of BAME led charities in Nottingham.
Himmah is a very small, BAME led charity who would never have received any limelight. Indeed, we hadn't in 10 years. Meghan, simply by donating, has elevated our charity and the causes that we support and champion.
We haven't heard from Meghan since the news of her donation was published, but I'd like to reach out to her and apologize as there was never any question of reputational damage from being associated with her. I am planning to send an email to her to explain that and thank her personally.
I felt a sense of relief and validation when I realized that the donation from Meghan was real. Before I started Himmah I had a very good job, but I left that job and returned to Nottingham to raise my family and try to make a difference here. I wanted to give to people.
My father died when I was two and my mother was a Kashmiri immigrant. She raised five children on a council estate in the early 1980s all by herself. I witnessed race riots less than 100 meters from my house. I have seen my friends stabbed and I have seen friends shot and killed 30 meters from the house I grew up in. It was a tough time.
I had wondered what was so special about me that I have managed to be successful. I wondered why others in my class hadn't made it. Then, I realized when I worked in London that the people I met there were no better than my friends, but, they had the benefit of privilege. I wanted to come back to Nottingham and challenge that. I want kids who grow up here to have a future in this country. I want Muslims to have a future in this country and I want working class people to be proud of who they are and what they can achieve. Personally, receiving Meghan's donation made me feel like my work and sacrifice had been recognized.
At the end of her letter Meghan took her time to personally thank us for the work we have been doing. So, I just want to thank her, let her know we are with her and that she will always have an ally in Himmah.
Sajid Mohammed is the CEO of Himmah, a charity based in Nottingham, England. Since its inception in 2010 it has evolved to become a collection of services, projects and collaborations largely run with volunteers and good will.
All views expressed in this article are the author's own.
As told to Jenny Haward.