Who Is Doria Ragland? Meghan Markle's Mom Will Ride to Royal Wedding With Daughter
Meghan Markle's father, Thomas Markle, may not walk her down the aisle at the royal wedding Saturday, but Prince Harry's soon-to-be mother-in-law will appear at the ceremony. Markle's mother, Doria Ragland, is already in London for what could be the wedding of the decade.
Royal correspondent Omid Scobie told Good Morning America Ragland arrived in England on Friday to help her daughter with a few last-minute wedding details. She and Markle celebrated Mother's Day Sunday—although the holiday happened months ago for U.K. residents.
Ragland, a yoga instructor and social worker for Culver City, California's Hirsch Mental Health Services, stayed at Kensington Palace with Markle and Prince Harry during her visit. She also got a chance to meet with some members of the royal family, including Harry's grandmother, Queen Elizabeth II.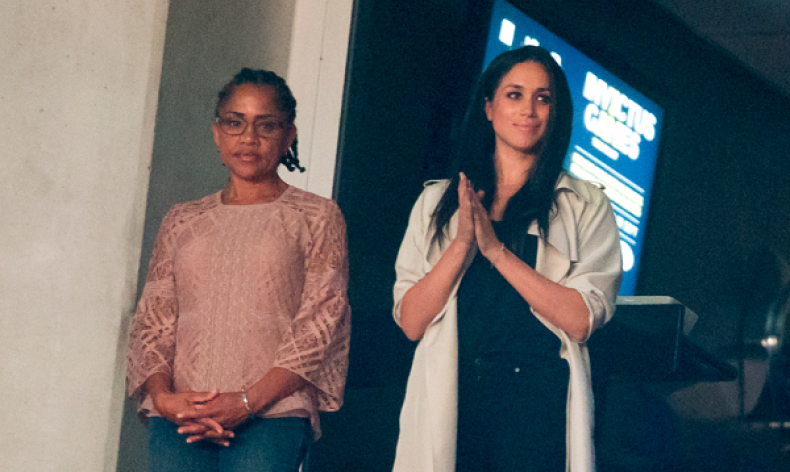 Although Markle's parents were married when she was born on August 4, 1981, Ragland and Thomas Markle divorced six years later. Despite regularly seeing her father, Markle was raised by her mother, with whom she shares a close bond. Ragland's only child, Markle has spoken fondly about her relationship with her mother, telling Glamour magazine in August 2017: "We can just have so much fun together, and yet I'll still find so much solace in her support."
Markle has also written extensively about her mom, whom she refers to as a "free spirit." In a 2014 blog post on Meghan Markle's former website The Tig, Markle adoringly described her mother as a "Dreadlocks. Nose ring. Yoga Instructor. Social Worker. Free spirit. Lover of potato chips & lemon tarts."
She added: "And if the DJ cues Al Green's soul classic 'Call Me,' just forget it. She will swivel her hips into the sweetest little dance you've ever seen, swaying her head and snapping her fingers to the beat like she's been dancing since the womb. And you will smile. You won't be able to help it. You will look at her and you will feel joy. I'm talking about my mom."
Harry seems to join Markle's adoration of Ragland. During the couple's first joint interview with BBC since announcing their engagement in November, Harry proclaimed, "Her mum's amazing!"
Ragland is expected to join Markle in the car ride to Windsor Castle on the day of the royal wedding. Following news that Thomas Markle will no longer walk his daughter down the aisle, there is some speculation that Ragland will step in.