Meghan Markle 'Embarrassed' About Father During Tea With Queen Elizabeth II
Meghan Markle felt "quietly embarrassed" about her father during tea with Queen Elizabeth II before her wedding, a new biography claims.
The Duchess of Sussex faced a "public drama" after Thomas Markle pulled out of her wedding to Prince Harry, according to the eagerly anticipated tome Finding Freedom.
First, he was caught staging pictures with a paparazzi photographer. He then made statements to the media saying he was not going to the wedding.
He was taken to hospital after a heart attack, confirming that he would not be able to travel to Windsor for the May 2018 ceremony.
Meghan was forced to issue a statement through Kensington Palace just two days before the wedding, around the time she took her mother Doria Ragland to meet the queen and her husband Prince Philip.
The book, out today, says: "Not a word about the subject had been spoken when Meghan brought Doria to meet the Queen and Prince Philip earlier in the day, but the situation still caused her to quietly feel embarrassed about the public drama during their afternoon tea at Windsor Castle."
Rumors had been swirling in the British press that Markle Sr would not attend St. George's Chapel when pictures appearing to show his preparations for the event began circulating.
However, the Mail on Sunday obtained CCTV footage suggesting he worked with a paparazzi photographer to stage the photos, showing him getting measured for a suit and planning his trip at an internet cafe.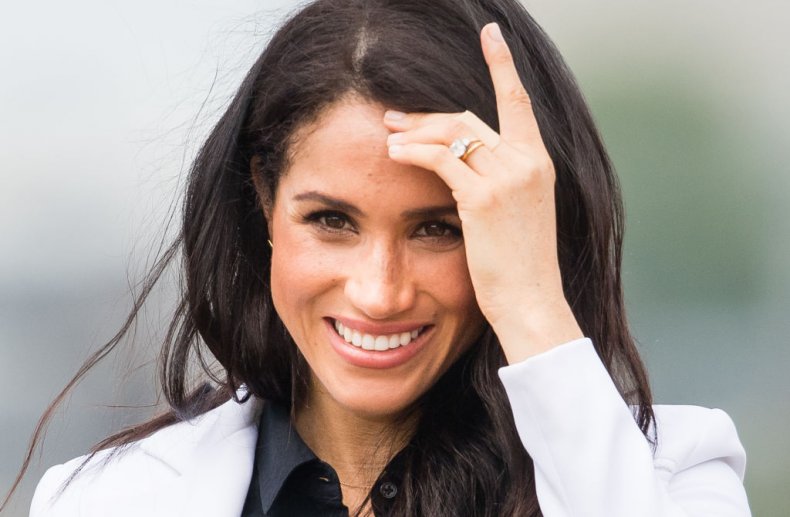 Markle Sr then told TMZ he was pulling out of the wedding and had been taken to hospital with a heart attack.
Finding Freedom claims: "Questions were raised about the validity of Thomas's claims, but Meghan told Kensington Palace staff that no one was to discredit her father."
A palace source told the authors: "Meghan is very clear that despite everything that happened, people on her behalf are not to criticize him."
However, Meghan need not have worried about the reaction of the royal family as the book states they were sympathetic.
Authors Omid Scobie and Carolyn Durand wrote: "Everyone, including William, felt sorry for Meghan.
"To witness her have her wedding day potentially ruined by her own father was heartbreaking.
"Doria was devastated for Meghan but not surprised. To her mind, her ex had rarely been a reliable person."
The fallout from the episode continues to this day as Meghan is preparing next year for a privacy and copyright case against the Mail on Sunday in which her father will also give evidence.
The U.K. tabloid printed a letter she sent Markle Sr describing her emotions about the breakdown in their relationship, sections of which are reprinted in Finding Freedom.
The Mail on Sunday published extensive extracts, which Meghan says breached her privacy and copyright over the letter.
A spokesperson for Prince Harry and Meghan Markle previously said in a statement: "The Duke and Duchess of Sussex were not interviewed and did not contribute to Finding Freedom.
"This book is based on the authors' own experiences as members of the royal press corps and their own independent reporting."