Meghan Markle's Experience Resonates With Many Black Brits
The revelation stunned Oprah Winfrey.
"What?" she said, when Meghan, the Duchess of Sussex, revealed that there had been "concerns and conversations" about "how dark" her unborn child's skin would be.
She and Prince Harry declined to identify the royal family member who made the comment, but Winfrey later ruled out Queen Elizabeth II and Prince Philip.
The couple also said racist and intrusive press coverage had played a role in their decision to quit royal life and move to California.
The allegations of racism have rocked the U.K., but for many Black Britons and people of color, they are not altogether surprising.
Marcus Ryder, a visiting professor of media diversity at Birmingham City University, said many of the issues raised by Meghan in the interview would have resonated with Black people and people of color in the U.K.
"I think it resonated with a lot of people of color, in the U.K., because they have similar experiences," he told Newsweek.
"The reason it's so important is because it's not even about one family... this is not the 'Real Housewives of Windsor.' This is not some kind of version of the Kardashians. What we're talking about is whether a woman of color is accepted within one of the most important institutions of the British state and what she is alleging is that she was not accepted.
"The experience of Black women entering institutions which they find unwelcoming is far too common. I definitely don't think it's a surprise for women of color and people of color to hear another person of color talking about the problems of racism and acceptance within a British institution."
Sabby Dhalu, of campaign group Stand up to Racism, told Newsweek that "a lot of African, Caribbean and Asian communities will identify with Megan Markle's experience, of not being listened to and getting the support needed and daily racism in the media."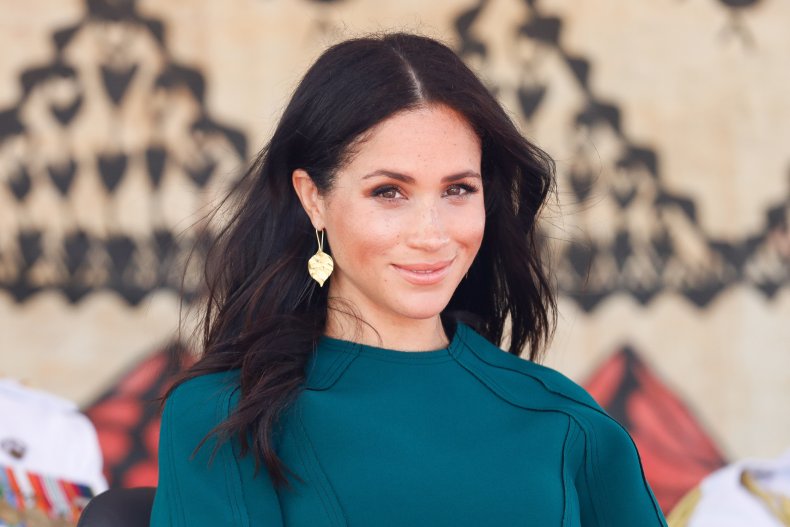 Tiwa Adebayo, a communications consultant and journalist, told The Associated Press that "every person of color in the U.K was worried" when Meghan, who has a Black mother and a white father, married into the British royal family.
"This is an institution that is rooted in colonialism. It's based on white supremacy. I mean, for me, it kind of seemed like 'How could this possibly end well?'"
The sentiment was echoed in a recent tweet posted by Black Lives Matter U.K.
The tweet described the monarchy as an "institution that thrives off white supremacy and colonial plunder," and suggested allegations of racism were far from shocking.
But many Brits like to believe racism is a specifically American problem, David Olusoga, a historian and author of "Black and British: A Forgotten History," noted in a radio interview this week.
That idea was a "very strong trope" when Black Lives Matter protests in the U.S. triggered by the police killing of George Floyd, spread to the U.K. and demonstrators called on Britain to face up to the nation's legacy of empire and profiteering from the slave trade.
Olusoga said Brits "convinced ourselves that we were this modern multicultural country, this country with a Black princess, a country that was at ease with itself, with its history" when Harry wed Meghan in 2018.
"Then we utterly failed to live up to that image," he said.
He cited the U.K. press as a large part of the problem, noting that early coverage of the couple had included one British newspaper asking if Harry was marrying into "gangster royalty" and another referred to Meghan as "(almost) Straight Outta Compton."
Ryder added: "I think that Black people feel that there are definitely sections of the British media which are bigoted, that there are definitely stories which the British media run, which are racist, either directly or indirectly."
Some have long pointed out that Meghan has been criticized in the British press for things that her sister-in-law, the Duchess of Cambridge, has been praised for.
One defender is Dr. Shola Mos-Shogbamimu, who took Piers Morgan to task over his remarks on Meghan this week.
Meghan's race has been used against her for years, she wrote in an op-ed for The Guardian newspaper, but the new revelations still shocked her.
"That alarm about Archie's skin color shows the continued way in which Black people are dehumanized," Mos-Shogbamimu wrote.
In the Oprah interview, Meghan said she received no support from the royal family against what she described as racist media coverage and that at one point, she "didn't want to be alive anymore."
Halima Begum, the director of race equality think tank, told Newsweek that Meghan's experiences with racism and mental heath "reflect to a certain degree the struggles of many people in society."
She said: "A child's color should not be a factor in any aspect of their life. And Archie, of all children, should be a symbol of everything that modern Britain stands for in terms of our tremendous diversity and potential."
But Begum added that the couple had used their voices in a way that offered an "unprecedented opportunity for healing on issues of race, not just in the Royal Household but across society."
Buckingham Palace, in a rare statement, said the allegations raised in the interview were "concerning" and would be addressed privately by the royal family.
If you have thoughts of suicide, confidential help is available for free at the National Suicide Prevention Lifeline. Call 1-800-273-8255. The line is available 24 hours every day.
This graphic, provided by Statista, shows the U.K.'s most complained about TV moments of the last decade.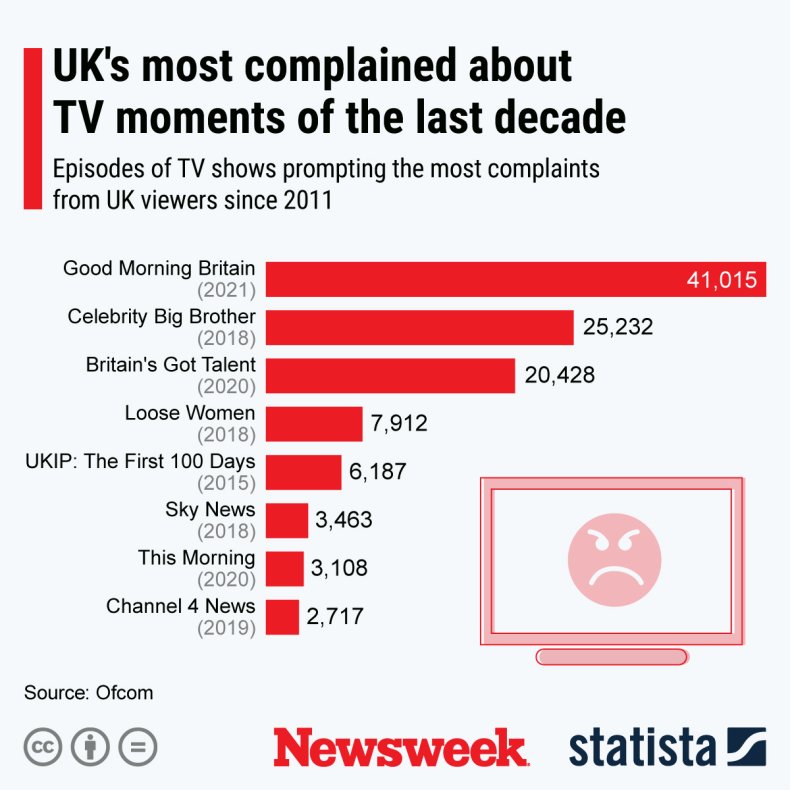 This graphic, provided by Statista, shows the popularity of British royal family members in 2020.