Before Meghan Markle's Wedding, Royal Family 'wondered What Would Happen Next,' Camilla Says
The days leading up to Meghan Markle's royal wedding to Prince Harry were a rollercoaster, and the royals were wondering—along with most of the world—what her estranged family would do next. The admission came via Camilla, Duchess of Cornwall. Ultimately though, Camilla said it was an "uplifting" day.
"It was such a lovely day. Just everything went right. We all wondered whatever would happen next and then everything went right," she told reporters in London Wednesday, according to People magazine. "It's nice to have something that is uplifting rather than depressing. Everything was just perfect, including the weather, which couldn't have been better. It was a beautiful day." She added: "The only thing is that we are all losing our voices now!"
Camilla's statement was indirect, though it seemed likely she was referring to the drama surrounding Markle's father, Thomas, and her estranged half-sister, Samantha Grant. After Thomas Markle was caught staging pictures for paparazzi, he dropped out of the wedding. Then Grant took credit for the phony photos, saying it was her idea. Later, Thomas Markle said he wanted to be a part of the wedding because it was "history," but wouldn't physically be able to since he suffered from a heart attack the week before that caused "serious damage" and that he needed surgery.
During this time, Grant weaved her own narrative. She wasn't invited to the wedding and hadn't spoken to her sister in nearly two years, but she refused to remain quiet.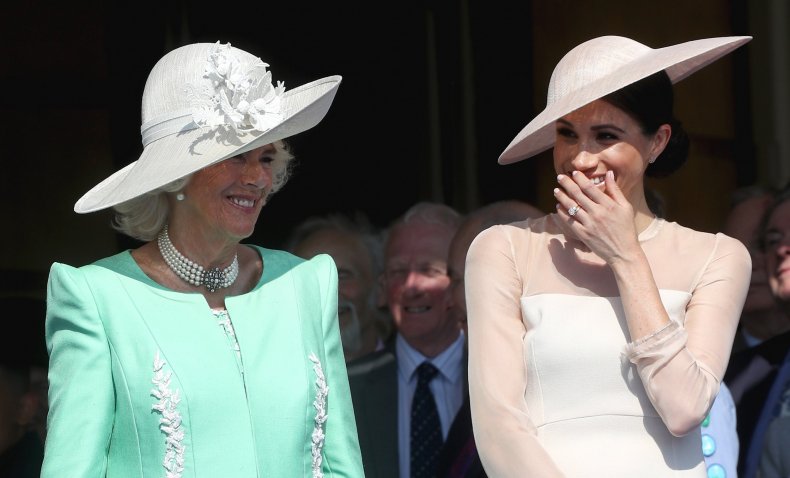 "If it's about my life or my father's, there's something known in this country as freedom of speech. She doesn't have a copyright on that, and she's not gonna tell me that I can't speak about my own life or my father's when it's a matter of public self-defense. The media is disparaging us," Grant told TMZ last week. "I'm not gonna take it. She's not qualified to suggest that I don't under any law in this country. This is not Great Britain. I am a United States citizen, and that's all there is to it. She's way out of her league to tell me I can't speak. I'm not saying anything about her, but if I'm talking about my life or my father's, she has to respect it."
More than 600 people piled into St. George's Chapel in Windsor Castle Saturday to watch Markle become the Duchess of Sussex. She and Harry have not yet taken their honeymoon, opting to start their official royal duties first.