Meghan Markle was told off by palace staff for wearing a necklace that would "encourage the photographers," a new biography claims.
The Duchess of Sussex had worn a $300 14-carat gold chain with an "H" for Harry and an "M" for Meghan, in December 2016.
However, she was left "frustrated and emotional" after a phone call with "a senior Kensington Palace aide" in which she was told she should not have worn the jewelery.
The revelation comes in the latest serialization of Finding Freedom, by Omid Scobie and Carolyn Durand, this time published in People.
The magazine also reveals Meghan and Harry were already engaged when she wore a "husband shirt" to the Invictus Games two months before their official announcement.
New details of an argument over which tiara Meghan would wear on her wedding day are also included.
The book reads: "She was advised that wearing such a necklace only served to encourage the photographers to keep pursuing such images — and new headlines."
It adds that Meghan "said little during the call, choosing instead to simply listen to the counsel. But after hanging up, she felt frustrated and emotional.
"While she knew the aide had good intentions, the surreal experience of having someone from her boyfriend's office tell her what kind of jewelry to wear or not to smile at a photographer was too much."
The book also revisits a story that ran in the British press about an argument over which tiara Meghan would wear on her wedding day.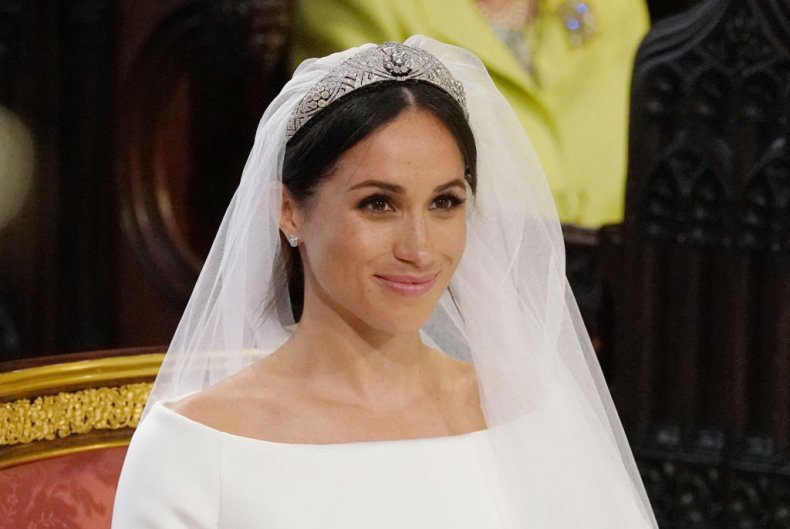 The Sun reported in November 2018 that Queen Elizabeth II had spoken to Harry to tell him his fiancee would have to accept the "tiara she's given by me."
People refers to extracts from the book which claim the disagreement was actually with the queen's dressmaker, Angela Kelly, who is accused of dragging her feet.
The magazine says the "hair trial" went ahead with the support of Elizabeth, though it does not state whether Meghan got her first choice of tiara.
The Sun's original source said: "Meghan had her heart set on this tiara with emeralds and Prince Harry hit the roof when they were told it was impossible for her to wear it.
"There was a very heated exchange that prompted the queen to speak to Harry.
"She said, 'Meghan cannot have whatever she wants. She gets what tiara she's given by me'."
Meghan and Harry's spokesperson said the couple did not contribute to Finding Freedom, however it was put together based on interviews with their close friends.
The book also includes intimate details, such as what they drank on their first date and their feelings about the events they lived through.