Why Meghan Markle's Pregnancy at 37 Is Considered 'Geriatric'
The Duke and Duchess of Sussex announced Monday they're expecting their first child, five months after the couple said "I do" at the altar before loved ones and viewers who tuned in to watch the May ceremony. Kensington Palace confirmed the news via Twitter, saying Meghan Markle is expected to give birth in spring 2019.
Markle's pregnancy would technically qualify as geriatric. Doctors commonly used "geriatric pregnancy" as a medical term to describe women who give birth when 35 or older. The term now often used is "advanced maternal aged" or "pregnancy at age 35 or older."
The former Suits actress celebrated her 37th birthday in August. Like the duchess, many more women are experiencing their first pregnancy between the ages of 35 and 39, according to 2014 data by the U.S. Centers for Disease Control and Prevention. However, geriatric pregnancies do pose health risks to the mother.
"Pregnancy in older age is associated with higher risk of miscarriage," Narendra Pisal, a consultant gynecologist at London Gynecology, told Yahoo! News UK on Monday. "This is possibly because of higher chance of chromosomal problems in embryo as the eggs get older. There is also a higher chance of having a baby with Down's syndrome. At 35, this is 1 in 250 and increases to 1 in 100 by 40 years of age. By 45, [the] risk of miscarriage is nearly 50 percent, and [the] chance of Down's syndrome baby is greater [than] 2 percent."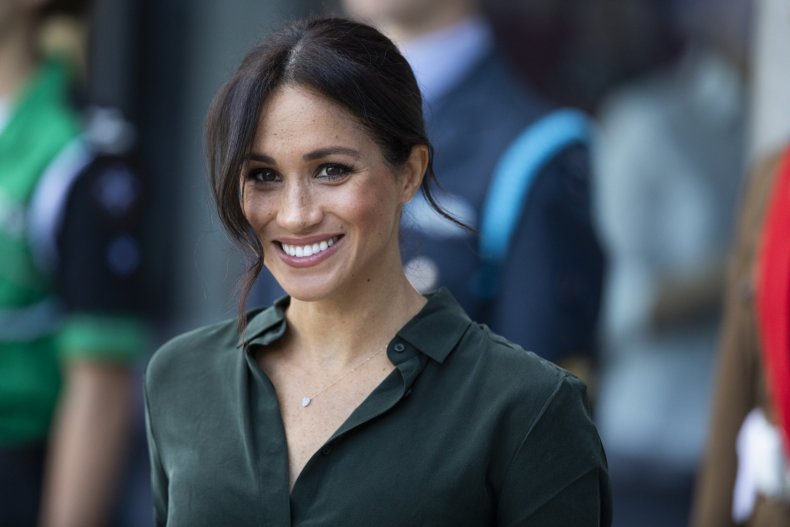 Premature birth, preeclampsia and low birth weight are among the other complications that can also occur during a geriatric pregnancy, according to Healthline.
Markle joins a group of notable women who have had geriatric pregnancies. Mean Girls alum Rachel McAdams gave birth to her first child in April at 39; Rachel Weisz welcomed her first daughter, with Daniel Craig, in August at 48; Molly Ringwald delivered twins in July 2009 at 41; Jennifer Lopez had twins at 38 with former spouse Marc Anthony in February 2008; and Rashida Jones welcomed her first child, with Vampire Weekend frontman Ezra Koenig, at 42 in August.
Markle could lean on sister-in-law Kate Middleton for advice. The Duchess of Cambridge was 36 when giving birth to her youngest child, Prince Louis, in April, so her third pregnancy qualified as geriatric. During this pregnancy, she was suffering from hyperemesis gravidarum, a complication that results in extreme nausea and vomiting during pregnancy. While treatable, the condition can bring about weight loss and dehydration.
The duchess also had this condition with her first two pregnancies. It targets about 100,000 women annually, University of California, Los Angeles, faculty researcher Marlena Schoenberg Fejzo told NBC News.
When Prince William met Iris Orrell, 98, at a September awards ceremony and reception for the Metropolitan and City Police Orphans Fund, he noted how his wife was combating the illness.
"Ginger biscuits," the Duke of Cambridge told Orrell, who had said she went through a similar illness when pregnant. "But there's not much ginger can do to stop that. We've done all that."