Meghan Markle's Pasta Necklace and All the Other Gifts Duchess Received on Australian Tour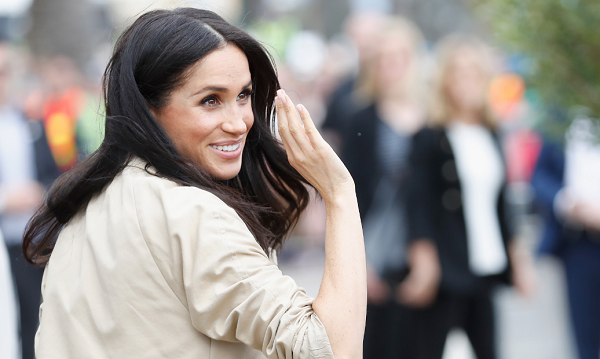 Meghan Markle, Duchess of Sussex, is no stranger to gifts. She's been flooded with flowers, trinkets and stuffed animals since news of her engagement to Prince Harry last year, but Markle may have received her best present yet on Wednesday.
Markle is currently Down Under on her first Australian tour with husband Prince Harry. The couple visited Melbourne and was greeted by fans with armfuls of presents, including gifts for their baby. Harry and Markle are expecting their first child together.
It was 6-year-old Gavin Hazelwood whose gift apparently stood out the most. The youngster, dressed in a Quantas pilot outfit, presented Markle with a necklace made out of pasta.
Hazelwood skipped school—he told his mother he wasn't feeling well—and made the beaded necklace for Markle. "Gavin woke up 'with a cough' so [he] had to stay home from school today. He whipped together a necklace for Meghan, painted it with gold and hopes to give it to her soon," Australian news reporter Rohan Smith tweeted alongside a photo of Hazelwood holding the necklace and a sign.
Hazelwood told Australian site News.com.au his mother helped him bead the gold-covered pasta on the necklace. "I made it with pasta and dipped them in gold paint and threaded the string through," he said.
Markle loved the piece of jewelry so much that she wore it for the duration of her visit with the public. She did remove the necklace ahead of her appearance at a formal reception inside Government House.
The pasta necklace wasn't the only gift that won Markle's heart on Wednesday. She was also presented with a toy tiara. Harry spotted a 6-year-old girl named Annie in a crowd of people holding a bouquet of flowers and a shiny plastic tiara. He immediately called his wife over to meet the little girl. "She's going to love them. Are they for her?" Harry said to Annie in a video captured and posted on Instagram by Markle's fan club.
The duchess was impressed. "Oh my goodness. Thank you. Oh, those are amazing," Markle said while accepting the gifts.
Harry and Markle are likely to receive several more gifts during their lengthy royal tour in expected Australia, New Zealand, Tonga and Fiji. The couple is expected to head back to London on October 31.