Meghan Markle Gives Young Woman Job Interview Advice in Video Call From Los Angeles
Meghan Markle gave a would-be intern some last minute career coaching on a video call just a day after it emerged she had moved to Los Angeles.
As the world debated the start of a new chapter for the Duke and Duchess of Sussex, the 38-year-old took time out of her new life to help an interviewee.
The step, only just disclosed, reconnected her with one of her U.K. patronages, for charity Smart Works which offers advice and new clothes to women for job interviews.
Meghan told the would-be psychologist: "I think you're going to be fantastic. It's just so exciting."
She added: "You seem so confident and so prepared and everyone here seems so excited.
"I was reading about what your interests are and especially you have a big focus in mental health as well, right? And technology and I think that's excellent."
Asked why she wanted the internship, the unnamed woman replied: "Just to see something about psychology and the application of psychology in the real world."
The charity offers its services to any woman with a confirmed job interview but also gets referrals from women's charities and Jobcentres, the U.K. government's local employment support offices.
Since the coronavirus pandemic, they have had to take their service online to video conference calls like the one Meghan conducted but in the last six weeks have still run 200 hours of support.
Meghan said: "It's been such an honour to meet and learn from so many talented women in the Smart Works network over the years, and recently to see the amazing work they're doing to adapt their programs to the reality of this pandemic.
"Their ability to continue to empower women and help them harness the confidence they need to succeed during this time is inspiring."
And the woman applying for the internship said: "I just wanted to say a big 'thank you' to you, the duchess and the whole team at Smart Works for making this possible for women all around the UK, because to see such work is truly inspiring and uplifting.
"And thank you for the super helpful interview tips—I will be using them for years to come."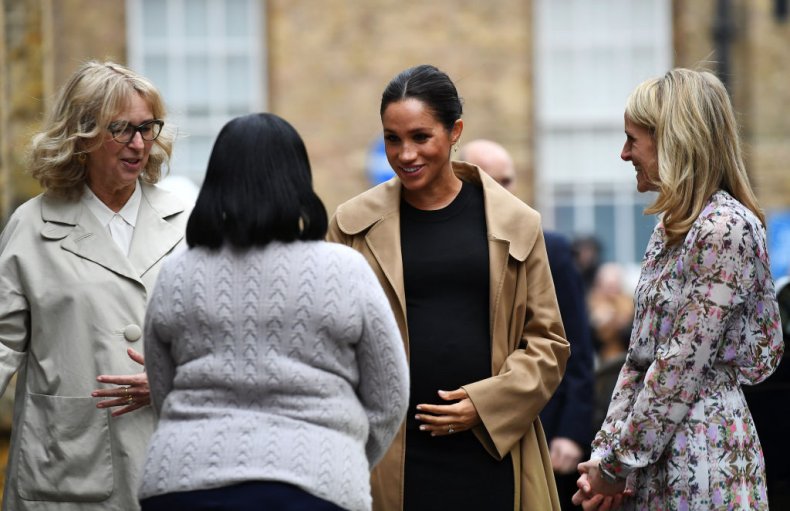 Meghan and Prince Harry moved to Los Angeles from Canada at the end of March, where photographers quickly camped outside a private community in Malibu where they believed the couple were living.
However, they left home to deliver meals to the critically ill for charity Project Angel Food in the weeks after they arrived. And they were photographed out hiking with their dogs by a paparazzi agency.