Meghan Markle Handwrote Card for Prince Philip Funeral and Is Watching From Home
Meghan Markle handwrote the message on the wreath provided by the Duke and Duchess of Sussex for Prince Philip's funeral.
Prince Harry is attending alone at St. George's Chapel, Windsor Castle, Saturday as Queen Elizabeth II says a final goodbye to her husband of 73 years.
A Sussex insider told Newsweek she wanted to attend but having been ruled out of flying by her doctor will be watching from home in Montecito, California.
Meanwhile, her husband attended dressed in a suit and wearing medals, as a source told Newsweek he has a "unique connection" with his grandfather in that they have seen active service "including in combat."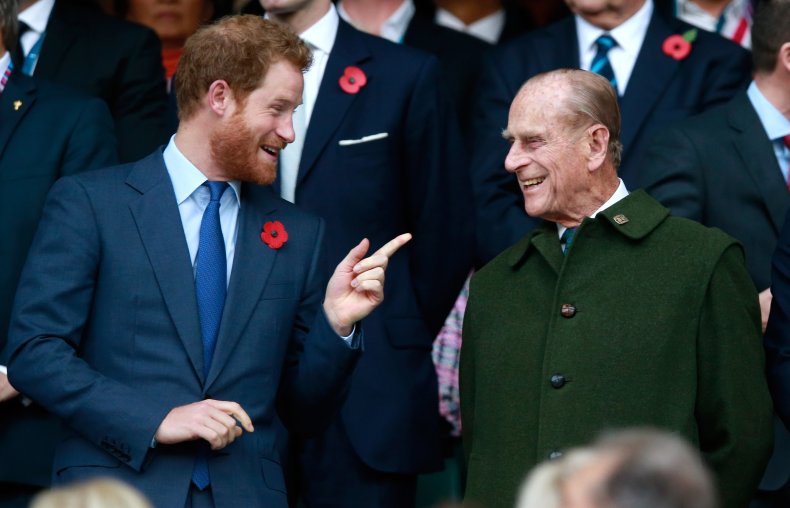 Members of the royal family gathered in Windsor Saturday to pay respect to the world's longest serving royal consort.
A military band played outside the same chapel where Meghan and Harry got married ahead of the service, due to begin at 3 p.m.
The coffin was placed on a green Land Rover that Philip helped design and Prince Harry, Prince William, Prince Charles and other family members walked behind.
Prince Harry and Prince William walked together behind the coffin but with cousin Peter Phillips between amid their ongoing rift.
Royals ordinarily wear military uniform at funerals. However, a centuries old tradition has been broken after so that Prince Harry, no longer a working royal, would not be the only one in civilian clothes.
It also navigates around reports Prince Andrew requested to wear an Admirals uniform despite never having been promoted to the rank due to the Jeffrey Epstein scandal.
Buckingham Palace released the order of service prior to the start of the funeral Saturday afternoon.
Archbishop of Canterbury Justin Welby will say: "O eternal God, before whose face the generations rise and pass away, thyself unchanged, abiding, we bless thy holy name for all who have completed their earthly course in thy faith and following, and are now at rest; we remember before thee this day Philip, Duke of Edinburgh, rendering thanks unto thee–for his resolute faith and loyalty, for his high sense of duty and integrity, for his life of service to the Nation and Commonwealth, and for the courage and inspiration of his leadership.
"To him, with all the faithful departed, grant thy peace; Let light perpetual shine upon
them; and in thy loving wisdom and almighty power work in them the good purpose
of thy perfect will; through Jesus Christ our Lord. Amen."