Meghan Markle and Prince Harry Share New Baby Archie Video to Mark His First Birthday
Meghan Markle reads baby Archie his favorite story in a new video shot by Prince Harry to mark the youngster's first birthday.
The footage shows the Duchess of Sussex with her son on her lap as she shows him Duck! Rabbit! by Amy Krouse Rosenthal.
The film is part of the Save With Stories campaign, which has seen celebrities film themselves reading children's books to help youngsters get through the coronavirus pandemic.
In the film, Meghan affectionately calls her son "Arch" while the prince laughs off camera and makes duck noises.
Archie seems to be trying to talk, making "da" sounds while point to the page.
Meghan begins the video by saying: "For Save With Stories we're going to read Duck! Rabbit! Good job."
Archie laughs, turns the pages and wiggles on his mother's lap during the heartwarming video.
At the end, Meghan, who wears a denim shirt with the sleeves rolled up, shouts "good job" while the prince says "the end, woo. Bravo."
A friend of the couple said: "As they celebrate this family moment, the duke and duchess wanted to continue to raise awareness around the urgency of bringing food and learning resources to millions of children.
"The duchess chose to read one of Archie's favorite stories, Duck! Rabbit!"
The campaign run by U.K. charity Save the Children posted the video alongside others by stars including Kate Winslet, Liv Tyler and Curtis Granderson.
Their post said: "Read by Meghan, The Duchess of Sussex (with Harry, The Duke of Sussex behind the camera) to their son Archie for his 1st Birthday. Happy Birthday, Archie!
"Thank you #DuchessMeghan for helping us to raise urgent funds for our coronavirus appeal by reading 'Duck! Rabbit'."
Queen Elizabeth II paid tribute to her grandson through a statement on the official Royal Family Twitter feed.
The post states: "Happy Birthday to Archie Mountbatten-Windsor who is celebrating his 1st birthday today!
"Archie is The Queen's eighth great-grandchild."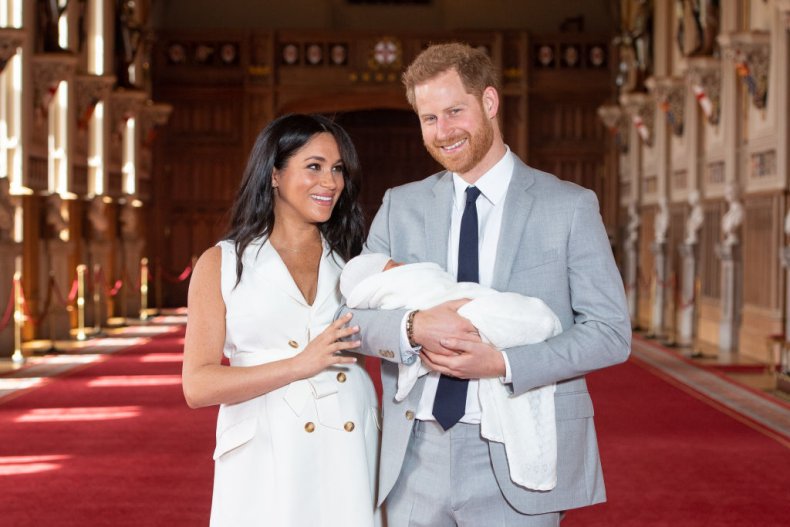 And the Duke and Duchess of Cambridge used their Kensington Palace feed to say: "Wishing Archie a very happy first birthday today!"
On behalf of Prince Charles and Camilla, Archie's grandparents, Clarence House added: "A very Happy Birthday to Archie, who turns one today."
Archie Harrison Mountbatten-Windsor was born at a London hospital on May 6 last year at 5:26 a.m.
Proud father Prince Harry was there for the birth of his son, who weighed 7 pounds 3 ounces.
Archie's arrival was marked according to royal tradition with a ceremonial easel placed outside Buckingham Palace.
Prince Harry later stepped out of Windsor Castle to tell journalists of his happiness at the new arrival.
"We're both absolutely thrilled and so grateful for all the love and support from everybody out there. It's been amazing."
He added: "As every father and parent will ever say, you know, your baby is absolutely amazing, but this little thing is absolutely to-die-for, so I'm just over the moon."
More recently the prince gave a window into how the family have been spending lockdown "rolling around in hysterics."
Harry made the admission during a video call for charity WellChild, which is supporting parents of critically ill children during the pandemic.
The duke said: "There's a hell of a lot of positives that are happening at the same time and being able to have family time—so much family time—that you almost think, 'Do I feel guilty for having so much family time?'
"You've got to celebrate those moments where you are just on the floor rolling around in hysterics.
"Inevitably, half an hour later, maybe a day later, there's going to be something that you have to deal with and there's no way you can run away from it."