Meghan Markle's Interaction With Wedding Aide Sparks TikTok Debate—Video
Royal fans have taken to social media to debate a clip of Meghan Markle on her wedding day to Prince Harry in 2018, showing an interaction with a royal aide.
An archive clip from the wedding day shows Meghan as she exited her car at the foot of steps of St George's Chapel in Windsor Castle. Adjusting her veil and dress as she stepped out, Meghan was assisted by a royal aide.
The duchess can be seen taking the aide's arm as she stepped down from the vehicle, and then appears to struggle with her dress as the aide reoffers his arm to assist.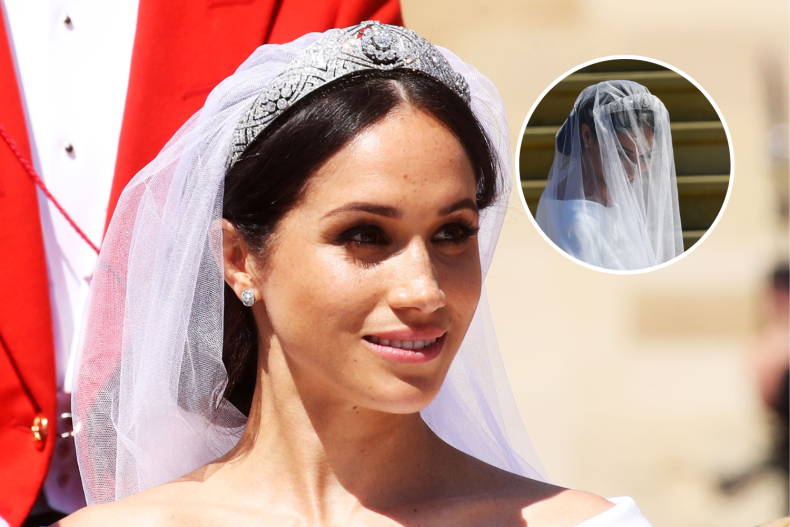 Some social media users have interpreted the video clip as showing Meghan "slapping" the hand of the aide away, as her movements become unclear owing to the video's low resolution and the all-white nature of the royal's outfit.
This viewpoint was posed by TikTok user, gb.royal.edits, who posted the clip to their account with the caption: "Meghan clearly slaps the aide's hand away as he tries to help her."
This video has been viewed nearly half a million times in 48 hours, receiving in excess of 3,000 likes and 900 comments.
Many commenters disputed the poster's claim, pointing out that the interaction wasn't clear and that it appears the duchess was simply preoccupied with maneuvering her cumbersome Givenchy wedding dress.
"People have some imagination. lol I don't see a slap at all," wrote one user.
"No she didn't, she reached down to adjust her dress," said another viewer on Tiktok, with a further posting: "She was letting him help her until her dress got caught under shoe."
There has been increased focus on Meghan's interactions with royal staff members in recent years, after news reports published in March 2021 saw the leaking of an email exchange accusing Meghan of bullying.
Jason Knauf, a former communications secretary, sent the email to his boss, Prince William's private secretary, in the months following Meghan and Harry's wedding.
"I am very concerned that the duchess was able to bully two PAs out of the household in the past year," the email read. "The treatment of X [name removed] was totally unacceptable."
Knauf continued: "The Duchess seems intent on always having someone in her sights. She is bullying Y [name removed] and seeking to undermine her confidence. We have had report after report from people who have witnessed unacceptable behavior towards Y [name removed]."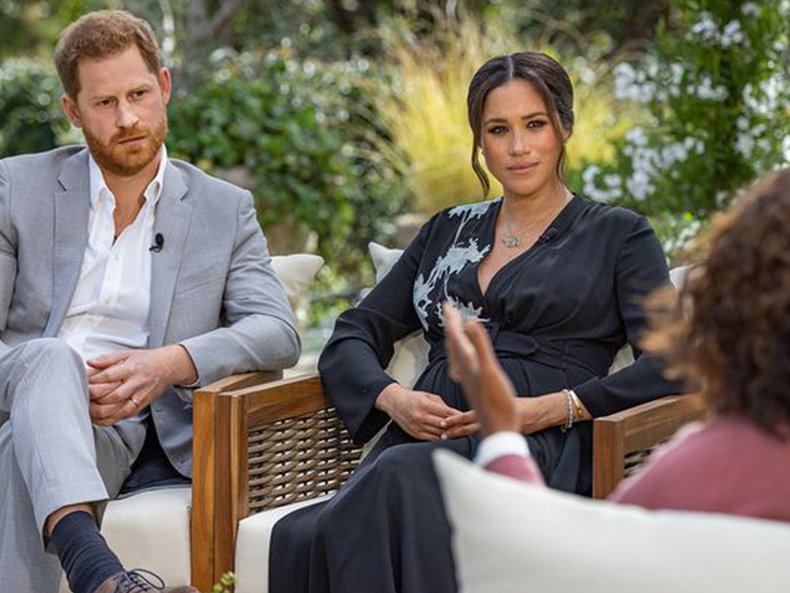 The leak occurred just before the broadcast of Meghan and Prince Harry's interview with Oprah Winfrey, causing a legal representative for the duchess to call the reports part of a "calculated smear campaign."
Harry referenced the incident in his recently released hit memoir Spare, saying that in response he and Meghan had supplied evidence to the Royal Household's HR department in their defense.
"Meg was apparently a bully—that was the latest vicious campaign they'd
helped orchestrate," he wrote. "It was so shocking, so egregious, that even after Meg and I demolished their lie with a twenty-five-page, evidence-filled report to Human Resources, I was going to have trouble simply shrugging that one off."
Buckingham Palace announced last year that they had concluded a review of the bullying allegations but the results of which were not made public.
The incident from the royal wedding where Meghan caught her dress as she was exiting the vintage car, loaned by Queen Elizabeth II, was referenced in another royal book, Tom Bower's Revenge: Meghan, Harry and the War Between the Windsors.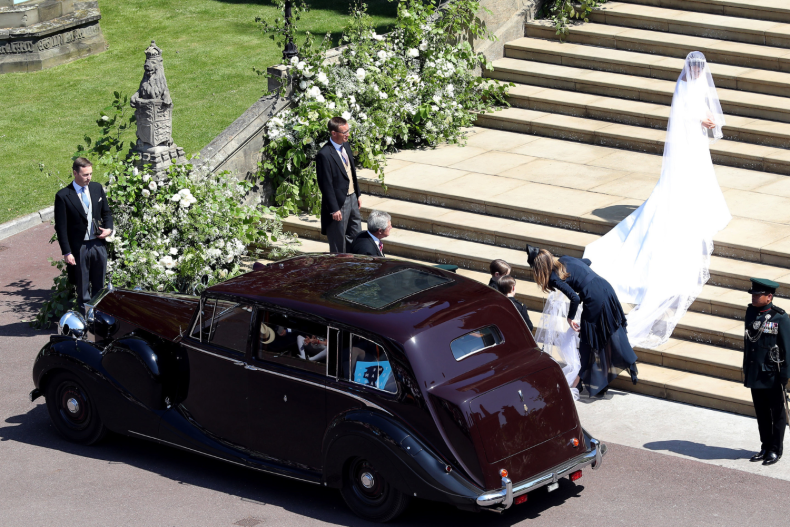 In his account of what happened, Bower, who has become a vocal critic of Meghan in recent years, writes that she was not offered assistance from the aide at all.
"As she stepped out of the limousine," he wrote. "Meghan's bridal train was caught. The escorting officer who opened the door offered no help. The explanation foreshadowed what was to come. After her rudeness during the rehearsal the previous day, explained an officer, no one had any feelings of goodwill towards the bride."
No comment from either Meghan or Buckingham Palace was made about Bower's interpretation of events or his book in general.
Newsweek reached out to representatives of Meghan Markle for comment.
James Crawford-Smith is Newsweek's royal reporter based in London. You can find him on Twitter at @jrcrawfordsmith and read his stories on Newsweek's The Royals Facebook page.
Do you have a question about King Charles III, William and Kate, Meghan and Harry or their family that you would like our experienced royal correspondents to answer? Email royals@newsweek.com. We'd love to hear from you.