Who is Jason Wu? Meghan Markle Wears Canadian Designer for First Onstage Appearance With Prince Harry
Meghan Markle sported a Jason Wu dress for her first onstage appearance on Wednesday. She attended the Royal Foundation's Make a Difference Together forum with Prince Harry, which marked her "working" debut alongside the Royals.
Markle's choice of designer may have been inspired by Michelle Obama. The former first lady was fan of Wu's clothing, frequently choosing to wear his dresses to White House events during husband President Barack Obama's tenure.
Markle was raised in Hollywood, California, but her choice of Wu may have been a nod to Canada, Wu's native country. Before moving to the U.K., Markle lived in Toronto, where the USA series Suits is filmed. Markle starred on the show from July 2011 through 2017, and during that time she collaborated with Canadian clothing company Reitmans on a line of women's fashion (released in November 2016). Markle has since announced that she will transition out of acting after her marriage to Prince Harry in May.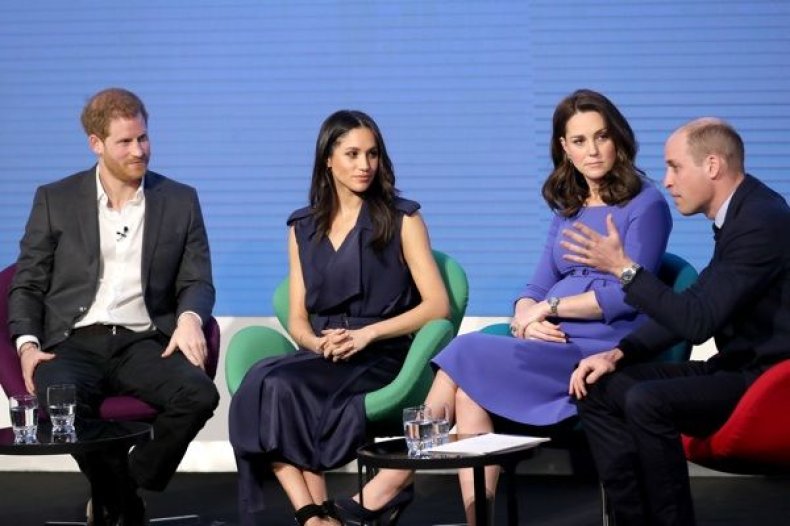 Although Markle has made a limited number of royal appearances with Harry since the couple announced their engagement in November, she's already displayed a preference for Canadian designers, like Line the Label and Smythe and Sentaler.
In addition to making her first onstage appearance with Harry, the forum marked the first event in which she spoke alongside Harry's brother and sister-in-law, Prince William and Kate Middleton, Duchess of Cambridge.
Launched in 2011 by William, the foundation serves as the primary outlet for the princes' charity and philanthropic initiatives. Following her May wedding to Harry, Markle will become the fourth member of the organization.
While speaking at the event, Markle said that she will use her partnership with the Royal Foundation to empower young girls and women living in the U.K, noting that, thanks to the #MeToo and #TimesUp movements sweeping the globe, there was "no better time" to "shine a light on women."