Meghan Expressed 'Irritation' Over Jessica Mulroney 'Stylist' Claims—Book
Meghan Markle was not pleased with Jessica Mulroney being described as her stylist before their apparent falling out, a new book has claimed.
In fact, the Duchess of Sussex is said to have described the situation as "personally frustrating" and reportedly felt that her style was once of the last things she had control over as a working royal.
The claims are made by author Tom Bower in his new book Revenge: Meghan, Harry and the war between the Windsors.
The book claims that in 2018, Markle and husband Prince Harry were "exasperated" when they agreed to cooperate with Royal biographer Omid Scobie on the book Finding Freedom and that during this time, Scobie tweeted about their upcoming wedding and that Mulroney was the Duchess' stylist.
"Speaking of the gown, an insider confirms that top secret fittings continue to take place at an undisclosed London location and Kensington Palace. Best friend and stylist Jessica Mulroney, who helped pick the designer, will actually be flying in for one of those later this month," Scoboie tweeted at the time.
Markle and Prince Harry's former trusted staffer Jason Knauf is quoted in the book and he in turn quotes the Suits star who apparently said: "You know how personally frustrating I find the "stylist" narrative (as it's the only thing I seem to still have any control over—my personal styling.)"
Read the full passage here:
Meghan and Harry were exasperated. They agreed to co-operate [on Finding Freedom] with Omid Scobie. As Knauf would later state, 'The book was discussed with the Duchess multiple times in person and over email.' Her only irritation was Scobie's Tweet describing Jessica Mulroney as Meghan's stylist. 'You know,' Meghan told Knauf, 'how personally frustrating I find the "stylist" narrative (as it's the only thing I seem to still have any control over—my personal styling) but given we are being asked to co-operate with this evidently authoritative biography...I will not be comfortable doing so if this person is considered to be an authority.' Meghan was reassured that Scobie would be told the 'truth'.
Fans of Meghan Markle will recall her apparent rift with Mulroney, a Canadian stylist and her one-time best friend.
Rumors of their falling out were widely reported in the summer of 2020 when Markle apparently cut ties with Mulroney who was involved in a scandal. Mulroney was called out by lifestyle writer Sasha Exeter after making comments during the Black Lives Matter movement.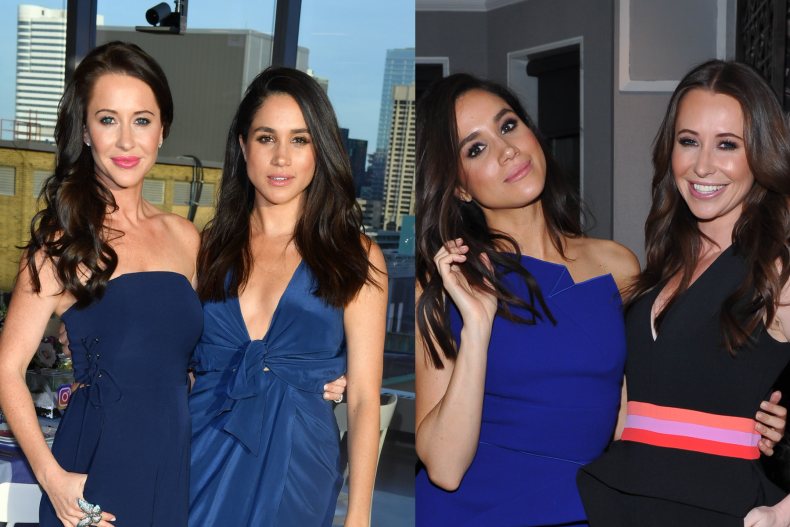 Despite such reports, Mulroney herself said last year that Markle "constantly Facetimes" her and "checks up" following the scandal. Addressing the scandal itself, she added: "I still feel a lot of shame. I feel that people believe the worst in me."
Bower's book discusses how Markle and Mulroney became friends, and how they were part of an elite social circle in Toronto's Soho House.
"Toronto is not a large community. Unlike in Los Angeles, Meghan was a noticed fish in a small pond. For the first time she had status," the book states.
"She began to make new friends. One was Jessica Mulroney, an aspiring fashion stylist, whom she met in a fitness studio. Jessica's husband, Ben Mulroney, was not only famous as a TV host but as the son of the former Canadian prime minister Brian Mulroney, a pillar of Canada's establishment.
"Naturally, Jessica was also a friend of Sophie Grégoire-Trudeau, the wife of Justin Trudeau, whose father Pierre had been Canada's prime minister for four years. As a leading parliamentary member of Canada's Liberal party, Justin was tipped to become prime minister."
Elsewhere in the book, Bower discusses a trip to the Cayman Islands Markle was booked on as a speaker and she asked if she could bring her friend Mulroney along.
"She's my best friend and I need her as my beautician and stylist," the book quotes.
Revenge: Meghan, Harry and the war between the Windsors, by Tom Bower, was released on July 21 on hardback, ebook, and audio.