Royal Christmas: Meghan Markle and Kate Middleton Will Spend Holidays With Queen Elizabeth II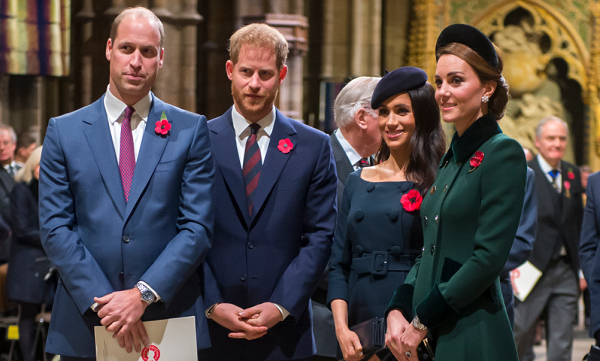 The royal family will spend the holidays together. Prince William and Kate Middleton, the duke and duchess of Cambridge, will attend Christmas functions at Sandringham with the Duke and Duchess of Sussex, Prince Harry and Meghan Markle. The families will spend Christmas with Queen Elizabeth II, according to a People magazine report released Monday.
The news comes following reports of that Prince William and the duchess planned to spend the holidays with Middleton's family in Bucklebury. Instead, the couple and their three children—5-year-old Prince George, 3-year-old Princess Charlotte and Prince Louis, 7 months—will stay at Amner Hall, which is not far from Sandringham.
Since their wedding in 2011, William and Middleton have alternated spending Christmas between their families. Middleton's mother, Carole Middleton, told People magazine that she usually purchased a number of Christmas trees to put up around her house, including ones specifically for her grandkids to decorate themselves.
It's unclear where Harry and Markle will be staying during the annual trip.
Elizabeth reportedly invited Markle's mother, Doria Ragland, to join in the royal holiday festivities.
The royals's upcoming Christmas together dispelled rumors about tension between the duchesses. British tabloids had reported a bit of bad blood between Markle and Middleton after Markle was reportedly rude to Middleton's staff around the time of the royal wedding in May. The Sun reported the incident caused Middleton to tell Markle her behavior was "unacceptable," however, in a rare move, Kensington Palace responded to the report and said, "this never happened."
The palace usually does not comment on gossip about any members of the royal family. While it denied that specific disagreement ever ensued, the palace said it would not speak on other reports of growing tension between Markle and Middleton.
This will mark Markle's second Christmas with the royal family after she was invited to accompany Harry during the holidays following their engagement in November 2017.