Meghan Markle and Kate Middleton Emojis to Debut Before Royal Wedding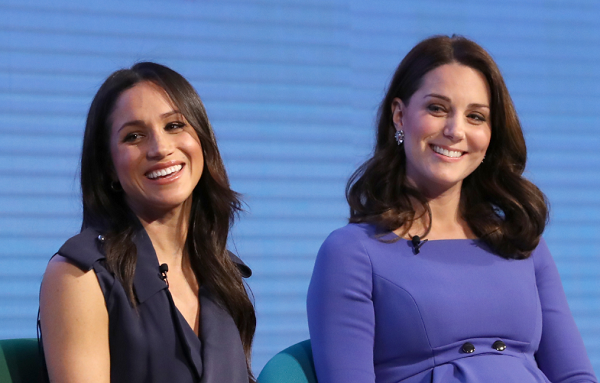 Meghan Markle and Kate Middleton aren't just about to become sister-in-laws—they're both about to be immortalized as emojis, too.
Tech company DRKHORS recently trademarked KateMojis and MeghanMojis, according to a TMZ report published Tuesday. The emoji apps will be sold separately for $1.99 each and will be similar to the ones created by Kim Kardashian and Blac Chyna.
MeghanMoji will feature emojis based on Markle and her soon-to-be husband Prince Harry's love story, while KateMoji will reportedly be focused on the Duchess of Cambridge's family life with Prince William and their children Prince George and Princess Charlotte.
The DRKHORS website already has a few examples of the KateMoji and MeghanMoji apps, including a Markle prototype wearing a denim shorts-suit and a Middleton prototype drinking a glass of red wine. The apps also feature British phrases like "Cheeky Bugger" and "Does my bum look good in this?" And then there's an "American Princess" title, which more than likely only be featured on the MeghanMoji app since Markle was born an American citizen.
While a specific release date has yet to be announced, the emojis are expected to become available in May—just in time for Markle and Harry's wedding. The couple are slated to tie the knot on May 19 at St. George's Chapel, which is located on the grounds of Windsor Castle.
The MeghanMojis are just the tip of the iceberg for Markle memorabilia that's set to debut ahead of her upcoming nuptials. Markle's face will also be plastered on paper dolls, coloring books, shirts, mugs and every other product imaginable to cash in on—ahem, celebrate—her union with Harry.
The couple will even have their own beer, Harry & Meghan's Windsor Knot, a blend of British and American hops. The brew will be available to the public as of March 28.