How Meghan Markle and Kate Middleton Are Honoring Princess Diana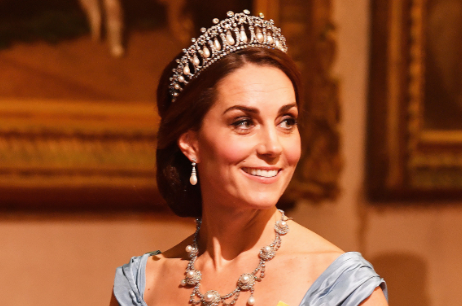 Since their engagements were announced, Kate Middleton and Meghan Markle have subtly paid tribute to Princess Diana, the late mother of their husbands Prince William and Prince Harry.
When Harry popped the question to Middleton in 2010, he got down on a bended knee with a ring previously owned by his mother—the 12-carat oval Ceylon sapphire, equipped with a white gold band and 14 solitaire diamond. Prince Charles proposed to Diana with it. The engagement ring gifted to Markle was designed by Harry and included diamonds from Diana's personal collection.
The princes's wives have taken their odes to Diana a step further since officially marrying into the royal family, most recently with Middleton donning the iconic Lover's Knot tiara, which was long considered a favorite of Diana.
Middleton wore the dazzling tiara to a state banquet dinner at Buckingham Palace on Tuesday. Her sparkling look also included a pair of pearl drop earrings, which were also from Diana's collection of jewels.
The Lover's Knot tiara has been in the royal family for more than a century. Also referred to as the Cambridge Lover's Knot, the tiara was initially owned by Queen Mary. The stunning headpiece was commissioned by court jewelers Garrard around 1913 and was designed as a replica of a 200-year-old Gothic Revival tiara formerly owned by Mary's grandmother, Princess Augusta of Hesse, the Duchess of Cambridge.
Mary left the tiara to her granddaughter, Queen Elizabeth, who later passed it down to Diana as a wedding present when she married Charles in 1981. Although Diana didn't wear the Lover's Knot tiara on her actual wedding day—she opted for her family jewel, the Spencer Tiara—she was often seen in the Lover's Knot at royal engagements.
Despite divorcing Charles, Diana was allowed to keep the tiara and was last seen wearing it in 1991, six years before her death in 1997.
The Lover's Knot has since become a favorite of Middleton. She was first spotted in the heirloom at the annual Diplomatic Reception at Buckingham Palace in 2015. She's since worn the tiara on three more occasions.
Markle has similarly been spotted in jewels previously owned by her late mother-in-law. During her first royal tour with husband Harry, Markle was spotted wearing a gold bracelet and butterfly earrings from Diana's personal collection. Diana was first seen in the gold-and-diamond encrusted studs while she was on a royal trip to Canada with Charles in 1986.
That wasn't the first time Markle recognized Diana with her wardrobe. The duchess wore an aquamarine cocktail ring that belonged to Diana on her wedding day.