Meghan Markle and Kate Middleton to Attend Wimbledon Ladies' Singles in First Duchess Outing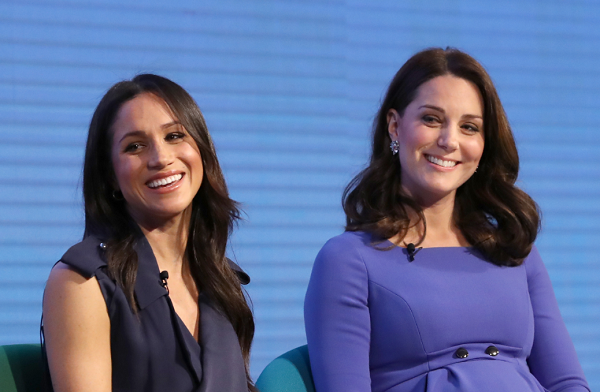 Meghan Markle, Duchess of Sussex, and Kate Middleton, Duchess of Cambridge, are set to enjoy a sisters-in-law outing at the 2018 Wimbledon Ladies' Finals on Saturday, Kensington Palace announced Thursday. Markle's friend Serena Williams will compete against Angelique Kerber for her eighth Wimbledon singles title.
The tennis match is the Duchesses first public outing together. It will be Middleton's first appearance at the game since obtaining the title of Wimbledon Patron, which was passed on to her from Queen Elizabeth this year. The game will be Markle's first since tying the knot with Prince Harry in May.
Middleton is also expected to attend the men's final on Sunday with her husband Prince William.
The women have attended a number of royal events along with their husbands and a number of other royal family members before Markle and Harry were wed. Markle and Middleton were side-by-side at the first annual Royal Foundation Forum in April, an event showcasing a number of community-based projects and programs produced by the initiative. The organization was initially launched by William and Harry in 2011. Middleton joined following her marriage to William that same year, and Markle was made the fourth member this year.
It's no big secret who Markle will be rooting for during the game. She's a longtime friend and supporter of Williams. The tennis champion and her husband Alexis Ohanian were in attendance at the royal wedding, and just before the tournament started, Williams joined Markle for Harry's polo game at Ascot.
Williams is competing for her first Wimbledon title since giving birth to her daughter Alexis Olympia Ohanian Jr. in September. If she wins the match, she will tie tennis legend Margaret Court's record of 24 Grand Slam singles titles.
Other members of the royal family have already attended Wimbledon games, including William and Harry's step-mother, Camilla, Duchess of Cornwall, who watched the quarterfinal match between Novak Djokovic and Kei Nishikori at the All England Club on Wednesday.