Meghan Markle Raises $12,000 for Dog Rescue Charity After Fans Flock to Buy Her Love Pendant Necklace
Meghan Markle's jewelry designer has donated $12,000 to a dog rescue charity after the duchess sparked hundreds of sales.
The $300 Love Pendant worn by Meghan during a trip to London's National Theatre in March has now sold out and is now only available for pre-order.
Designer Sophie Lis donated 10 percent to dog rescue charity Wild at Heart Foundation for each sale, and announced the total raised has now hit £10,000 ($12,000).
The figure suggests more than 350 pieces have sold since Meghan wore the pendant, which is made of gold, diamonds and rubies and carries a quote from poem The Eternal Song by Rosemonde Gerard.
Sophie Lis said on Instagram: "We are so happy to announce we have donated £10,000 [$12,000] from sales of love pendants in the past two months to this incredible cause @wild_at_heart_foundation.
"With special thanks to @sussexroyal for raising awareness and hence funds for this wonderful charity."
Meghan is a well-known dog lover and patron of animal welfare charity Mayhew in North West London.
She also adopted rescue dogs Guy and Bogart after bumping into Ellen DeGeneres and Portia de Rossi at a shelter in Los Angeles.
In a 2016 interview with Best Health, Meghan said: "Ellen goes, 'Is that your dog?' And I said, 'No,' and she's like, 'You have to take that dog.'
"And I said, 'Well, I'm deciding.' And she's like, 'Rescue the dog!' It's sort of like if Oprah tells you to do something.
"I'm sitting there holding him and she's like, 'Have you thought of a name for him yet?'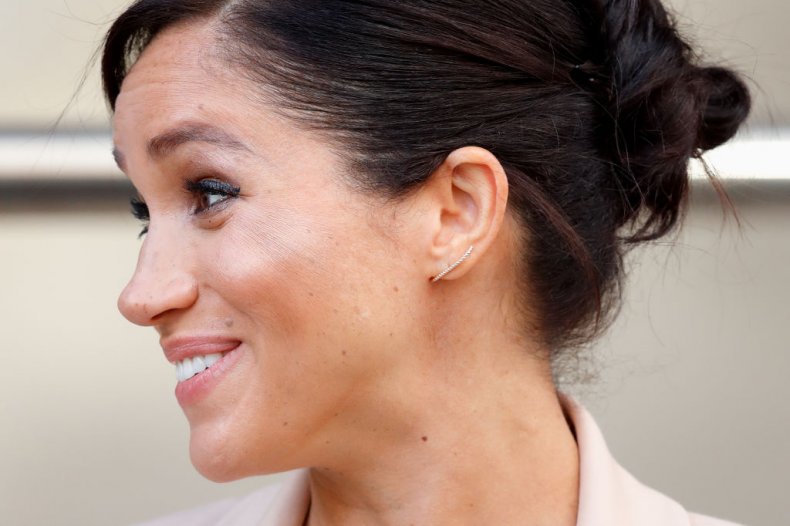 "And I said, 'Well, I think I'd name him Bogart,' and she's like, 'You're taking the dog home.'"
The Wild at Heart Foundation said on Instagram: "When the Duchess of Sussex was spotted wearing the pendant, it struck a chord with fans the world over.
"Not only are we delighted to see Sophie's stunning creation get the publicity it deserves, this royal seal of approval led to a rush of sales.
"But nothing could have prepared us for the good news Sophie shared with us last week - we were utterly blown away when she let us know that she would be donating an incredible £10,000 to the charity!!
"Thanks to this incredible donation, we'll be able to embark upon new projects and reach thousands more dogs in need, helping to end the suffering of even more strays and give them the chance to lead the life they deserve."