Meghan Markle and Michelle Obama Reuniting for Special Summit This Month
Meghan Markle is set to join friend Michelle Obama as a keynote speaker at a virtual summit to empower girls.
The Duchess of Sussex will share her passion for feminism at the Girl Up conference, which runs from July 13-15 next week.
Actress Priyanka Chopra, another of Meghan's friends, will also be answering a Q&A for the campaign, which was launched by the United Nations Foundation.
Girl Up said on Twitter: "The present is female! But don't take our word for it. ⁠
Newsweek subscription offers >
"Hear from our keynote speaker Meghan Markle, The Duchess of Sussex, as she takes the stage at our 2020 Leadership Summit, happening virtually July 13-15!"
The booking comes after Meghan and Prince Harry both made a series of comments on racism.
Yesterday, they said the Commonwealth, made up almost entirely of countries that were part of Britain's Empire, would have to acknowledge the past in order to move on.
Meghan and Prince Harry recently signed to the Harry Walker Agency, also used by Michelle Obama, as they launched their new careers as guest speakers.
Newsweek subscription offers >
A source told Newsweek this event was not related to Meghan's work with Harry Walker.
Marketing says the event is for: "The movers and changemakers from around the globe committed to gender equality."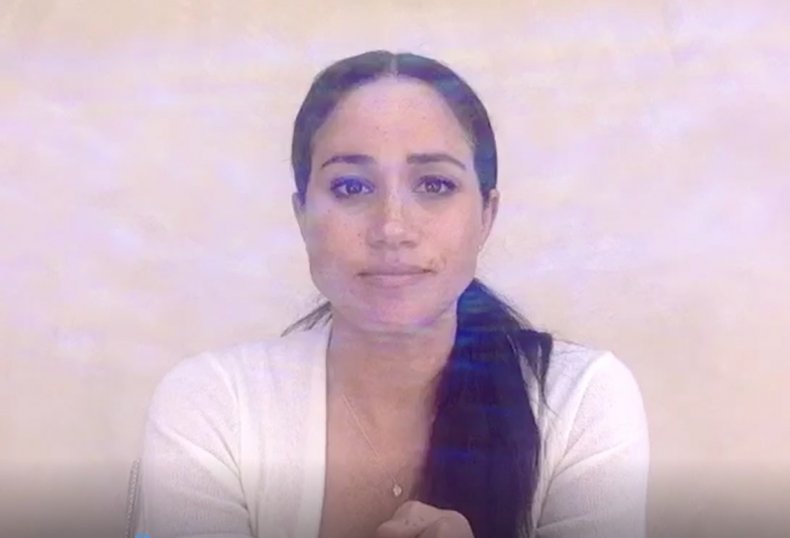 The Eventbrite tickets page read: "No matter their background, girls have the power to transform themselves, their communities, and the world around them.
"Girl Up is a global movement of empowered young women leaders who defend gender equality.
"Through leadership development training, Girl Up gives girls the resources and platform to start a movement for social change wherever they are.
"For those who stand with us in this movement, there is no rest until we achieve equal rights for every girl.
"Because when girls rise, we all rise."
When Michelle Obama's speech was announced last month, Girl Up executive director Melissa Kilby said: "We're honored to have Mrs. Obama with us at our Summit this year.
"The impact she has made in this country, and around the world, is deeply inspiring and motivating to our girl leaders—she's a role model for using your voice."
When Harry and Meghan signed to Harry Walker Agency, a spokesperson told Newsweek: "They will be engaging in moderated discussions and keynote speeches with trade associations, corporations and community forums.
"The conversations will relate to topics that are important in their lives—and in the world.
"Topics will largely relate to the social issues the world is facing now including racial justice and gender equity, mental health, issues impacting women and girls and the environment — as well as the intersectional nature of these issues.
"Many of the areas and topics covered in these conversations will be related to the foundation and mission of Archewell, their new organization housing their philanthropic endeavors."
Meghan Markle and Michelle Obama Reuniting for Special Summit This Month | News